What a difference 2 weeks make. On this Thanksgiving Day I have a lot that makes me thankful. If you wonder why you haven't heard from me, it is because I am fulfilling my dream to combine my condo unit with the one across the hall. This is the story of that project.... Once upon a time there was an apartment across the hall. In that apartment lived 2 jackasses who made me miserable, slamming their door so hard my walls shook. They now live under a rock somewhere. This is their kitchen, with it's appliances removed and waiting in what was their living room. They now live at Marcia's house. Note the position of the beige house phone.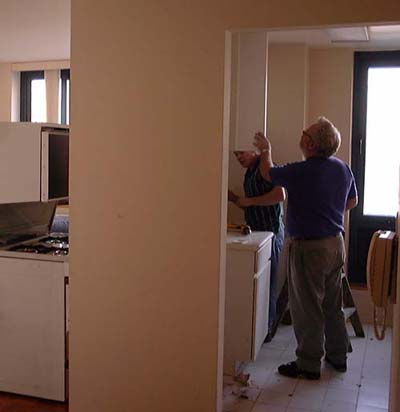 This is their kitchen stripped to a skeleton. Note the position of the beige house phone.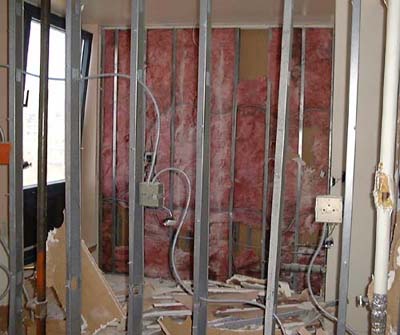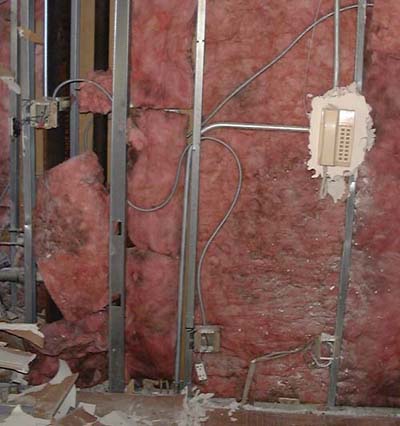 The back of their kitchen is the back wall of my kitchen on the other side of the wall. Note the position of the beige house phone.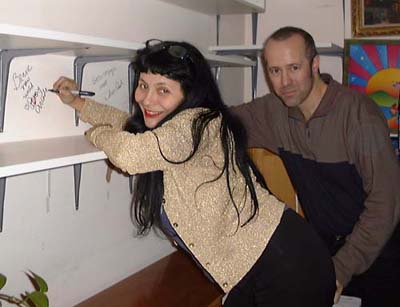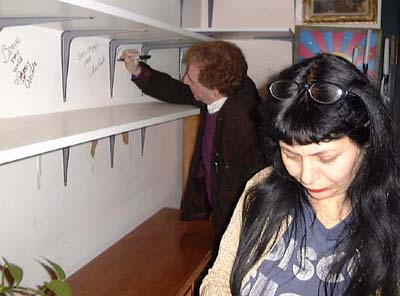 I am having everyone who visits me sign the wall on my side of that kitchen wall. Penny and Chris are first. Then Dean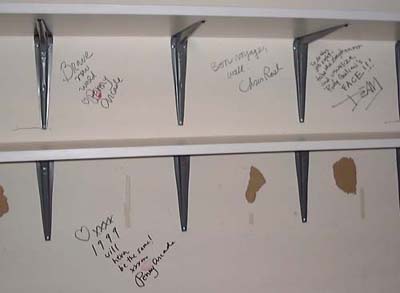 Signed the walls since November 25, 1999 (Thanksgiving)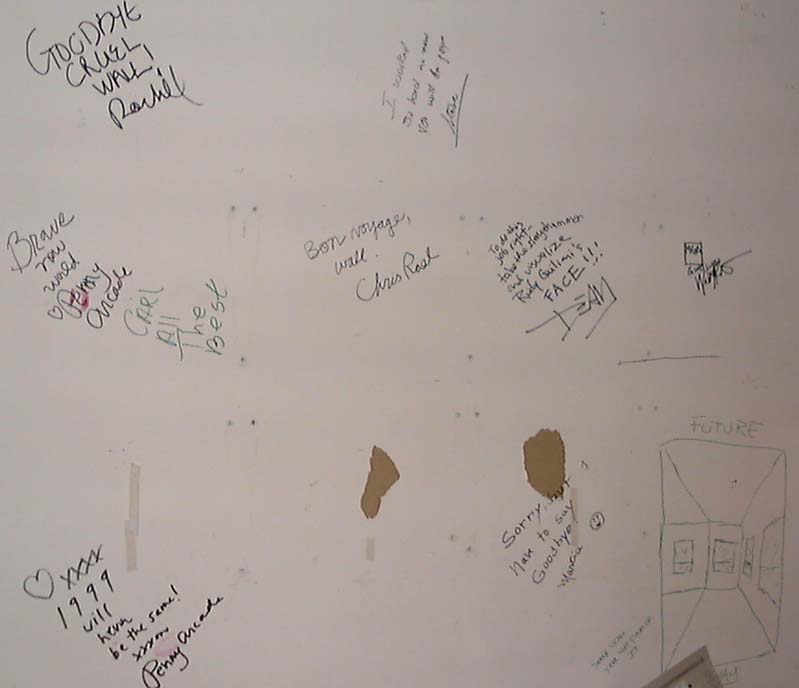 Back in P15A~ When I saw the crew starting to take down the walls, I couldn't resist the hammer.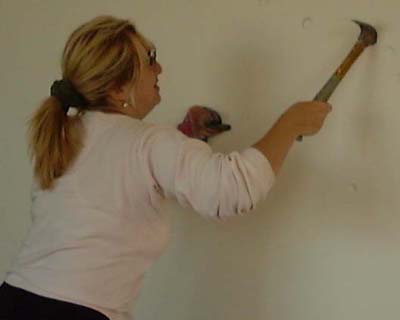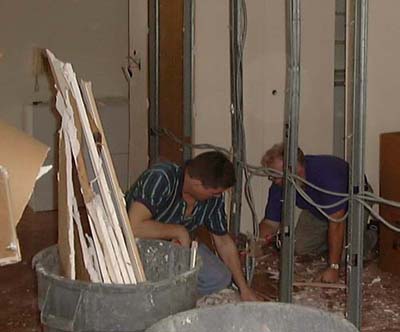 Without my help, things moved a lot faster. That is the same wall- it's skeleton only. That's Paddy and Shaun, the electrician.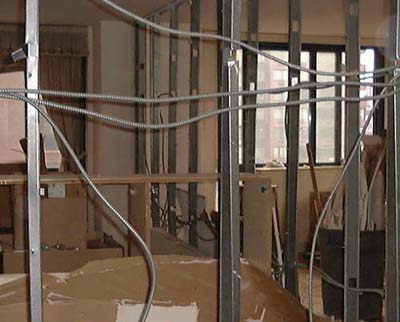 Now the other side of what defined their bedroom is stripped to a skeleton.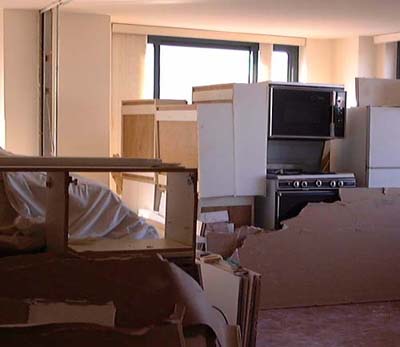 Then even the skeleton is removed and its just one big space filled with debris.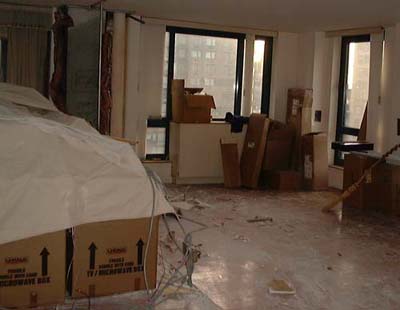 Marcia took the appliances and cabinets, and the broken walls went to garbage. The boxes that are left are full of my stuff, and covered with a plastic tarp. I tried to keep organized what was in the boxes in case I needed something from them. Ha.
In the corner is boxes of stuff I have bought to hold more stuff, you will see that later.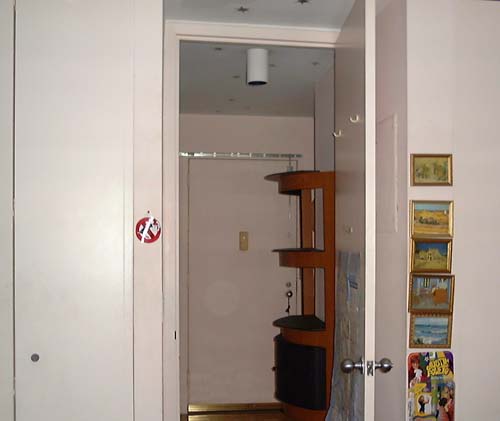 This is the view from my bed. On the left is a closet, then out the hall my bathroom is on the left and the door to exit my apartment is straight ahead.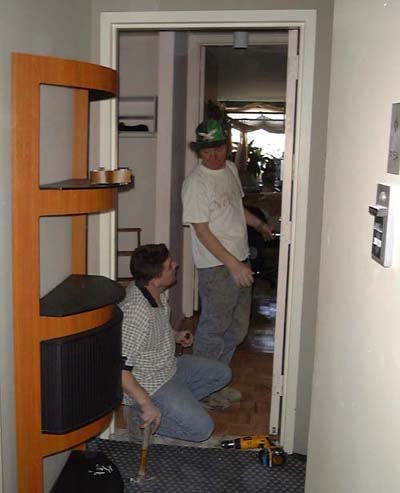 This is the view looking back at my bed from my door, P15B.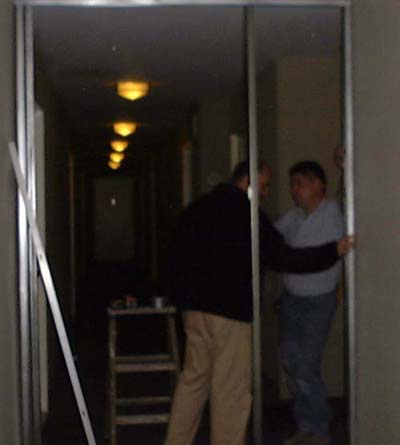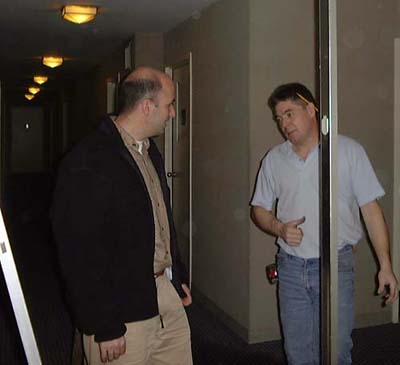 The architect, Walter, and Paddy plan the design of my new front door. It's waaay down the hall.
Paddy and Jimmy start to remove my door. No, that is not snow, it's sawdust in the air and it's pretty much been like that every day.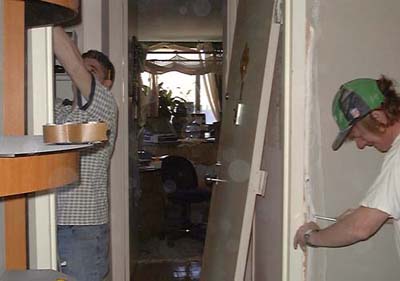 My door came down relatively easily, like it was happy to move down the hall to it's new place.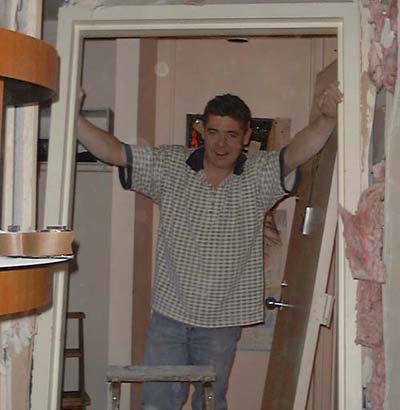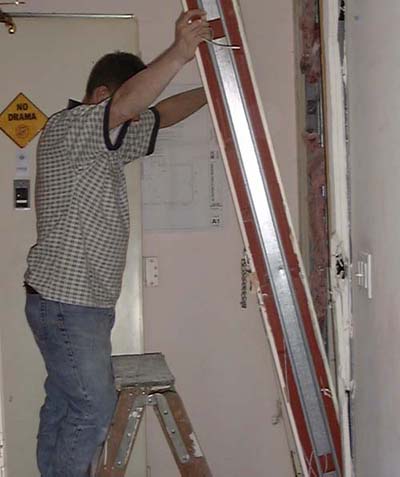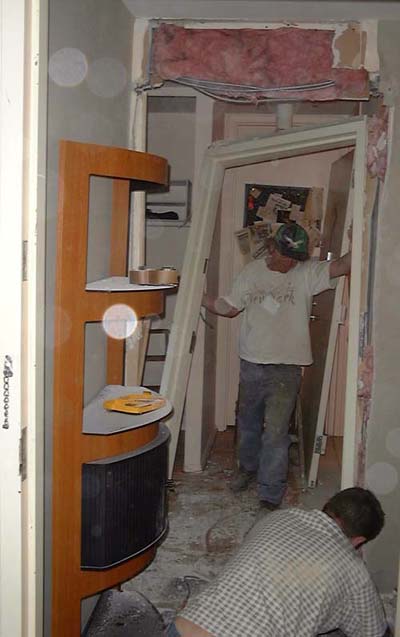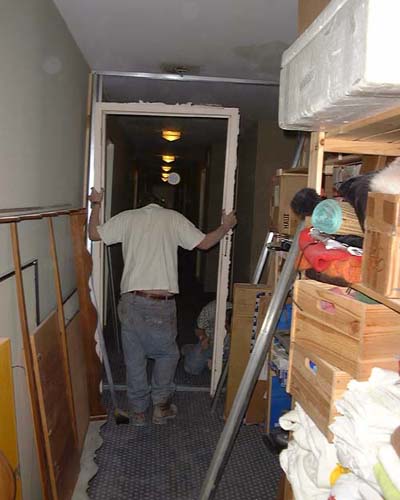 Here is the door for P15B just barely built in it's new spot.
Nice thing the Work Permit showed up. I added the sign from P15A which I scavenged off that door, still standing between me and my new larger home.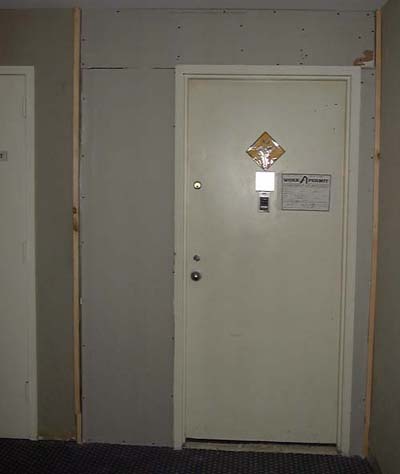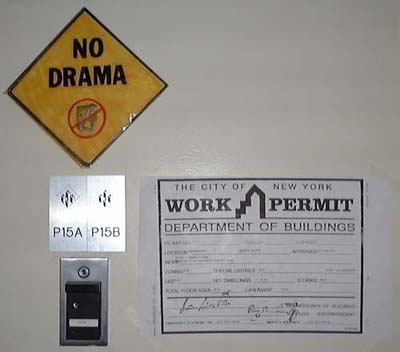 As soon as they got my door moved, I made use of the hall space. I used the shelves in the boxes you saw earlier. I built them and emptied my hall closet so they could demolish it. So here's my linen closet contents. I also emptied out one of my bedroom closets so here's all my shoes.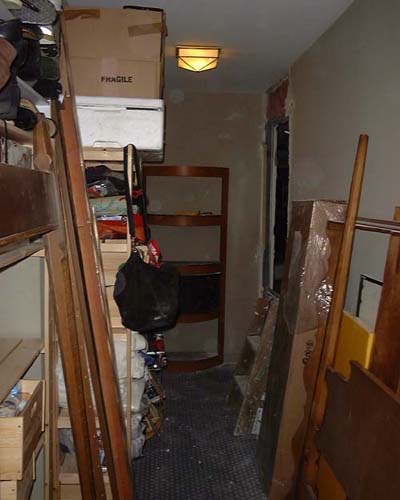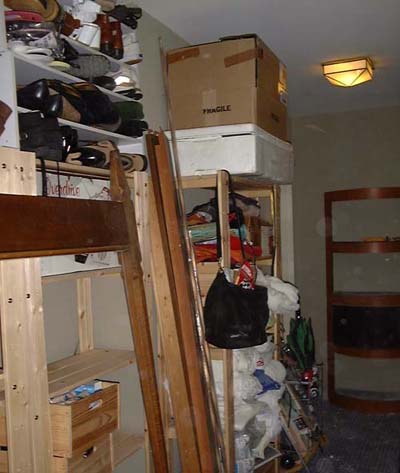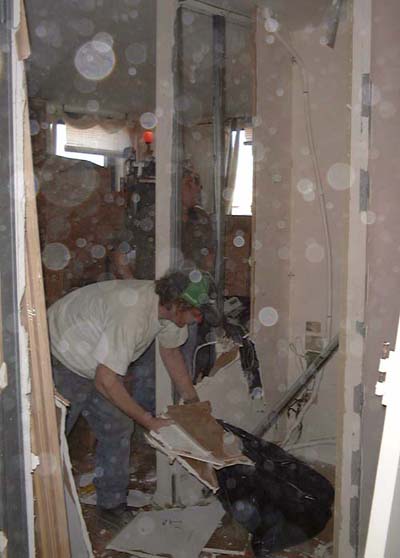 There goes my hall closet.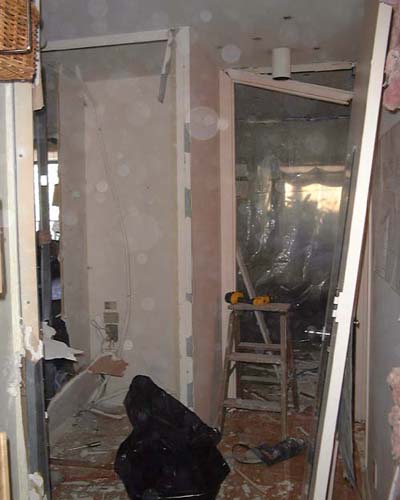 The bathroom door is being moved so they have removed it and started to demolish the doorway into my bedroom. Now my bed has a plastic tarp drape to separate me a bit from the constant blizzard of sawdust. I lived on my bed for a while and slept in dust. On weekends I would take down the tarp and answer emails.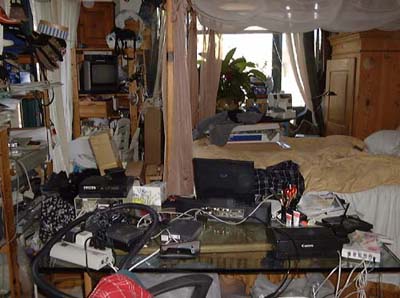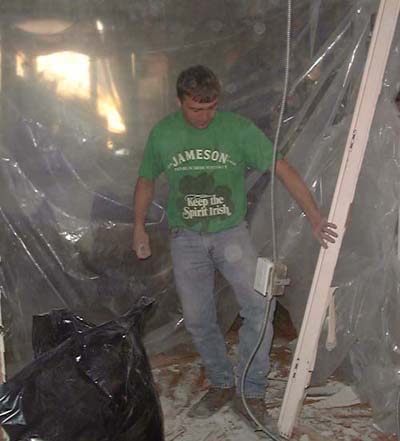 Frankie, (Paddy's brother) moves a door frame- see the canopy of my bed through the plastic. There goes my bedroom closet, which is the other wall of my bathroom.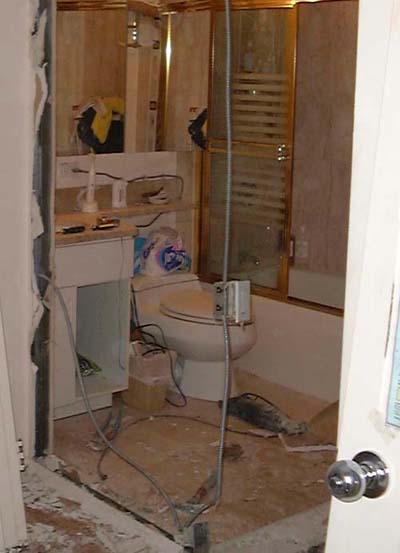 It may have occured to you that now I have an open air toilet and shower. The crew comes in around 9am and stays until about 3pm, you do the math. I am up at 6am to bathe and prepare for their arrival, usually covering things and moving boxes and packing things and moving them etc. The bathroom in P15A is barely usable sometimes- only sometimes and even then it is black with dirt, and storing everything from 3 door frames, insulation, boxes of my stuff in the tub, and a bunch of construction workers using it.... When they used a jackhammer to drill enough room for the electric boxes to go in the floors instead of the walls- even with P15A's door closed the concrete dust joined the sawdust from the endless sheetrock. Believe it or not, my neighbors still like me. Meanwhile, back in P15A, Mike starts to fill in the bare spots left by the old walls with light colored wood tiles. P15B has light tiles, and P15A has dark as you can see. So the next priority is to get the floor in P15A to match my light color.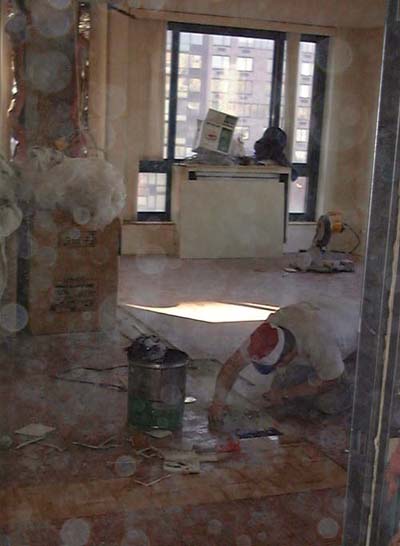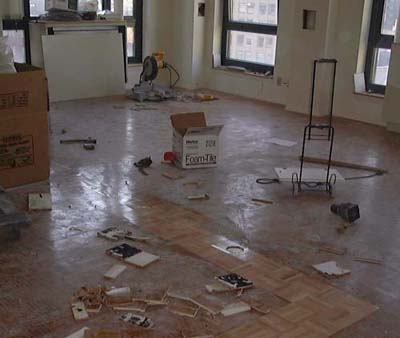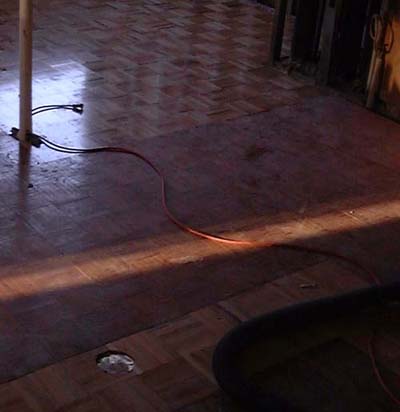 OK but these boxes have to go somewhere because the floors have to be sanded and eurothaned so they match my light floors.
The construction crew placed the remaining boxes (6) up on top of the A/C units. Rick is about half way through sanding the floors here.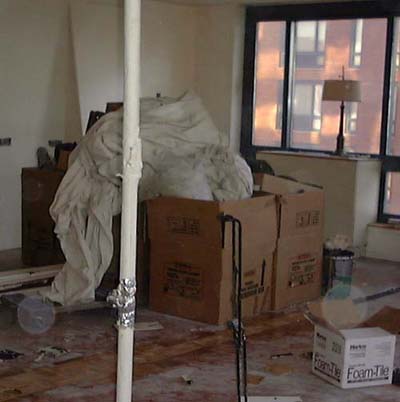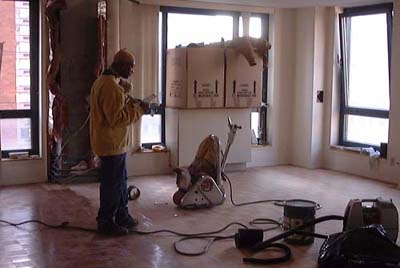 The eurothaned floors have one night to dry between coats, and one day to dry before I cover them with paper.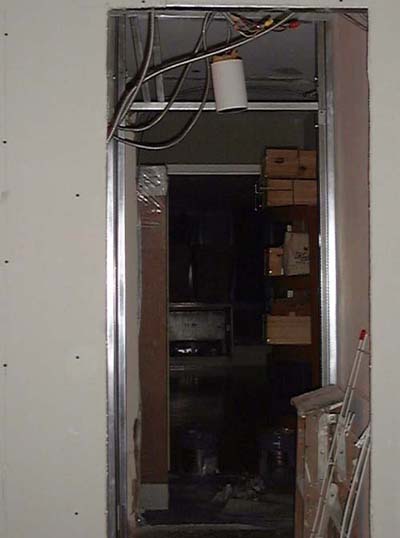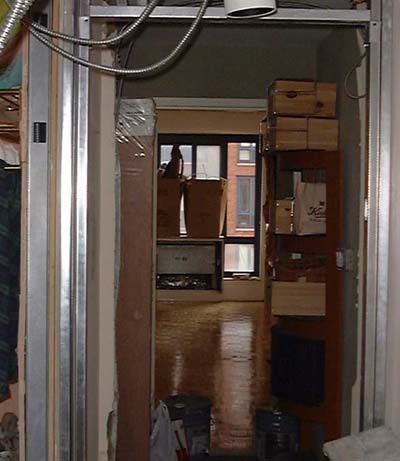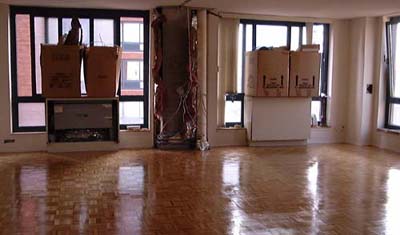 I had to move all the stuff from the shelves in the hall onto P15A's freshly painted and papered floors. The shelves I had just built and packed and moved, I re-built and re-packed and re-moved at night after the crew left. Then of course I'd be up at 6am the next day to start all over.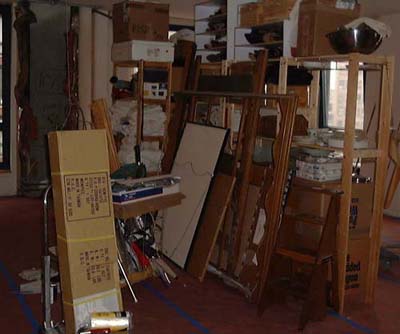 Construction is beginning in earnest in P15B now, since they can't work in P15A anyway. Whatever I can throw on my couches, and whatever boxes fit from P15A are heaped up in my living room and covered with a plastic tarp. Note the position of my beige house phone on a pole.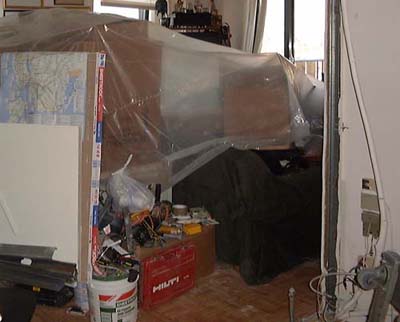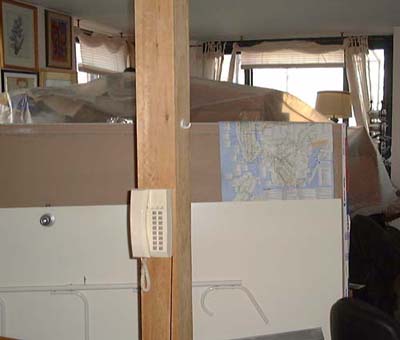 Around this time, the guys show up from Road Runner and Time Warner Cable to install my cable modem. Here is the nice technician squatting between piles of crap to find and install the connection.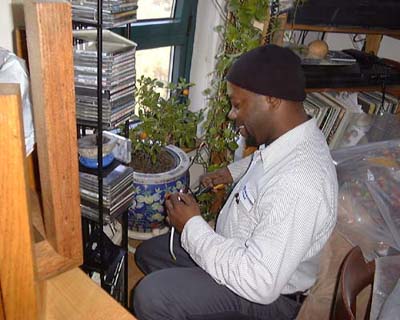 This was a large window from my bedroom to my living room, soon it will be a large doorway.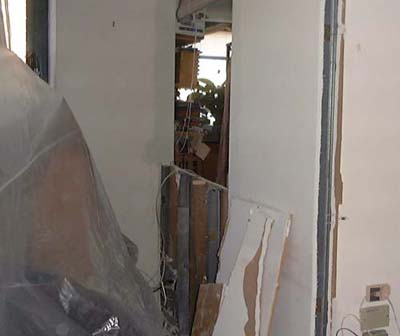 Paddy has a unique way of finding out where the wires go in the walls.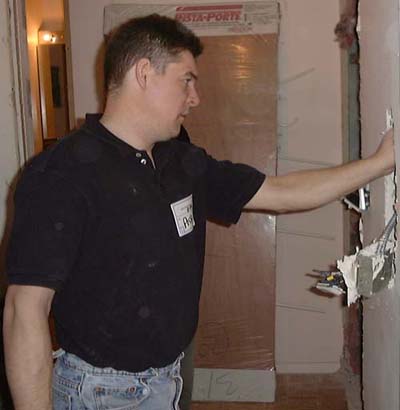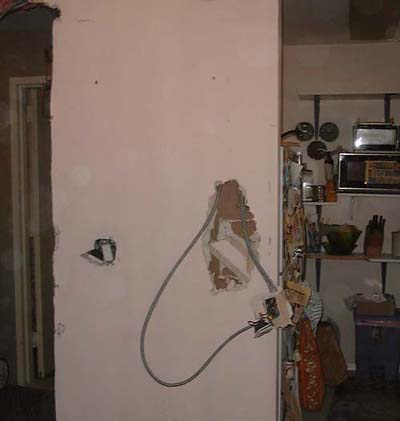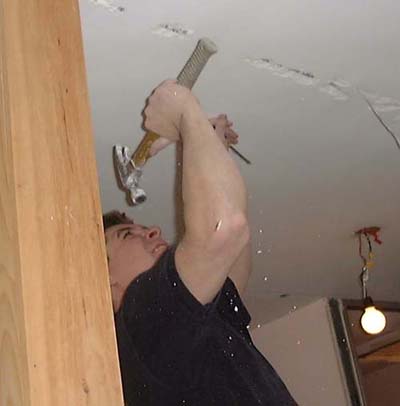 We're just about ready to break down this wall dividing our apartments.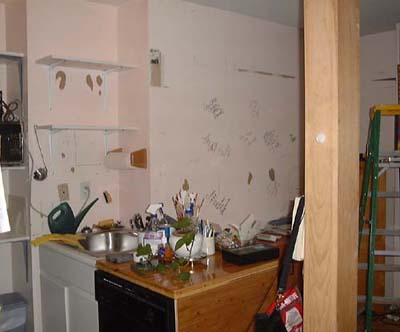 This was a very exciting moment for me, Tuesday before Thanksgiving Thursday.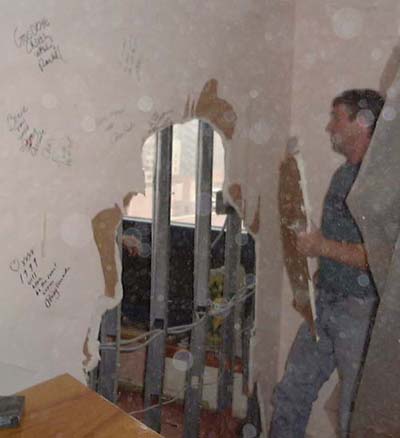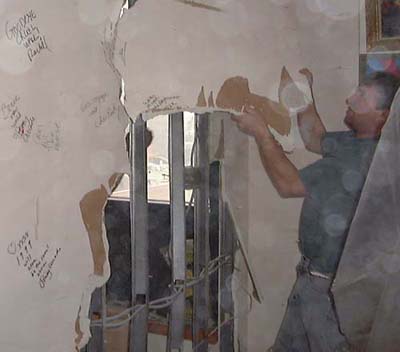 The first time I saw through the wall.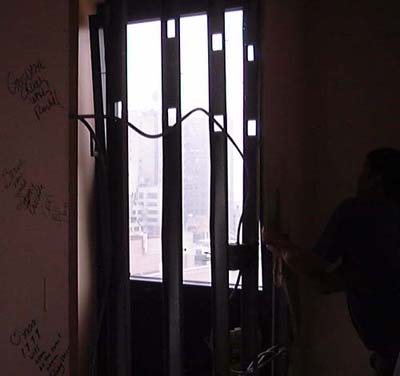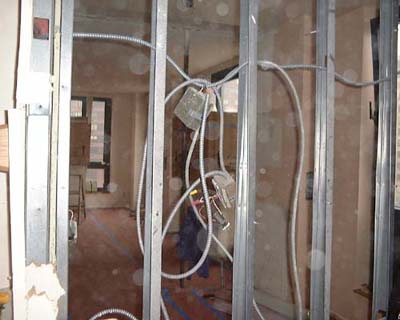 And looking back from P15A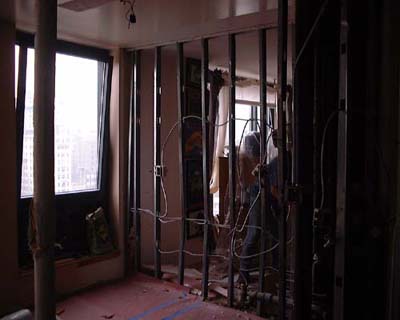 Not much left of the wall here. That box hanging down from a wire is the back of the what was the beige house phone of P15A. Guess I forgot to put that big pot away and now it's dusted like a doughnut. So is most of everything anyway.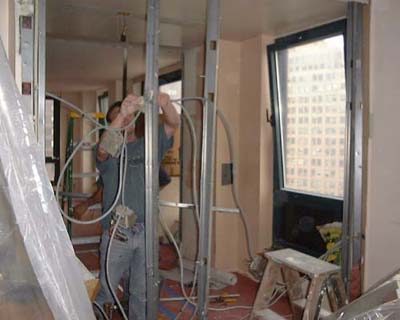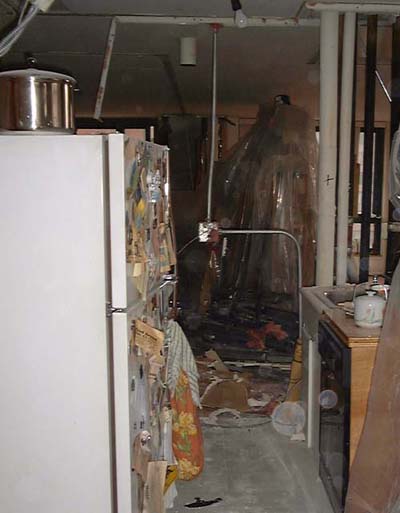 Now there is only the door to P15A and a little of what used to be the hall wall. Note the box from Balducci's with my Thanksgiving inside.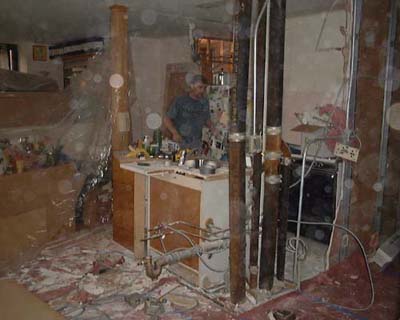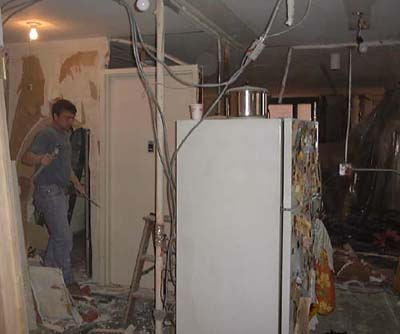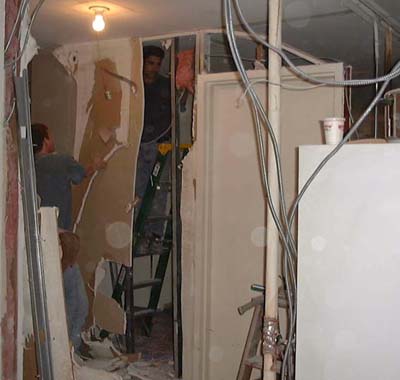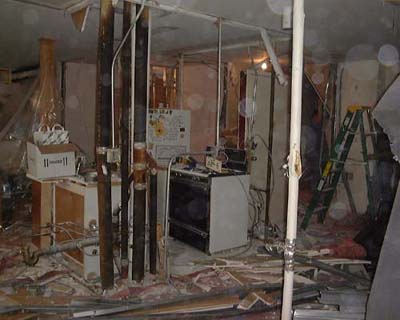 Believe it, that damn door to P15A, was the thing they used most to hurt me, slamming it and slamming it. It was the reason I committed to buying that apartment or moving. And here it is the LAST vestige of that apartment and it was not going easily. Frankie and Fary were not to be denied.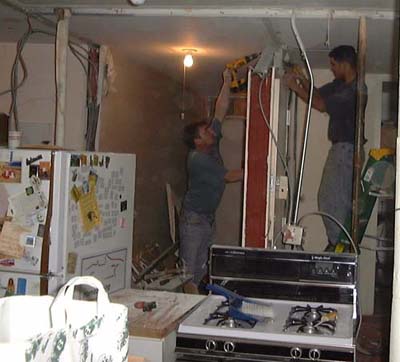 That door came down hard. Wednesday Paddy and Shaun returned to make some sense out of the wires, and they moved some furniture for me. After they left, Marcia and I set about cleaning and cleaning and cleaning and cleaning and moving and unpacking. I was fairly out of my mind. I have had a bad headcold for this last week, maybe from the dust. Here is the result so far- I wish you could see the views.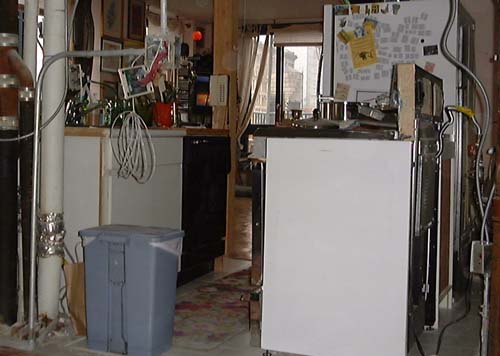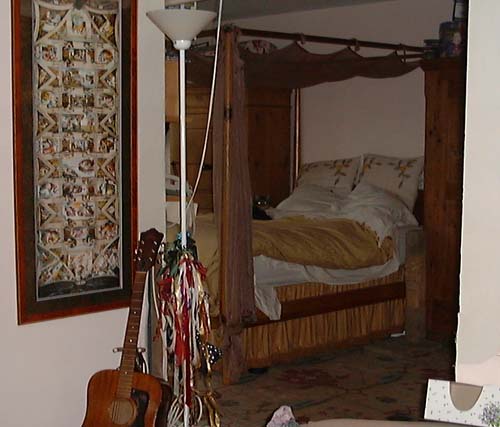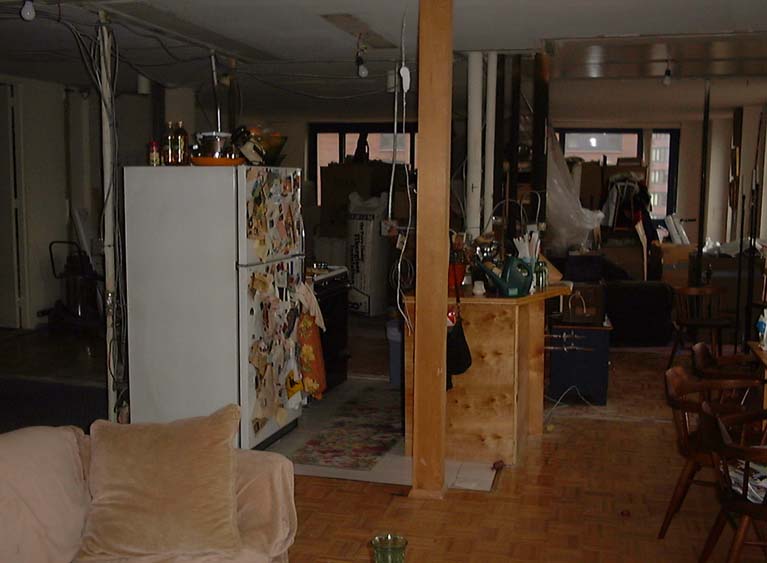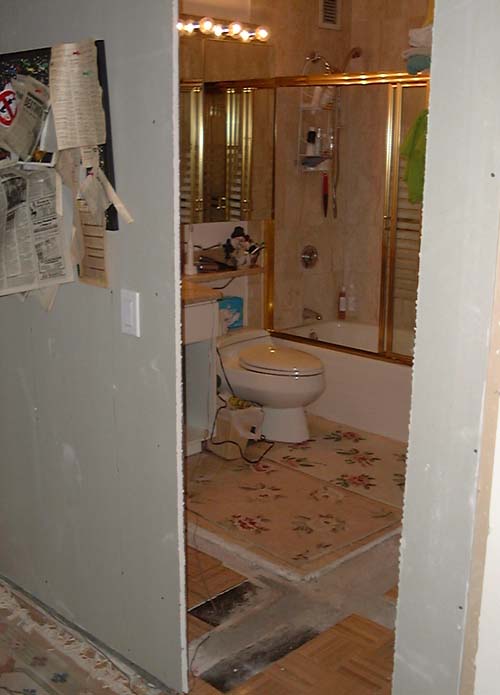 The view from my desk- now.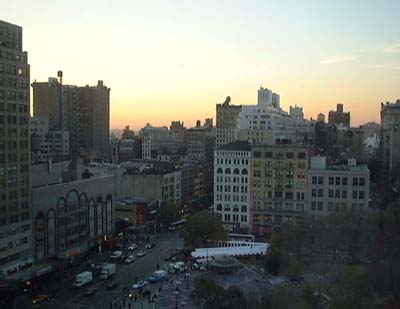 In a few I will upload pics of my first Thanksgiving in the new combined apartments!!!! Big Appetite, Big Hug and Kiss to ALL!
Love,
Rachel