The road was dynamite and the truth is if they didn't have a stop sign I would never have caught them,
as hard as I was trying.

| | |
| --- | --- |
| | Silvy |
| | |
| --- | --- |
| Brad | Ilya |
Then it was just bliss. Excellent roads, fabulous weather, fun drivers and stunning scenery.
I have not been this challenged since I followed the Texans down the Dragon.
One strange thing though, I started noticing the ASC coming on and slowing the car for no apparent reason.
Didn't matter what gear, or that the road was smooth, it wasn't at any particular point, curve or straightaway.
It was REALLY annoying.
Although I was missing my chip and CAI that doesn't explain it because I had no chip or CAI when I drove the Dragon
last year and I didn't have a problem like this.
Needless to say I was not at all happy about it but I kept trying.
At one point I was behind a TT and I was pleased for the new experience.
I could see some of how that car performs and it's distinctive roll hoops.
When you have more than one of those cars in front of you, it really looks cool.
From JR's Page


Roadsters as far as you can see.
It may look crowded when we
created our own traffic jam,
but on other parts of the run we
practiced 4 wheel slides,
turn, after turn, after turn.
I lost count of how many 15 MPH signs went
by at 45, or???,
Well, I'm not saying.


Brad

From Rick ///MFATIC's Page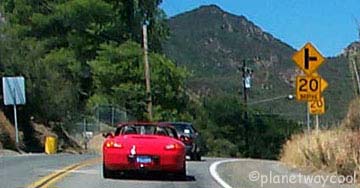 Finally free of the clotted suburban roadways,
we all got higher... literally.
On one of the early corners
I noticed somethingwas amiss.
Something was physically holding me back
from goingdeep into the twisties.
Then I remembered I had forgotten to give
the electronic fun police the day off.
When the amber glow ignited
on my instrument panel
I knew that I was on my own.
I had to makesure that I didn't

The first leg was like a warm up lap.
Everyonewas getting comfortable in their cars.
After getting everyonethrough a stop sign,
people were weaving back and forth,
warmingtheir tires as if
anticipating a green flag to drop.