Gidget's Beach Blanket Bingo party -

From Rick ///MFATIC's Page

Coming down the hill toward PCH,
the welcome decline in temperature
signaled that lunch was near.
A right turn on the coast highway
took us up to Neptune's Net.
Deep fried seafood and burgers
were the culinary delights awaiting those willing
to endure the looooooooong
line at the counter.
I got a lemonade and scallops
with the consistency of
a racquetball.
Yummy!


We stopped for lunch,
yummy steamed clams for me,
downloading the morning's shots
from my camera to have a full disk
available for the next leg.
From JR's Page

| | |
| --- | --- |
| Lunch Time - Neptune's Net - | Hurry up and wait. |
Taking a pee in the restaurant's spot-a-pots was less than satisfying. By this point I was icky groaty. Sweating through my copious sunscreen since 8am I was already sticky, my hair was like twisted rope, that portajohn was the capper. Who cares? Gimmie some more twisties!!!! (OK Rach, we will)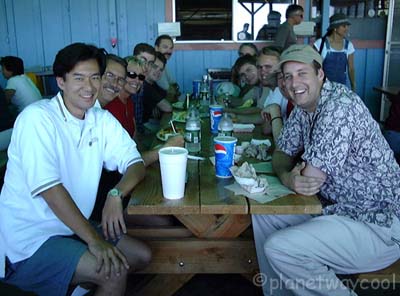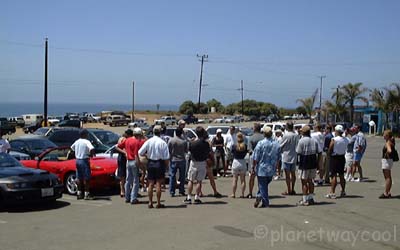 lunch and the drivers' meeting after lunch

I picked Earl and Janet and bmv's brains about the damn ASC. Everyone said just turn off ASC but I was afraid- until I realized I would still have ABS, I get these ABCs confused. So I gave it a shot and it worked great. Now I was rady to be totally cruisin'.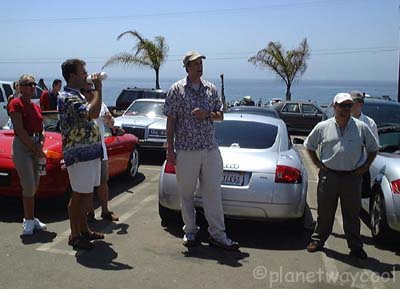 "remember, if you get stopped by the police,
there is no leader for this group..."
From Rick ///MFATIC's Page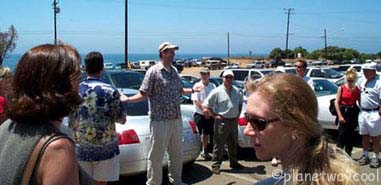 Now Robert informs us that
we are about to get to the really good stuff.
There were no maps for the afternoon legs.
The semi-secret roads we were to travel
need to stay that way
lest they drown in Harleys and Winnebagos.
We wanted to protect the environment...
our environment!