Thirty-nine cars pulled to one side, some folks had to go.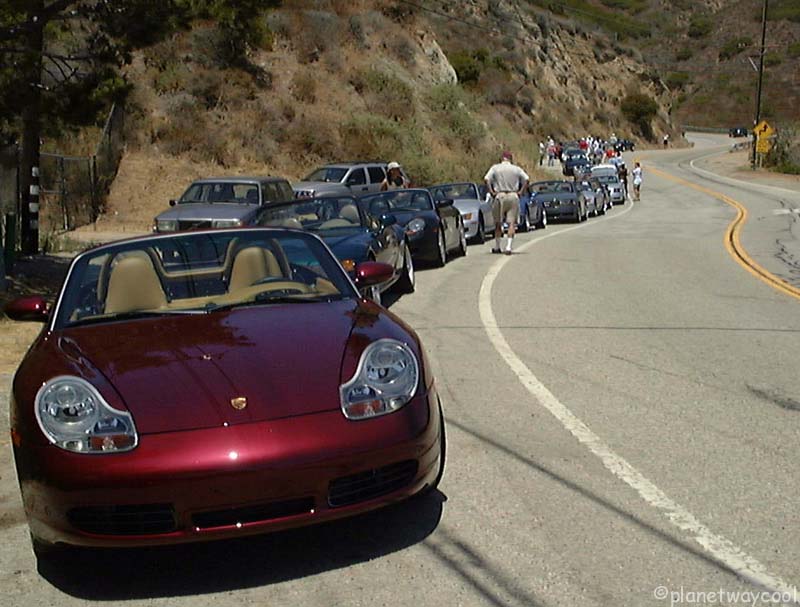 From JR's Page
Well, A Good Time was had by All. There are no photos from the heart of the run. To do so would have launched me into a giant boulder or off of a cliff (Now, THAT would have made a great photo, of course, Thelma and Louise have already done it, so it wouldn't be an original idea.). If you really want to experience what the Malibu Roadster Rebellion Run is, you've got to be there.



I missed taking a shot of Richard's vanity plate and aftermarket exhaust tips. Good stuff. I asked him if I had kept up the pace enough and if he had any words of wisdom about how I could do better. He said, "You did alright". I gotta tell ya, those 3 little words made my frikin day. He said turns were easier for him because of the position of his engine in the middle of the car.


From Rick ///MFATIC's Page
Unfortunately there are no pictures from the last leg as every inch of it required both hands firmly on the wheel. Constantly moving between second and third gears, the smiles grew wider.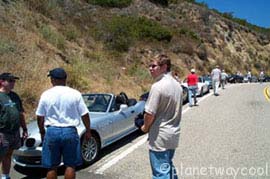 The ribbon of roadsters and coupes came to a final stop just short of PCH. Some departed for home from here whilst a few of the parched participants turned left toward the Pier View restaurant for a refreshing adult beverage.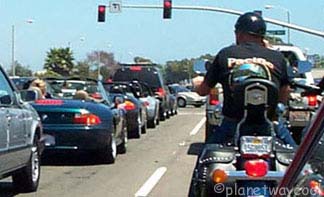 It's often the "Hawgs" that draw the looks, but this time they were serving them up for the line of topless Teutonic toys en route to the watering hole. If they only knew where we'd been.


As my trip odometer clicked to 100 miles- every bit of it gorgeous twisties- we rolled down to the Pier View bar and grill. Their parking lot filled and some of us went trolling for spaces on the road.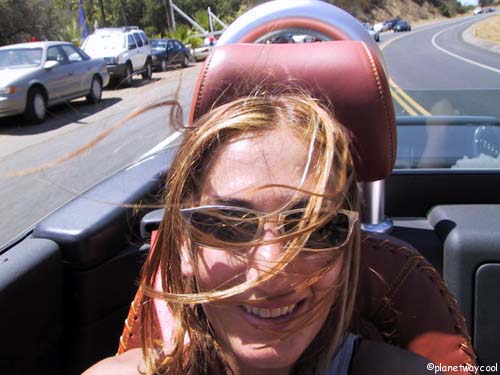 Silvy rides the last leg in Brad's Audi TT
Brad



I pulled in front of the Malibu Sunset hotel next door, to go inside and get a brochure since I had a hard time finding a hotel near the meet point coming in. I hadn't even stepped out of the car when this guy comes out and says, "That's a LOADING ZONE". I said, "That's OK I am coming inside for a brochure." He said, "That's a LOADING ZONE", I said, "I know". He said "That's a LOADING ZONE", I said, "English is my native language and I can read the sign, so get out of my face" He said "That's a LOADING ZONE". I said, "OK I don't want a brochure anymore because you are an asshole." I started up towards the restaurant parking lot to see if a space had cleared and he ran after me. By the way, it's not a really good plan to run after a New Yorker. I said, "Look, what are you going to do, chase me down and tackle me?" He said he was going to call the police, I told him to have a nice time calling the police because I would be gone before the police arrived. He said "That's a LOADING ZONE". I found a prime parking space, moved the car and returned to the motel to get the manager, and this kid says he is the manager, and an equally mealy faced girl chimes in as well. I didn't know that hassling people was the high point of their existence, so I lobbed them some choice expletives and headed to the grill. That was the first time I remembered why hadn't liked LA before.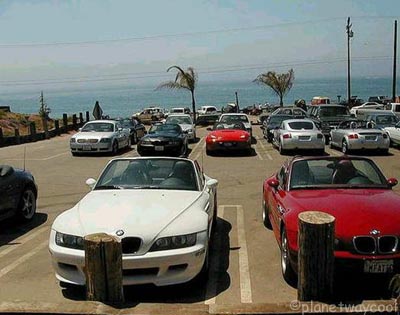 Silvy



Inside the grill, I met up with the hard core riders, the ones who stay to the end, toasted Robert for his utterly completely excellent drive and prepared for the next stages of my journey. I took a hobo's bath in the bathroom, changed out of my sweaty, wet togs. What a great bunch of people. I had a good laugh at the younger set among us whining about how wiped out they were. :)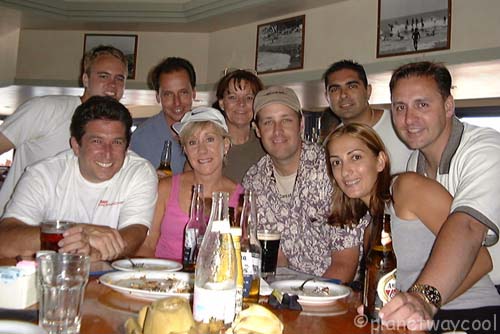 Back row:?, Karl, Janet, Ara, Brad
Front row: Richard, Debbie, Robert, Silvy


Janet bought my gray TalkAbout for $50 (the deal still holds Janet, if you find one cheaper I will refund the difference) and we yakked about my flight to Sacramento and she said it was good I wasn't on Southwest because they don't confirm seats, it's a first-come first-served shuttle. She doesn't know how both later came to save my wretched ass. The only thing that kinda sucked was knowing that Robert BoxStar would post again about his next ride, and I wouldn't be able to take it. I could not say "Goodbye" it seemed too serious so I just said thanks and took off. Janet led me to 405 and with a wave I was on my own again against the LA freeways.


From Rick ///MFATIC's Page
Once again, a boatload of thanks goes to Robert for putting this together and serving up so much fun in a single day. It ought to be against the law. Ahhh. Ummm... Never mind. I won't tell anyone if you won't.
Robert, you're the man! I look forward to the next time.