Psychedelic Catskills
We all waved our thanks to her as we passed.
Reaching the little turn-around at the end of the road,
we gloated over Rachel's command of the situation.
That's when the gunshots began.

Uh huh, yeah, right, gunshots.
Like a shot gun, more like many shotguns...
and they did seem to be getting closer...
We were sure glad for that bright yellow car...
LET'S GET ROB AND PUT HIM IN FRONT!
Don't forget the gnats. I think I still have some in my car.

Did we miss the sign that said
"No Trespassing - Survivors Will Be Prosecuted"?
The shooting sounded awfully close, and none of the cars were blaze orange
so we beat it back to the bridge.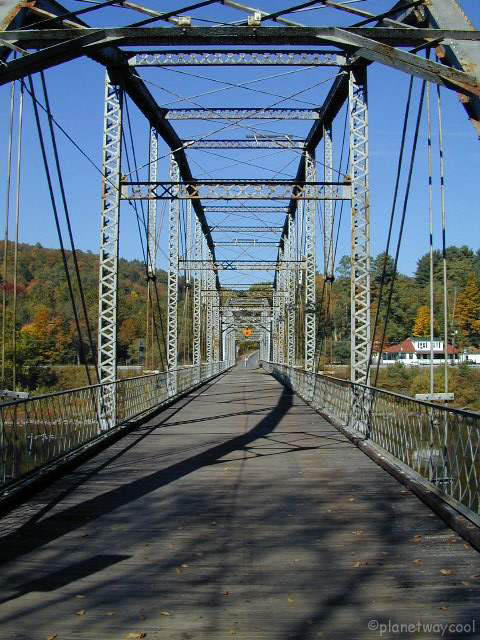 Well I sure missed 'em! ...
besides we could only get 7 cars on the bridge at one time...
and I went over to video tape it and uhm...


John Roebling's Delaware Aqueduct
From the Sullivan County Travel Guide:
Turn right on Rt. 97 North adjacent to the Delaware River
through Handsome Eddy and Barryville to Minisink Ford
......Continue along Rt. 97, make right onto Ten Mile River Rd.
and pass the Tusten Stone Arch Bridge spanning the East Branch
of the Ten Mile River, make first left to return to Rt. 97 South
towards Minisink Ford, where the Minisink Battleground Park
and the Roebling Suspension Aqueduct Bridge, built by the builder
of the Brooklyn Bridge (John Roebling) the country's oldest suspension bridge.
Driving along scenic Rt. 97 with breathtaking views of the Delaware River
and Pennsylvania on your right will lead to the Mongaup River.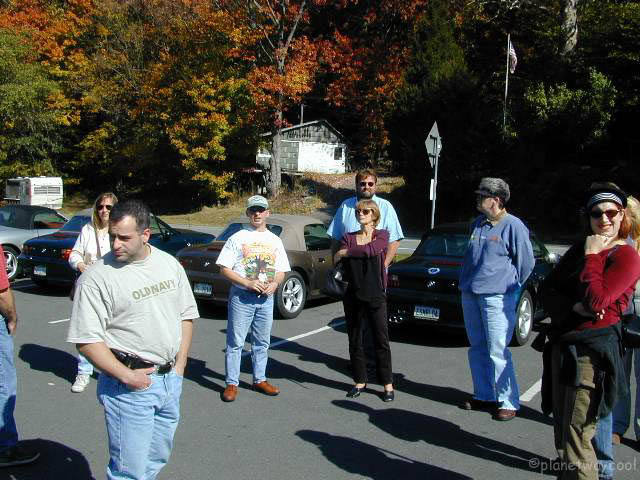 TomY gives a small speech on the history of John Roebling Bridge, and why the Park Rangers all wear guns.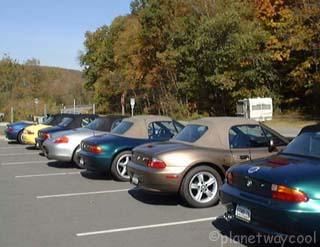 The Bridge restaurant had a great view of Roebling's bridge from the deck,
and the best food to be had anywhere in sight of the bridge.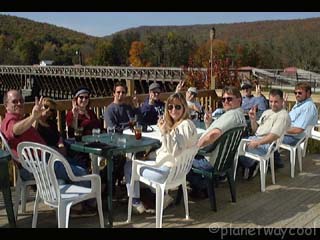 I hope to never again need a knife and fork to eat a burger.
Lunch at the Bridge Restaurant