Psychedelic Catskills
...continue west through White Lake to Hurd Rd.
Make right to West Short Road,
to the site of the original 1969 Woodstock Festival."


Max Yasgur's Farm
(site of the original Woodstock)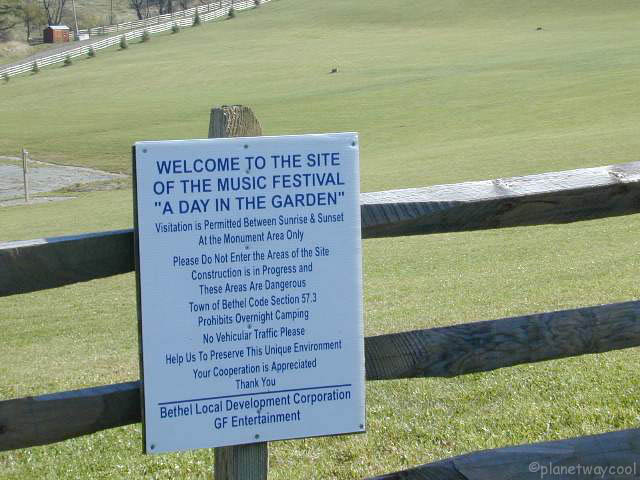 Jeez Rob, did you take enough pictures of signs?
Meanwhile, this is another sign I did not see...
I wonder if that is a pattern developing...
I'm too young to be of the Woodstock generation
(well, by a little bit anyway)
but it was pretty cool to be there all the same.
There were a few houses on the road, and
while they certainly weren't there in '69,
we closed our eyes and imagined what it might have been like
to be living there during the fabled concert:
Ding-dong! "Can I use your bathroom man?"

Ding-dong! "Can I use your bathroom man?"

Ding-dong! "Can I use your bathroom man?"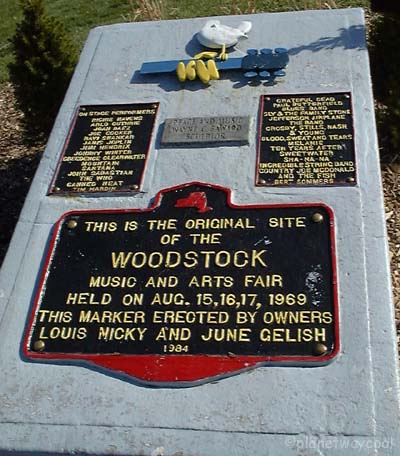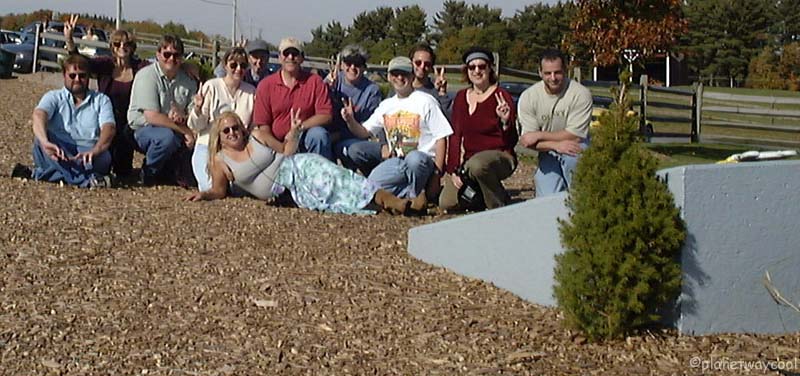 DaveT KathyG Rob and Kathy L Pat BobG Ann Tom Mick Janet Tory and I wish you Peace
DaveT's Music Compilation included:
 CSN&Y "Woodstock"
 Richard Thompson "Woodstock" live
 Arlo - "Coming into Los Angeles" from Woodstock
 Janis - "Piece of my Heart" & more from her Woodstock performance
 Dead - "Mama Tried" & "High Time" from Woodstock performance
 Janis w/ Dead - "Lovelite" & "Scarlet Begonias" 
 Hendrix - "Foxy Lady", "Star Spangled Banner" & "Purple Haze" from
Woodstock
 Joe Cocker - "With a Little Help from My Friends" from Woodstock
 Some old Fairport Convention w/Sandy Denny & Richard Thompson live

Pink Floyd - live in London 9/16/70
Pink Floyd - live in Philadelphia 9/26/70

David Bowie - live disk - "White Light, White Heat" from Ziggy dayz

King Crimson - live at Fillmore West 12/15/69

John Lennon - Lost Lennon Tapes 

Rolling Stones - several live compilation CDs, including song "Sympathy..."
from Altamont - which I had to skip because the vibes were too weird.

Bob Dylan - live 6/18/00
Bob Dylan - live 7/30/00

Richard Thompson - live 2/27/91
Richard Thompson - live 5/15/96

Compilation of various versions of Samuel Barber's "Adagio for Strings"

Tom Waits - Heart of Saturday Night

The sound of my 2.3
And of course, Emmy deepthroating it on the curves.

There's a little hippie in all of us, if you're ever in the area check it out.
Ja and there's a Z3er in everyone too...
remember the group of bicyclists we met up with?
About 20 all in yellow shirts, and the leader was pulling
his little girl in a sort of bicycle-rickshaw...
He comes up to me and says, "My wife drives an Alpha, can we come with you?"
Hell yes, buddy...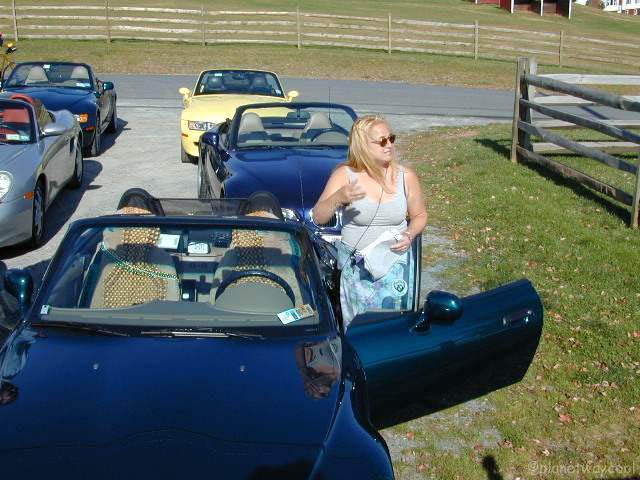 Brick Oven Bakery
Bistro & Caf≥

For More Infomation
Call (845) 687-7777
Having the Boxter with us was fun - and I only made one Porsche joke.
We had the slot behind the Boxter for much of the trip
and it plays a very sweet song!
I complimented Bob on the exhaust note over the radio
and I could swear from that point on he was doing a bit more
revving than he needed to!
It's "Boxster" ;p....
Absolutely- it was GREAT having Bob and Kathy with us!
And it wasn't just his exhaust- it was also his frikin STEREO. Jeez!
Thanks to Rachel, and all the good folks who came!
Rob & Kathy

'00 Dakar YELLow ///M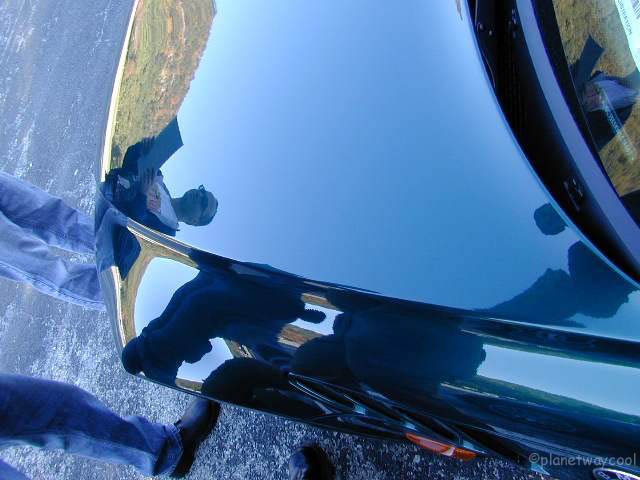 This was one of the slickest groups I have had the pleasure to lead.
When all 8 cars lie in wait on the side of the road,
to pounce on it with gusto...
again and again... awesome.