Wrapping up the year of driving, I was going to rely on a video, but in favor of the folks who don't have high-speed access, and using JonT's and Rob L's photographs, I was inspired.
(rest your mouse over an image to see whose photo it is)

There is a pic I asked JonT if I could present as a wallpaper option... (see last page) so here is a full old-style Rachel pic post story, using JonT's and RobL's photos and one or two of mine...
And for those of you with high-speed access, the video!
Click here to download the 8.05 mg zipped realvideo file.
Use an unzipping utility like WinZip to decompress the file onto your hard drive,
Then use Real Player to run it from your hard drive.

A story to read while you download... explains what's going on in the video...
I must have been a very good girl because Santa came early and gave me a driving day gift from the gods of honored by fast cars, uninhabited roads and finest company.
I left early, since I am usually late to my own drives. I couldn't wait to see my friends. The meet point was High Point State Park in New Jersey at 930am and I planned to be there by 9am, fiddling with bits and pieces on my car (a new 3 way cigarette light adapter because my BMW heated vest wrecked my old one- can you say, "biiiiiig plug"?) and I was going to set up a shot with the video cam of each car arriving.
I pitied the traffic backed up for miles heading east on the George Washington Bridge as I flew by them just after 7am. There but for the grace of... around 830am I know I am close, following 517 and suddenly there was 94 instead. I hadn't been up here since last year. I drove along 94 looking for a gas station until I crossed the border to New York and Warwick.
Doh! By the time I realized what I had done, it was 9am and I was closer to the end point than the start point! There was nothing on the map heading due west where I belonged, only traveling south first, back to where I lost 517, and then back up 23. It looked like an hour.
I called JonT- his phone worked, but he was later than I was. I called all the rest but none of their phones were working. I really want to strangle James Earl Jones for that "Welcome to Verizon Wireless" crap.
I carry two atlases in my car, one is the whole U.S. and the other is NJ. I have driven cross country several times, and to almost every state and *only NJ* needs it's own frikin atlas, imho. Only a web of little roads. "Well, hell" says I, "I can do this". Sometimes I was fretting about making people wait for me, but then, the roads were so fabulous, and I was having such a good time... and I wasn't late- yet. I was making headway and then was lost again. No one as far as I could see, just rolling hills and roads. Now, that is not a wholly terrible thing. As I pulled to a stop, I hear DaveT's voice, "Any Z3s out there?" coming from my TalkAbout. Magic.
CTTodd, Rob and KathyL and DaveT were waitin' at the Monument. Kathy said, "It'll end up quicker if you go south and pick up 23, because if you make a wrong turn on those back roads, we'll see you in 2 hours." Gotta listen to Rob and Kathy, this is their nabe... but... this is me... and Emmy... so I decided I would head for 23 alright, but not by going south (grin). I looked up and saw where I was. "Beemer Road".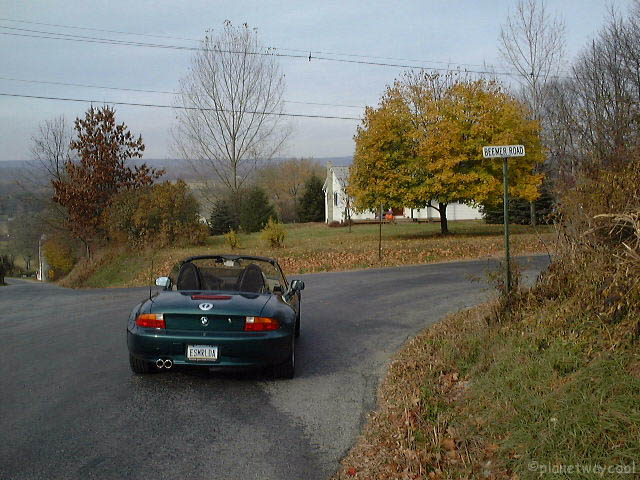 Uh huh. A couple real pretty roads later I found 23 and the Z3ers waiting at the Monument. It was about 945am I think?
I needed gas and a pee. Of all the places I checked for bathrooms, I did not check the meet point. Last year's cruise had met there in October- I guess they close them by November. JonT was getting close so we met him at a nearby gas station, made a small spectacle of ourselves and availed ourselves of their fine facilities and made off, Rob and Kathy and Todd and Dave chanting, "LET'S DRIVE!"