Invitation
(See also Shawn's Z3 Garage Page)


March 01, Shawn writes: "Fellow Z3 maniacs, Todd C. has been wanting to come up and visit my garage (just over the RI/MA boarder) for awhile now so we can take a look at the airflow of his 3l.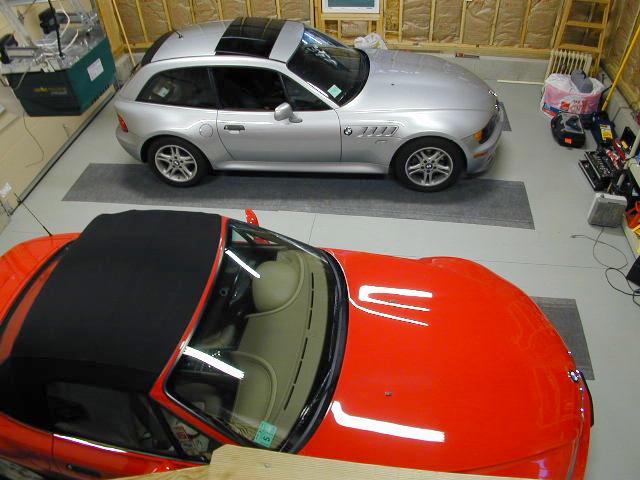 (Yeah well we ALL want to come visit Shawn's garage, here's a pic from David's visit)
I've been looking for an excuse ever since Shawn posted his Garage Invite and his web site.
I think Rachel was looking for any excuse for a road trip.
Busted.
I am very sure Emmy was.
Busted again.
We have been talking and figured it could be a lot of fun if we turned it into a small Z3er get together... sort of a very mini Fixit day@ Foggs... with a BBQ of course.
Of course!
Basically the idea is to take the 'parking lot time' of any Z3 drive, stick it in a garage to get some work done, and add food.
Depending upon how long you guys are here will sort of limit how much we can accomplish. We need to airflow test Todds car and take a general look at the airbox to see if it can be improved. Rachel was interested in having me give Emmy a physical to make sure she is looking healthy. Mainly just checking plugs and looking for leaks. Emmy may get a new set of brake pads though too to help Rachel have more time to drive. Not a big deal as I've got enough custom Z3 jack stands so we can get all four wheels off the ground at once to speed up the process. We may have more time if Jon or David would be interested in anything. If I'm really ambitious we might be able to get work accomplished in both bays at once.
For the airflow testing we need a non-snowy/icy day as it involves WOT runs to redline in second gear. My garage is insulated but not very well heated yet so it might be a little brisk in there depending upon when we do this. Probably in the 40s to 50s.
For me Saturdays work best and doing it in March helps. I know there is a drive this weekend so that is out. Todd said he couldn't make it on March 23.
If you are interested please reply to everyone with the dates you might be available."
Todd writes:
"Everyone is welcome to stay both Fri and Sat -that will be great. Jon, we will stay close to home and take a cell phone to stay in contact with you."
March 02, Rachel writes:
"It's a good thing Todd invited us, since we were planning on staying with him anyway."
Shawn writes:
";) I bet he knew that was the case anyway."
Rachel writes:
"Methinks March 17 is a GO baby. Erin Go Foggy."
Shawn writes:
"Cool, that is what I will plan on then. Guess this means I gotta clean the garage..... ;)
Any suggestions on the BBQ? Steaks, burgers, hot dogs or what? Melissa and I aren't seafood fans but if someone wants to cook some that is no problem... I have a large grill."

March 12, Todd writes:
"I am really getting excited about see you all this weekend. This is going to make this long week go quicker. I think I have about 2100 miles now. I hope the weather will get better so I can add more. I drove it last night to the gym- I keep forgetting how awsome it is to drive."

March 14, Rachel writes:
"Frikin aggravating day, decided to spoil myself- got the pads, one day delivery should be at your office on Friday. (grin) How about the spark plugs, can i get them too?
I have now irrtreivably crossed the line- it is now obvious that my car is the outlet for all my aggressions. Every time someone aggravates me, I put something on the car. AWWWWWWOOOOOOOOOOOOOOOOOO
I defintiely need to be sedated"
JonT writes:
"It must be something in the air. I've reached my limits here too. I won't go into details - all I can say is HUUAAAARGH!!!"
Shawn writes:
"I'll third that, this week (and the begining of next week) we are nutty! Can't wait for the weekend. ;)"
JonT writes:
"Shawn, did you notice any increase in stopping distance with the Porterfield pads?"
Shawn writes:
I never measured it but according to my 'butt-dyno' I think I can stop *shorter* with these pads. They are definitly easier to modulate so you can threshold brake easier which will stop you quicker."
JonT writes:
"Actually, I'm on my way over there after work to get pads for my Audi (aka I'm not going to pay $300 for a front brake job!)
Who makes 'em? Rachel, I can pick up a set of spark plugs for ya..."
Shawn writes:
"Just went to the Pep Boys near me and for a Y2k 2.5l they did list it as taking #4417 plugs. However they only had 4 in stock so I didn't bother buying them. I will try hitting up some more stores tonight and seeing if I can get another set of plugs."
DaveT writes:
"ummm... could I impose on you to pick up a set for me as well?"
JonT writes:
"Ok, 6 for you, 6 for me, and Rachel? Oui o Non?"
JonT writes:
"Well, I went to Pep Boys, and bought the 12 spark plugs they did have, so that makes two full sets. I can do withoutif someone else wants them, but if you wanna do me a favor, can someone else get a set (or two if Todd wants to follow suit)??"

March 15, Shawn writes:
Sure, I can try and run out at lunch today. Was the stock number I gave you correct? I know that is what the 1.9s use and I am 99% sure the 2.8/2.3ls do as well."
"I will try hitting up some more stores tonight and seeing if I can get another set of plugs"
(See how many times Todd tried to get a time commitment from us...)
Todd writes:
"Hi Rachel and David,
Do you have an ETA for tommorow yet? I usually get home about 5:30, but will leave earlier if you are planning to arrive earlier (leaving early is no problem). "
DaveT writes:
"We haven't talked about that yet. If the weather's good, I think we may take the long way."

have chased leprechauns since March 21, 2001