RichNYC and I headed East down I-78 back into New York.
Like when I came home from Homecoming, that last stretch, anticipating seeing the New York skyline pop up on the approaching horizon.
Home.
This time, it was scary.
I thought we'd be spared, since it was dark, and the World Trade Centers were not usually lit up, so I didn't expect to see anything out of the ordinary.
We were not spared.
The smoke and dust cloud was lit up, ghostly and monstrous.
The whole south end of the skyline was one bilious cloud of death.
I was very happy that RichNYC was with me this time.
All we could do on the Talkabouts was gasp.
We split up in the Lincoln Tunnel under a huge flag, reminding us of the solidarity of the rest of the world, the rest of the US, our friends. Rich went West, I went South.
Turning onto Lexington, I ran into a war zone outside the Armory.
This white tent is for television interviews.
There were army vehicles and police vehicles lining the street, and people crying in crowds on the sidewalk.
Home.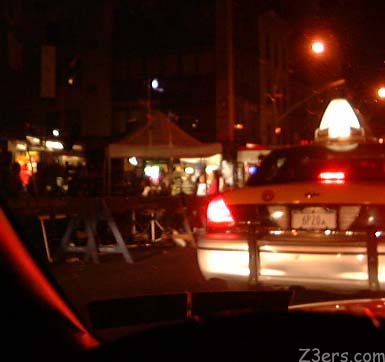 Outside my window, the candlelight vigil continues.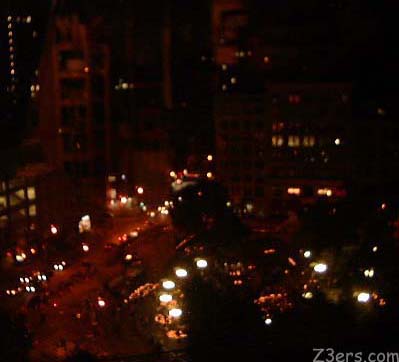 What's this? Something outside my balcony doors- in Red White and Blue...oh yes, the Empire State Building, now the tallest in New York city, unafraid to stand proud and tall and lit up with pride.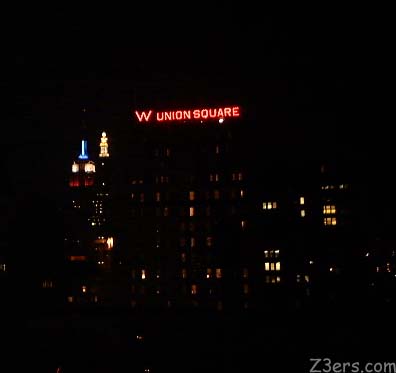 Looking again out the window I see the sign for the new "W" hotel.
It used to say "Guardian Life" before the insurance company sold to the hotel chain.
I was really mad they changed it, because I always felt like someone was guarding me with the old sign.
Ya know, this one ain't so bad. It says: Union Square
Yes, this is where I live, and I am proud to call it home.
New York City, Union Square.
Where we hold a candlelight vigil for victims of the tragedy, where people stand together and love freedom.
Where my friends know they can find me.


Tuesday September 11, 2001
****Ways To Contribute Here!****
WTC Z3ers
Prelude to War Introduction~~ Tuesday September 11 NYC Z3ers in danger ~~
RichNYC, Mark V, Mick & the Vigil Begins
Wednesday September 12 The Morning After, Accounting for the Living~~
W.B, TimUK, Jake, Jahox, Lisa, edscuba, Alan
Thursday September 13 Rebuild and Remembering~~
TomY, Betty ///M
Friday September 14 Rising Up in Prayers~~
SigmaNu6, SHZ3, BMW Manufacturing, Inside the Night Vigil

Found Friends, Saturday September 15
RichNYC, Mario, JonT, Lisa, Rachel, Dadofour
Part 1 Leaving NYC ~~ Part 2 Blood, Police and Prayer ~~ Part 3 Faces, Friends and Hugs ~~ Part 4 Laughter and photos ~~ Part 5 Catharsis Drive ~~
Part 6 September 4th of July ~~ Part 7 Good Eats ~~ Part 8 Trespassing ~~
Part 9 Skipping Bricks ~~ Part 10 Packing out in Glory ~~ Part 11 Country Roads ~~ Part 12 Dunkin Doughnuts ~~ Part 13 Mario and Leann's ~~
Part 14 New City Lights ~~
Part 15 Back at the Message Board Saturday night~~
(Teachum's Video File)

Sunday September 16, More Z3ers come home ~~
Pat, Zeattle Dave, NKYBimmer
Monday September 17, Z3ers Creating Beauty~~
(Flag Z3)
Kevin in NH, DaveP, Bill WJZBMW, Inside the Daytime Vigil
(a lot of graphics- all worth it imho)
Tuesday September 18, Comics~~
Wednesday September 19, Volunteering~~
MJDude
many more Z3ers and people have been helping, more than I could mention, THANK YOU!
Esmerelda's Home Page