Volunteering (archive)
---
Posted by Rachel on September 20, 2001 at 01:02:37:
(posted from: 66-108-7-56.nyc.rr.com (66.108.7.56))
Volunteering~
I checked the map, confirmed by phone, planned my route and headed to the only volunteering place that would take me. The requirement was "warm body".
I can do that.
Dont get me wrong, I understand all too well why they could only recruit known and creditialed volunteers officially.
It's a bit too far to walk, and public transportation is spotty, they said there was parking so Emmy got to take the ride.
When I got to 7th avenue and West Houston I tried ot make a right- but the police stopped me.
Next block, same deal. I found a space and parked.
As I walked towards Pier 40 I saw that cars were flowing freely- it was *only* those two blocks that were blocked off, and I later found out why. It was a good thing I didn't know why at the time.
It took a moment to realize what I was looking at on the West side Highway. Out in the open air against a chain link fence between rows of police barricades were regular people and lots of boxes and buckets.
Turns out the boxes and buckets were full of well sorted items.
A mountain of water. God Bless Poland Springs.
Ice came from nowhere.
Boxes of goggles, masks, eye drops and saline solution, batteries, flash lights, juices, gatorade, extension cords, piles of shovels, pallets, shopping carts, a medical area, a couple makeshift tents and tables and chairs.
I presented myself as a qualified warm body, signed in, name and phone number. They told me to basically hang out with my name tag on and people would ask for help.
And so I did.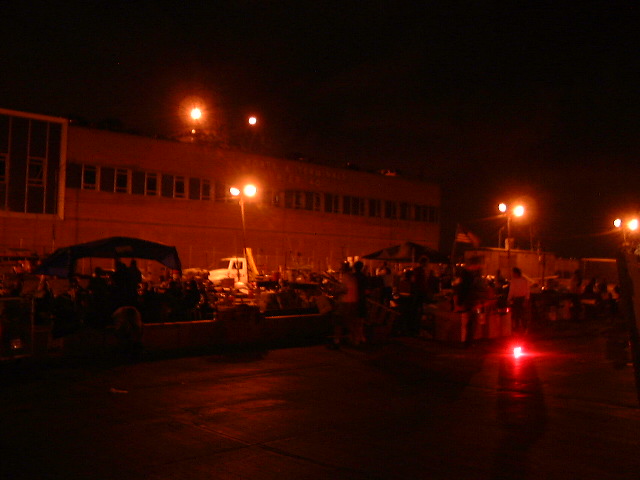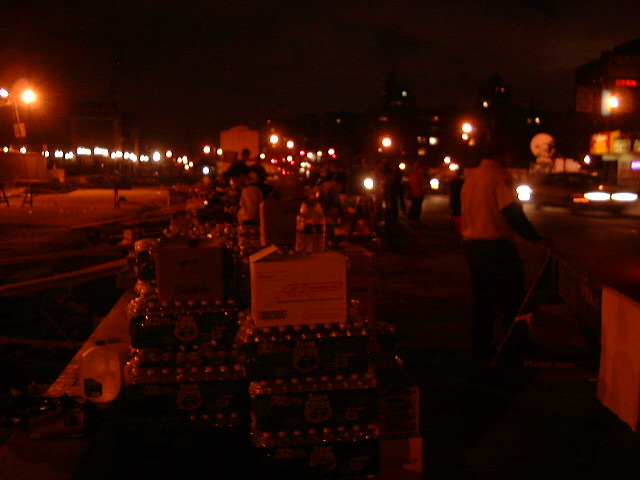 There were about a dozen people standing in the right hand lane of traffic holding water bottles and wearing masks, some had kits already packed intheir hands to shove into the vehicles as they went by.
They traffic was a mix of civilians and rescue workers. They were getting good at picking out which vehicles were which.
Sometimes it was a pick up truck of guys- but then one of them was wearing a uniform.
Every kind of government vehicle was going by, Department of Energy, Police, Fire, Army, hummers, City buses full of very stunned looking firefighters. Garbage trucks, construction workers, and some surprises. Federal Express trucks would stop by and load up and take goods down to ground zero. Rental trucks driven by garbagemen. These workers knew the volunteer station and would pull up and let it be known what was needed. Someone would shout out HARD HATS and everyone would scramble looking for the box with hardhats.
Even the rescue workers who didn't stop would flash their lights and run their sirens to say Thank You as they went by.
Some of them, many of them would thank us for just caring.
I would tell them that there are hundreds of people who care, who are desperatly wanting to volunteer but are turned away. I wanted them to know they had everyone's support.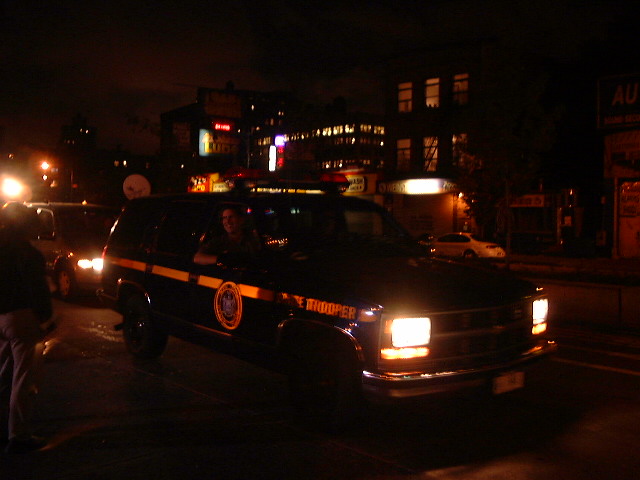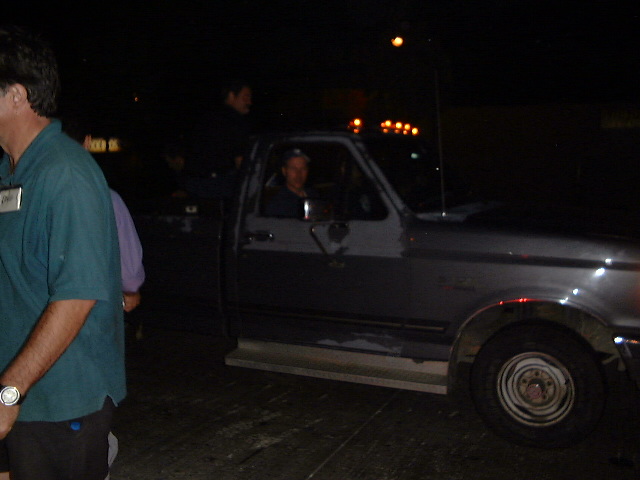 While we waited for someone to help, people told stories. Stories of how they had been there for 4 days and had trouble with the authorities. People who had been to ground zero.
One man had a friend who was at ground zero and felt the ground shaking under her. They began to dig. They found a fire engine, it's engine still running.
Some had been to Chelsea Piers and the Javits Center.
They had names like Carlos, Aia, Mike, James and Christina. There was a guy there who had one side of his head shaved and one side of his head hairy and a beard- also on one side.
I was thinking about how John Rocker had described us and thought he was right, we do look funny.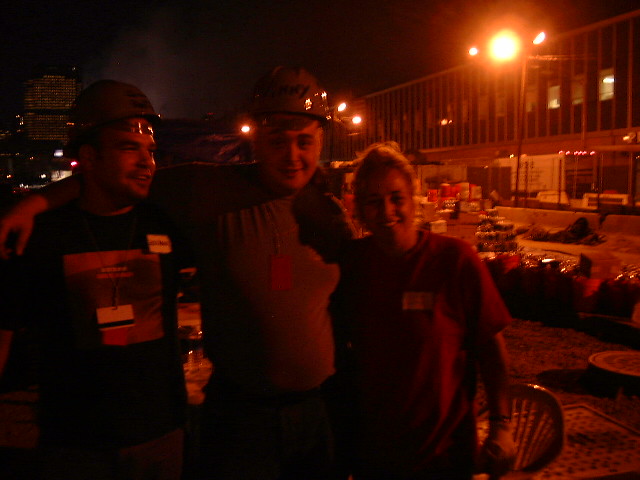 Someone would say "we have to move this pile of water" and a line would form immediately to pass it hand to hand.
We learned a few things about hand to hand moving:
Put the string guys on the top of the incline and the bottom of the incline, and try to get folks the same height- passing across is easy, but passing up or down is hard, and if you stand across from each other there is less twisting.
Everyone kept asking if I was OK. I was great, it felt so much better to be doing something instead of sitting in my apartment worrying.
We could fill up a Fedex truck pretty fast.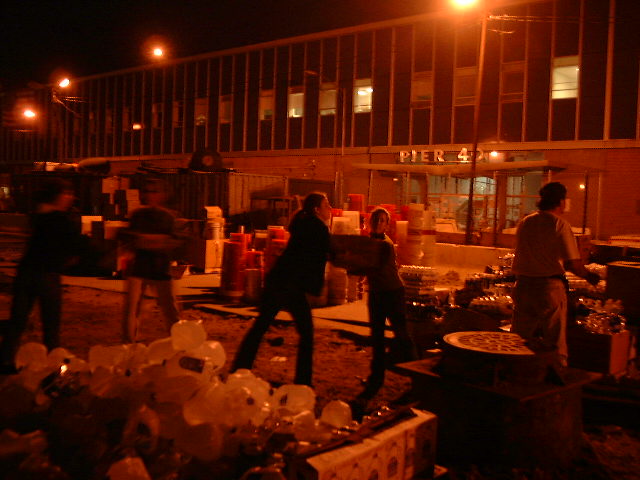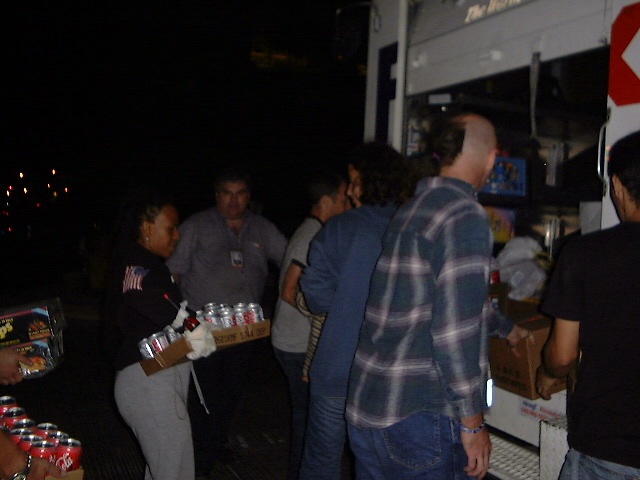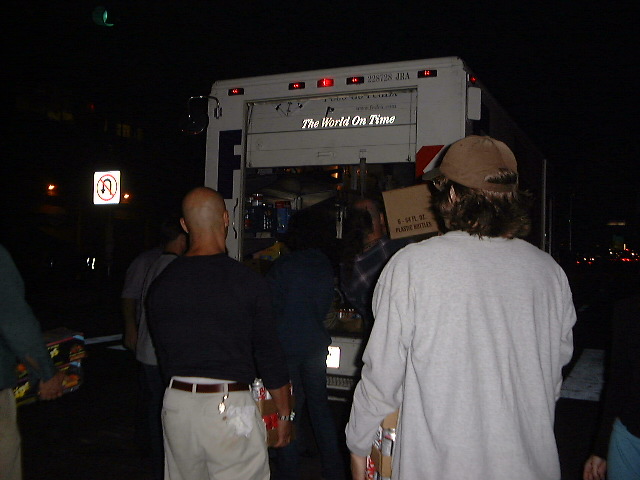 Two people showed up with boxes- they had driven from Allentown to give. What is it about people from Allentown anyway? They are so good. The boxes came also with words of love and hope in red white and blue.
It is all volunteer with no leaders, so anyone who comes up with an idea is welcome. I noticed another station on the East Side and asked if they needed anything. They could use some water.
When I tell you there was a mountain of water, I have to tell you this was a small mountain compared to the big big mountain everyone told me they had earlier.
Some of the rescue workers accepted a cheer or applause and smiled and waved- some were utterly somber.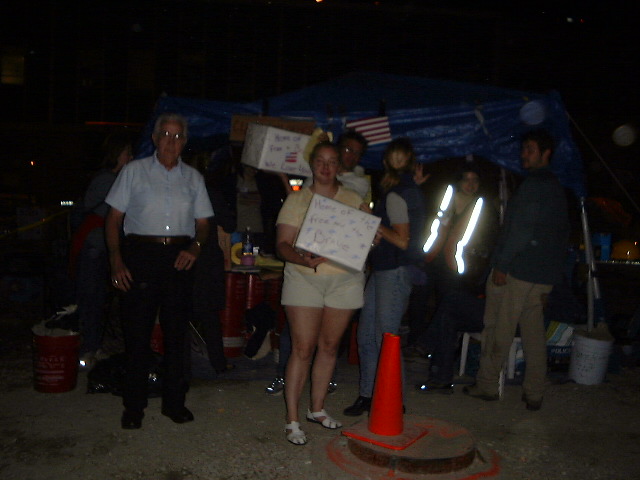 If you turned south, ever, even for a moment, you saw the monster.
It was steaming like the night Rich and I drove back into the city, but closer.
Shooting familiar and unfamiliar, I hadn't realized how I took that view for granted.
It was the monster, and the rescue workers were like knights going off to battle the Dragon, and we like peasants running along side their steeds wishing them well and giving them aid.
It was all we could do.
All we could do.
The monster.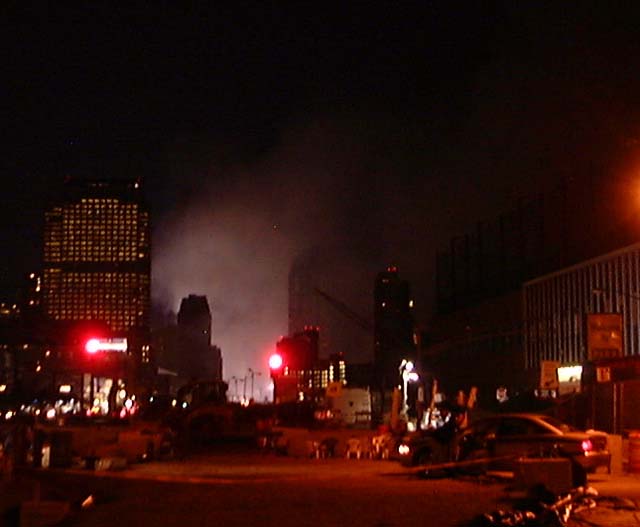 It stunk, I think it was the river that smelled.
Someone came with hot mint tea and coffee, and as I started to drink it, I realized that I would have to pee if I did. I asked if there was a bathroom and the good news is that there was in Pier 40, the bad news is that it was filthy beyond reason.
The authorites have said the volunteer station has to move on Friday morning, they are thinking of moving it somewhere else.
It is intellgently located. I surmised that the Holland Tunnel remains "closed" because it is now solely for the use of rescue vehicles. I call everything going to Ground Zero a "rescue" vehicle, because I don't know what else to call it.
Since the Holland Tunnel is what brings rescue personnel and goods to the city, and it goes straight down the west side to the WTC, a volunteer station positioned on the West Side Highway makes perfect sense.
Instead of expecting rescue personnel to come into a building, stopping on the way to the site, these people run up to their cars and trucks and stick it in their windows.
Beautiful.
After a couple hours, I felt the need to go- although I could see staying there all night. I showed them the pics I took and they were thrilled. I will be sending them on, as well as posting some on the page I am building.
I left with some people and walked back to Emmy. I nearly drove her up to the volunteer station for a photo op- but if I was in any way in anyone's way I would just go nuts so I didn't.
I had a chat with the cops who were near Emmy, apologizing because apparently her alarm was going off a lot from traffic passing by.
Some of the cops were kidding me about my "M" and I said it was "just a 2.8". The one said he drives an M3. We started to pretend to compete. He said he can't drive a Z3 because then he'd speed. I said "Oh so you drive an M3 because you are afraid to drive as fast as me?" We all had a pretty good chuckle at my gaffe.
I asked if they needed anything, they said they had it all in their vans plus the red cross had just been by and would be back.
They said they were also volunteers- I didn't realize these were not NYC cops- these guys were from Nassau, and they were volunteering, unpaid, on their free time.
I pointed out that only these two blocks were blocked off, they explained that this was the Immigration Dentention Center. These is where the people they have arrested in connection with the attack are jailed.
I felt anger rise in me from my soul, my first instinct was to run inside and kill them.
Hell hath no fury like a blonde from NYC.
So now I understood why they were there, to stop us from breaking in and killing the terrorists.
About this time, the red cross folks showed back up with food and water for the Nassau cops, and they kept trying to feed me too. I kept telling them I would like to feed them.
They explained that I could go to the Red Cross at 67th and Amsterdam, volunteer to be trained, and once I was trained they would be able to use me.
He reminded me that the Red Cross stays with people until they are back on their own two feet and that continual help over months is going to be the problem.
I pointed out that they should be telling people who want to give blood that it is *only good for 40 days*. People hear that there is enough blood and they figure that's cool. People are told to get an appointment and come back later, and that there will be a need, but they dont get it that in 40 days ALL THIS BLOOD IS WORTHLESS.
Lisa told me. She's from Allentown. I am tellin ya, there is something going on with these people from Allentown.
He said it was a really good point and that I should tell someone in administration.
I told him I doubt there is anyone in Red Cross Administration that is interested in my advice, but I would try and I hoped he would too. He said no, not me. He said no a lot. I support them and I am grateful for the work they do- still I can see why the volunteers are so irritated.
I felt bad leaving, but good that I had come and helped some. Even a little.
Red Cross workers and the Nassau Cops


Flowers outside the firestation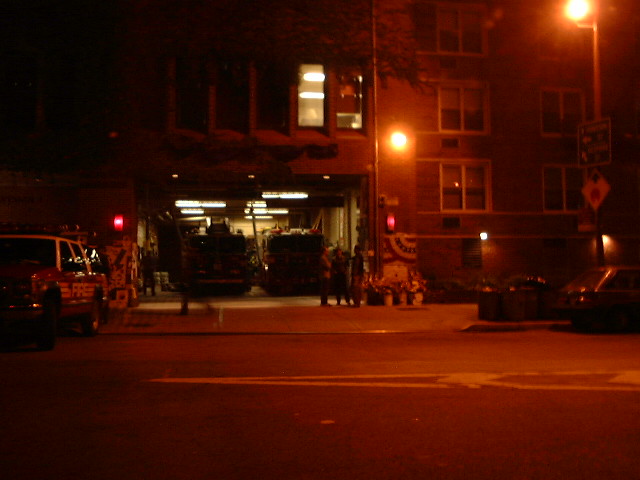 When I got home, I couldn't go straight inside. As I left the garage some self important punk was giving the garage attendant a hard time over his bill.
I went to the Vigil.
It was so beautiful.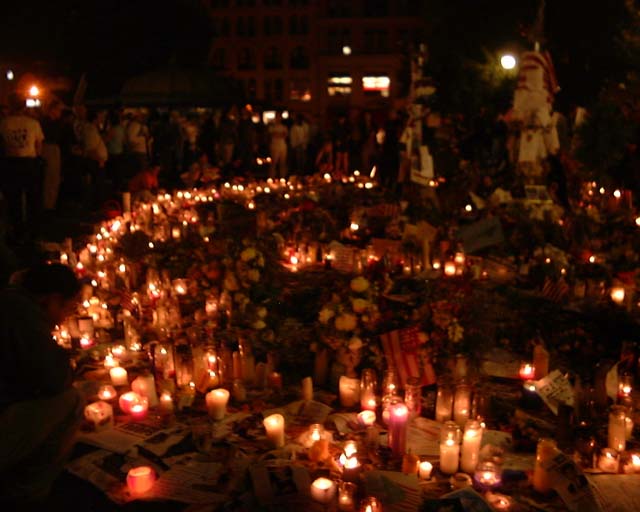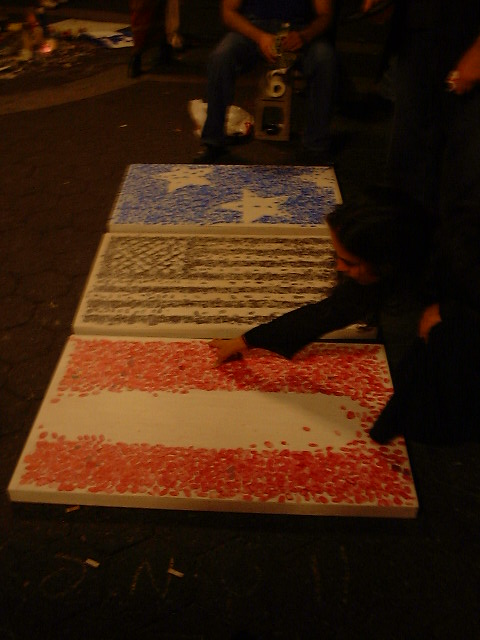 If any of you people from outside New York lost loved ones in New York City, rest assured their souls are being prayed for, cherished and loved.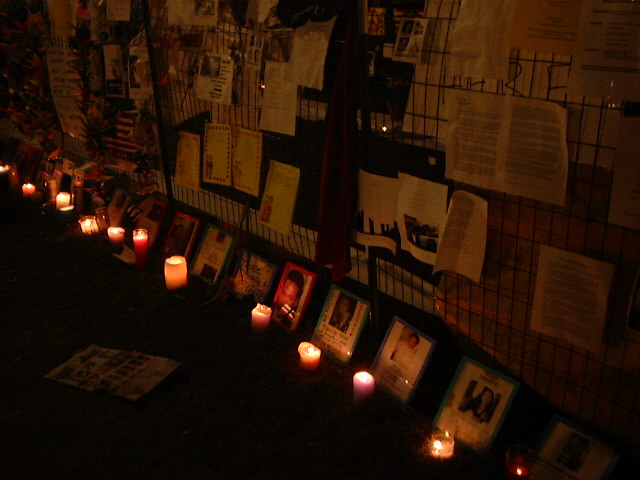 By us artists and freaks in the Village and Union Square. There were people dressed in evening gowns, and this one fellow making art out of our finger prints.
Did the terrorists think they would cause us to turn on one another? Did they think they could grow hate? Did they think we'd run around in confusion? Big miscalculation, they grew love.
Love and beauty.
The fine weather has allowed these candles and these papers to grow. The park is opened up, the gardens are decorated. It's a shrine. Music and prayer and goodwill towards others, messages of peace and hope and brotherhood, all over the park.
People singing together and paying respects.
Did they think we'd do that?
Clarkson and West Side Highway, Pier 40, 24 hours a day


---
---