September 26, 2001
Today- Yom Kippur, NY Parks Department took the vigil away.
They came in a truck, loaded up all the candles and signs and flags and sculptures, and took them away to an "archive".
A new vigil was born that night
More pics on that coming...
I was looking for a heated vest on BMW Online and saw their new top banner included an appeal for the WTC victims and a link directly to the Red Cross.
Pic on that coming
And then I was lucky enough to get these first peek pics of the X5 SAV's BMW is giving to help the Red Cross in it's Disaster Relief efforts in New York City.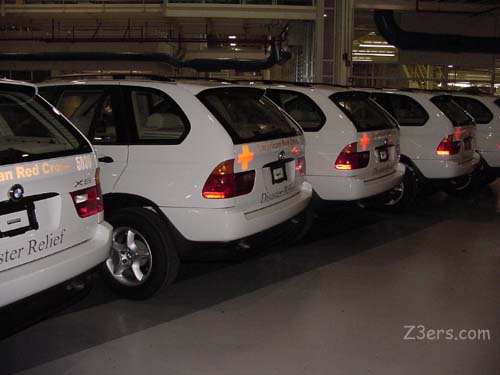 Damn, it's good to know you have friends.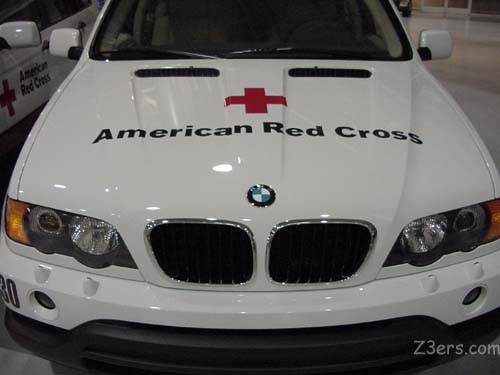 I know these SAV's are going to be great for the rescue workers, because they were made by the caring and skilled hands of our friends at BMW Spartanburg.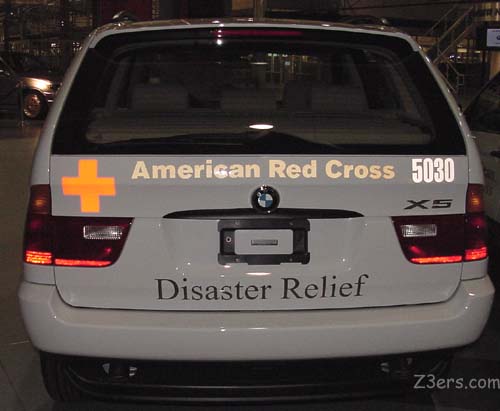 I know when I see them in New York, I am going to feel a connection with Spartanburg.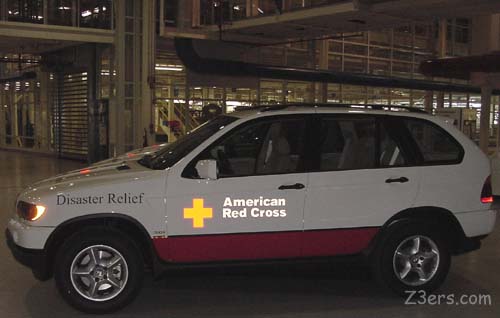 I am proud to have a friend like BMW. It took them all of 12 days to come through with 10 SAVs. God Bless Them.


BMW GROUP PLEDGES AID FOR RELIEF EFFORTS
---
Posted by Jon Shafer on September 14, 2001 at 12:19:35:
(posted from: (65.205.226.130))
September 14, 2001 - The BMW Group is committing cash and products to the American Red Cross Disaster Relief Fund and the City of New York to assist in relief efforts following Tuesday's attack on the United States.
BMW will donate $1 million in cash and ten new BMW X5 Sports
Activity Vehicles to the Red Cross for its national relief efforts. One hundred police motorcycles will be given to the City of New York to help replace equipment lost in the New York Police Department motor pool. The total donation is valued at $2.4 million.
In a joint statement, the chief executives of BMW's manufacturing, sales and marketing, financial services, technology and design companies said "on behalf of our employees, dealers, and customers, we hope this donation will assist the relief effort, honor the memory of
those who lost their lives, and show our appreciation for the freedom and opportunity this country offers."
The BMW companies in the United States are located in
Spartanburg, SC; Woodcliff Lake, NJ, Dublin, OH, and Newbury Park, CA.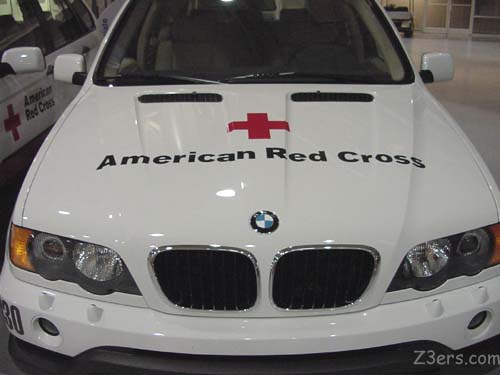 THANK YOU BMW!
Ways To Contribute:

1. The Survivor's Fund - focus is on long-term needs of the victims and
their families.

The Survivors' Fund
c/o The Community Foundation for the National Capitol Region
1112 16th Street, NW
Suite 340
Washington, DC 20036

Phone: (202) 488-2060

2. The Burn Center at Washington Hospital

The Burn Center Fund
Washington Hospital Center Foundation
110 Irving Street, NW
Washington, DC 20010-2975

(202) 877-6558

Help rescue pets of missing owners, some have starved

The Manhattan restaurant community is raising money to help the relatives- including as many as 500 children- of the food service workers killed at the World Trade Center.
Donations intended to help their families can be sent to
Windows of Hope Family Reflief Fund
c/o Beacon Restaurant
25 W 56th St.
New York, NY 10019


Help Low Income Women and out of work and homeless since the disaster


www.firehouse.com

The Thomas E. Burnett Jr. Family Memorial Fund
C/o CIBC Oppenheimer Corp.
Account #074-17387-10
580 California Street, Suite 2300
San Francisco, CA 94104


Please click the link to find good ways to donate and contribute to NY City Victims


United Way's Sept 11 Fund

Red Cross
saw the rescue X5s since September 26, 2001
Tuesday September 11, 2001
****Ways To Contribute Here!****
WTC Z3ers
Prelude to War Introduction~~ Tuesday September 11 NYC Z3ers in danger ~~
RichNYC, Mark V, Mick & the Vigil Begins
Wednesday September 12 The Morning After, Accounting for the Living~~
W.B, TimUK, Jake, Jahox, Lisa, edscuba, Alan
Thursday September 13 Rebuild and Remembering~~
TomY, Betty ///M
Friday September 14 Rising Up in Prayers~~
SigmaNu6, SHZ3, BMW Manufacturing, Inside the Night Vigil

Found Friends, Saturday September 15
RichNYC, Mario, JonT, Lisa, Rachel, Dadofour
Part 1 Leaving NYC ~~ Part 2 Blood, Police and Prayer ~~ Part 3 Faces, Friends and Hugs ~~ Part 4 Laughter and photos ~~ Part 5 Catharsis Drive ~~
Part 6 September 4th of July ~~ Part 7 Good Eats ~~ Part 8 Trespassing ~~
Part 9 Skipping Bricks ~~ Part 10 Packing out in Glory ~~ Part 11 Country Roads ~~ Part 12 Dunkin Doughnuts ~~ Part 13 Mario and Leann's ~~
Part 14 New City Lights ~~
Part 15 Back at the Message Board Saturday night~~
(Teachum's Video File)

Sunday September 16, More Z3ers come home ~~
Pat, Zeattle Dave, NKYBimmer
Monday September 17, Z3ers Creating Beauty~~
(Flag Z3)
Kevin in NH, DaveP, Bill WJZBMW, Inside the Daytime Vigil
(a lot of graphics- all worth it imho)
Tuesday September 18, Comics~~
Wednesday September 19, Volunteering~~
MJDude
many more Z3ers and people have been helping, more than I could mention, THANK YOU!
Esmerelda's Home Page