Super Mario
It all started so innocently....
Emmy needed an oil service- bad.
Dealers were busy, and getting to them and back is a special pita with the special security and traffic restrictions. Mario said he was doing Leann's oil service, so I invited myself in... I said I would do it if Mario showed me how, packed some clothes I could get grimy and headed out.
I had Mario's phone number but no directions. I knew he lived in Flemington but since I had "saved" his "position" in Traffic Pro I figured I would give that a shot.
Traffic Pro didn't have Mario and Leann's community programmed yet, so all it could do is point at where I needed to go once I left Route 31.
Well, what they heck.
Meanwhile, Emmy has been having a problem when shifting every since March of this year, and it has really been annoying the google out of me.
I figured I would stop in at JMK and Hunterdon BMWs on the way and see if they had any ideas.
Again, I did not have directions, I knew it was somewhere on Route 22 and I just headed that way and let Traffic Pro find my way to the dealership. (It was hard to find JMK on Traffic Pro's menu and I could not find Hunterdon on Traffic Pro.I settled for the town of Lebanon where Hunterdon is.)
JMK is closest so I stopped in there first.
JMK BMW -
Stopping in without an appointment, the service advisor brought out Carlos to check out my car.
Carlos ran Emmy through her paces and at first did not notice a problem. He kept saying, "You know your car better than I do, you're not crazy, I will find it."
And so he did.
First he elimated the clutch as source of the problem. He put the car in 3rd gear from a standstill and gave it gas, expecting her to stall out. She did. Clutch is fine.
He drove around some more and discovered a subtle hesitation.
He managed to consistently reproduce the hestitiation.
From this I certainly learned a lot. Shawn Fogg had also determined that it was not the clutch, that it was engine hesitation. Other folks had experienced no problem at all- which made me think I was nuts. Now I understood it was a subtle thing, which explains why I would feel it like a hit on the head while others would not feel it at all.
Then Carlos read the fault codes, and no faults were registered. He described the kind of problem as for instance, a malfuntioning O2 sensor, that was not malfunctioning enough to cause a fault, but enough to maybe cause such a subtle problem. He used exactly the same words as Shawn. "It's something with the engine, probably something simple, not something you want to start throwing parts at."
Again we went over the history of the car. The car ran perfectly after installing Dinan CAI and chip, Supersprint Exhaust... it was on the ride home from Shawn's where I first had a problem. I had taken the car to a dealer who found the clutch was bad and replaced it. The clutch WAS bad. But even the new clutch had this new problem. What did I do at Shawn's that day? Replaced brake pads and spark plugs.
Spark Plugs?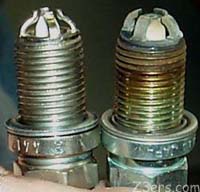 So when I had inspection II, they did not replace my spark plugs with oem plugs because I had these new aftermarket Bosch Plus 4s.
"Do yourself a favor" said Carlos, "try the oem spark plugs and see if it gets better."
Genius! What a simple idea! For about $30 I can see if it makes a difference and I happen to be headed to Mario's... yeah... I can ask Mario to do it!
uh.. AND the Brake Bleeding he offered to do...
heh heh heh
Carlos spent about an hour with me, no charge. I picked up some spark plugs and whatever else I could think of from the parts department, needless to say I think they ROCK!. The parts department even gave me some bits and pieces I needed for my chrome license plate frame - no charge.
It was an unseasonably warm 80 degrees or so as I continued on to Mario and Leann's house.
Traffic Pro worked like a charm and got me right to their door.
I was ravenous. I didn't even want to get out of the car. Mario jumped in and we headed out to the sushi restaurant but it was closed. Grabbed some menus from the sushi joint, grabbed sandwiches from Subway and headed over to the beer joint to pick up a case of Wheat Beer for the October Roadsters at the Gap Run. Only 3 bottles left. Ah well.
Back to M+L's and then back to the Sushi joint- or really next door to the speed shop to pick up some anti seize compound for the spark plug job.
Back to M+L's, Mario runs Emmy up his ramps and digs in.
I think it was spark plugs first...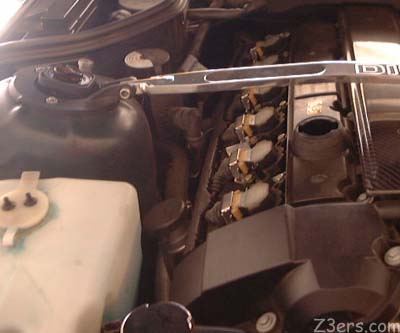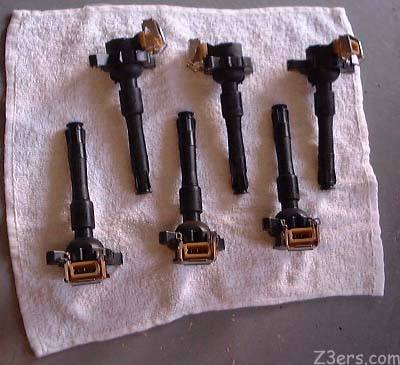 Mario before the oil change... showing off his cool Watkins Glen Shirt...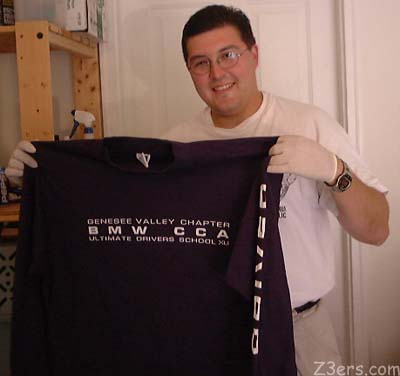 Then the oil change....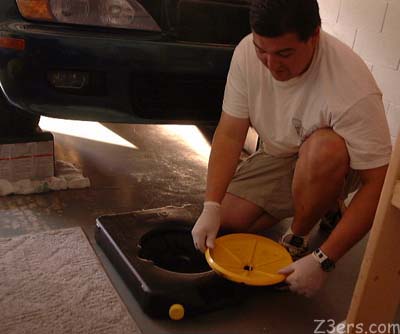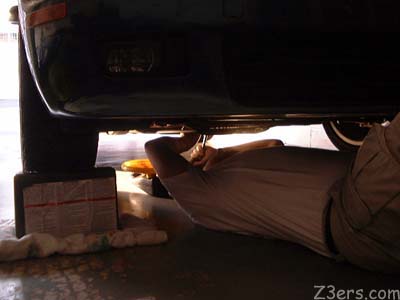 Mario believes is it a good thing to get under your car, to see what is going on. No Topsider here...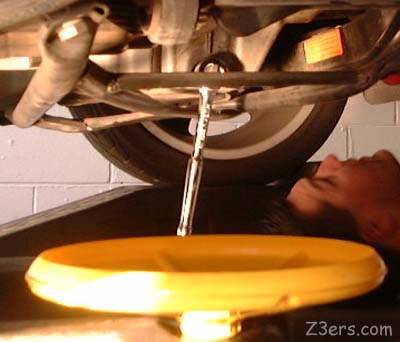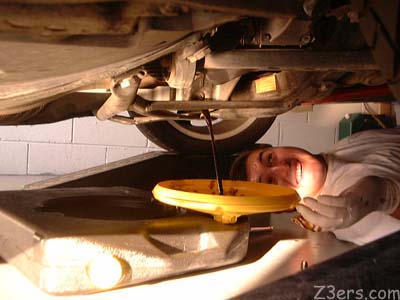 I was sure happy he was checking eveyrthing out. He found some residue under my oil pan that I may have to look into.
Emmy apparently likes being on top... and Mario... apparently likes Emmy on top too...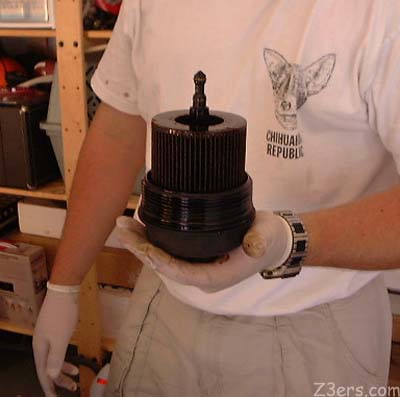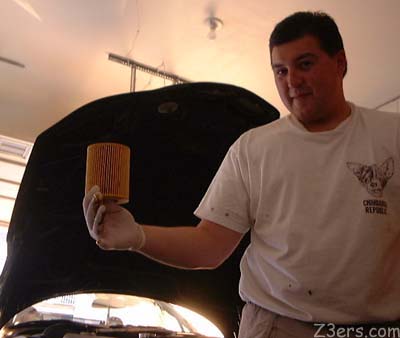 Nice new oil filter for my baby...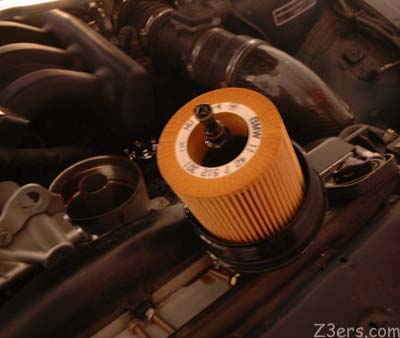 And then off came her wheels... and Mario pointed out uneven wear due to the negative camber on my sway bars. Gonna have to remember to switch the wheel sides when I go to :::ugh:::snow tires....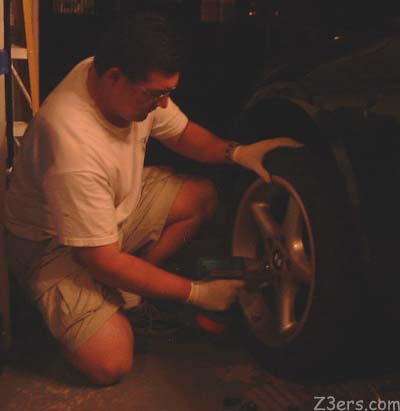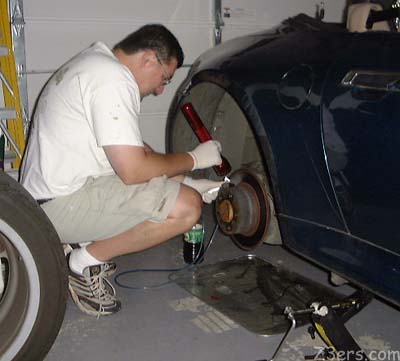 It was just about now when the phone started ringing. It was Leann over at Tracie's house and would we come over and bring Casey, the wonder daschund, over to meet Alex, the Great Dane. OK... so just picture it, because I didn't bring a camera. Daschund.... Great Dane. The whole dog was as big as the other's face. We were having so much fun we decided to drop off the doggie back at M+L's house, finish my car, pick up sushi and come back to party with Leann and Tracie.
Back at M+L's we ordered a vast amount of sushi... which has something to do with the party... and set back to work on bleeding Emmy's brakes.
Phone rings again.
Leann calling, please bring the cassette tapes from the bedroom. Cool. And cigarettes (we forgot them when we brough the dog.) Cool.
Don't ya just love how I say "we worked on" the car? Mario worked. I talked and took pictures and said "ooooOOOoooooo" a lot.
Phone rings again. Leann has to go to the hospital, she is sick.
:::up batman music.... Na na na na na na na na na na na:::: we jump in Mario's 1.9 and head over to Tracie's.
We made a stop at the sushi joint because it would be closing soon and it was on the way, put the trays of sushi and teriyaki in Mario's trunk and sped over to Tracie's house.
Leann has set up camp in Tracie's guest bathroom, and Tracie and having a small coniption in the living room. Tracie is wondering if her pirogies or the beer was killing her friend and climbing the ceiling.
Mario disappeared into the vomitorium.
I was very happy to be taking charge of the friend on the ceiling and the Great Dane and leave him to settle things in the vomitorium....
After some time, it was about 10pm, It was determined that Leann was indeed headed to the hospital. Mario gave me the keys to his car and house and got into Leann's car to take her to the hospital.
Remember, I don't know where I am- I used Traffic Pro to get to Mario's, and the Traffic Pro is in my car... which is at Mario's house... with one wheel off and partially bled brake lines... and I'm in Mario's car with a trunk full of sushi. I am hungry and there is no way I am going to let poor Leann see sushi in this moment, so I stuffed some in my mouth in the driveway before she crawled out the door....
As we were driving it occured to me that maybe Mario had other things in his car that he'd need, like his cell phone... and he must have had similar thoughts as we both pulled over.
Too much pressure and what the heck... I will follow them to the hospital and we can sort it all out while Leann recovers.
So we had a little BMW parade over to the Emergency Ward and Leann, resembling a porcupine on acid bumbles into the ward, while I play car jockey with the cars.
Stuff a little more sushi in my mouth and head into the Emergency Room.
By this time, Leann no longer resembled a creature from Star Trek. The nurses were really nice and let us both sneak into her room. What was in those pirogies anyway?
The nurse attaches a heart monitor to Leann's...uh.... upper body... and the monitor flat lines.
Me, Mario and Leann are all looking at this thing and wondering if there really is life after death when we realize that she has pulled off one of the leads.
Without a beat Mario had his hands in Leann's shirt... to reattach the leads.
Uh huh. Right.
Leann: "Mario, that is my breast."
Uh huh.
Leann: "Mario, that is my nipple."
Mario was happily anticipating the next time a lead would fall off and having entirely too much fun reattaching leads so me and Leanns sent him to the parking lot.
Mario went ot the parking lot to grab a bite of dinner, trying to find a civilized way to eat Chicken Teriyaki from the trunk of a car in a parking lot in the dark. I wasn't there but it wasn't a pretty scene.
When he returned to Leann's bedside with his shiny chin, he looked like he had just been giving head.
We checked the nurses.
A few more discoveries like this later, and once we had exhausted the entire knowledge we had gained from "General Hospital", the doctor arrived.
Thank goodness he arrived before Mario started playing with the paddles.
The doc reassured us that Miss Leann had simply partied like it was 1999- except it wasn't 1999 any more and we should take her home. YAY!
Now it's after midnight, we're in Flemington, Leann has a cigarette.
Now what?
I can take Mario's Sushimobile into the city, or Mario can stay up and finish the bleeding.
DUM DUM DUMMMMMMMM ::::Drumroll:::
I don't think I would have let Mario stay up and work on my if I did not remember that he is Mr. Wired who drove all damn night home from Homecoming, and he is so totally in sync with these cars. He finished at 2am.
I drove off into the perfect night, the full moon, into the city.
Hardly a soul on the road. I realized then that I had become so focused on Leann that I was no longer depressed about myself and the attack on America in my back yard.
And my car.... Oh my car!!!!!
It was like the first day I drove her- total joy! Now familiar with the hesitation, I could still feel it but only ever so slightly- at the level of imperceptable. Is it fixed? Was it the spark plugs? I don't know yet, I have to do some more driving and will this Saturday when I finish primping her up for the October Gap run in 9 days. But it's very possible.
The other dealers could not even feel the problem, it is a matter of degree. Threshold.
(Update November 29, 2001. It was not the spark plugs. :(
The Search for the Hesitation Continues)
It felt so good, the fabulous night air, my wonderful Porterfield Brakes working with the lovely new ATE Super Blue brake fluid, Emmy's Engine roaring through the night, pumping synthetic oil- every tunnel and bridge sounded so good I nearly turned back to run each one again. It was love love love again, and of course love IS better the second time around... I love my car, I love my city and I love my friends, who teach me new stuff and take such good care of me and my car!
I got home at 4am, wired like a rat on acid.
I really hope Mario gets that sushi out of his trunk....