I found another cure for fear of flying is taking 2 or 3 flights. Every flight you take convinces you a little more that things are OK. The searches are pretty extensive actually. Zeegar's car was searched each time he came to the airport in Charlotte and so was ZeeJay's each time he came to Savannah Airport.
I finally saw the rocking chairs at Charlotte Airport as I left this morning. That is charming. Even more charming is the hydromassage chair I sat in for 10 minutes and fell in love with the night before at Savannah's airport.
This time the plane was packed. I ended up near the back in the middle. At 1hr 40 mins it's not a bad flight. We hit a lot of hard turbulence and that scared me like crazy. I kept repeating the mantra of facts I know about how air turbulence only appears to be dangerous, no plane has ever gone down due to turbulence, and the captain was very open and communicative and reassuring.
Still, I was pretty freaked out. The gentleman beside me was a big help and I later enlisted his help to get some shots of the fall leaves from the air.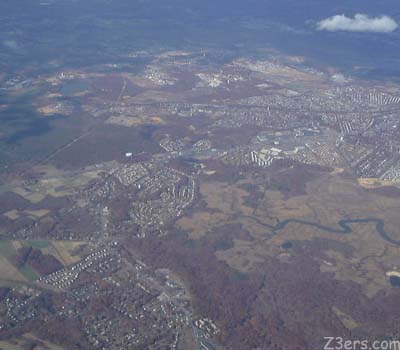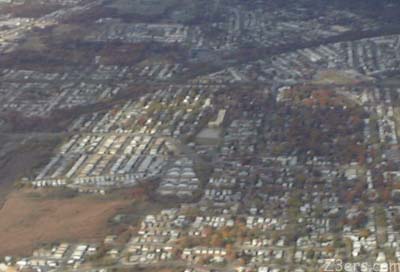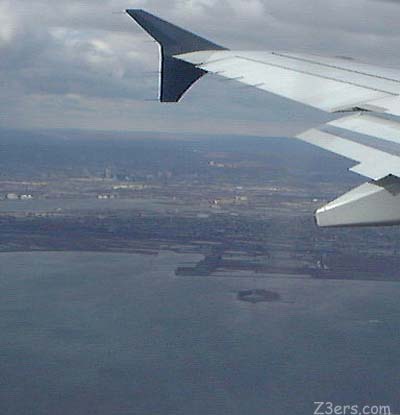 The Statue Of Liberty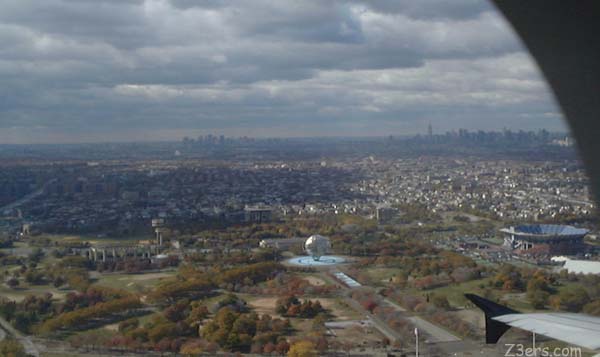 Yankee Stadium, World's Fairgrounds, Space Ships for Men In Black
NY City Skyline in background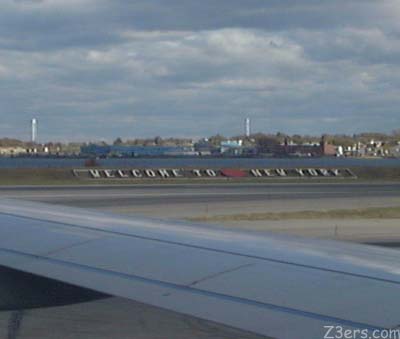 Home.
It was quite beautiful as well as the Statue of Liberty and the island of Manhattan. When you fly into La Guardia you get this fabulous up close view. He did not succeed in getting those shots, being unfamiliar with the camera, but he did manage to get off a few.
I felt bad for the red caps at the airport, with the new security what can they do?
Once again I was happy and proud to return to my city.
Thanks y'all, see ya real soon!

Technical note:
I believe that Dave's 2.3 has the same hesitation as my car has now and that ZeeJay's does not. Feeling like the new clutches maybe have a problem?

Epilog:
I want to say something about traveling by plane after the attack, at the risk of becoming tiresome.
When people this far away hear I am from Manhattan, they either look at me with new eyes and ask if everyone was OK, or they are nonplussed.
The ones who ask if everyone is OK often have lost someone close to them, even if they are far from New York City.
The ones who are non-plussed feel like it is something that happened far away that has nothing to do with them.
I read in the paper - over the shoulder of the passenger next to me on one of the flights -that 3600 people had died the 30 years of Ireland's "troubles". I remembered reading about atrocities like the Ormaugh (sp?) bombing and feeling so terrible for those people.
3600 people in 30 years.
We lost 5000 in 100 minutes
Currently the big issue is whether to allow hundreds of firefighters to continue digging through the rubble at Ground Hero with their hands.
Mayor says no.
3800 people have not filed for death certificates, althouh they are eligable.
There are still many daily memorial services.
There was solidarity in the country. Everywhere had their flags out and it brought tears to my eyes each time. Even in Yemassee, stuck in an era long ago, there was a huge sign, "These Colors Don't Run".
Every check in at the airport was an extensive search, or two or three.
All the screeners I saw took it very seriously.
This is a free country, I intend to enjoy it.
There were a lot of moments where I remembered taking things for granted.