Miracle BBQ
Video
487k zipped EVIL realvideo
(If you value your sanity, do not download this video, unzip it and play it off your hard drive... you have been warned!!! ;D)

It's pretty funny what happens when the days leap to 60 and 70 degrees in the Northeast in December.
Absolutely everyone is thinking.... BAR B QUE BAR B QUE BAR B QUE!
We missed a 70 degree day the day before, but scored on a 50 ish degree day.
RichNYC met me at my house to follow me out to Lisa's. (Otherwise known as the "Magic Kingdom".) I had been there before and "saved" Lisa's address on Traffic Pro, so we just followed Traffic Pro to the BBQ.
Big help on a Sunday morning- especially as Lisa gives sucko directions.... ;D
And then there is the MEAT issue. Come to think of it, we did almost every politically incorrect thing to do. We came for MEAT, there was cigarette smoking going on, using disposable lighters, I was wearing fur and we certainly didn't carpool...
Oprah and PETA are organizing a rally...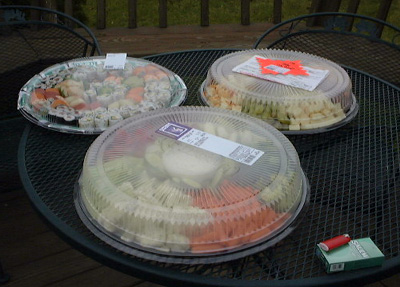 These wonderful appetizer spreads came from the same supermarket where millionaire murder suspect and fugitive Robert Durst was picked up for shoplifting a sandwich and a bandaid with $500.00 in his pocket the day before.
Maybe you ran into him in the checkout line?
Whose ciggies are those?