Day Three- 1/4 Lap of America
Taliesin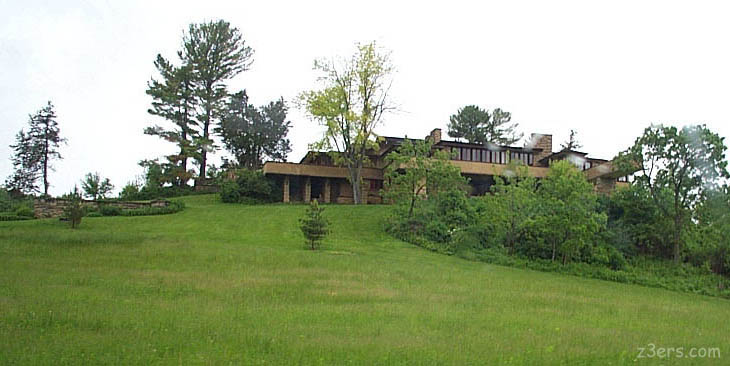 Visiting Frank Lloyd Wright homes is a lot like visiting Disneyworld except the man at the gate isn't wearing a costume.
Make reservations. Pay for your ticket. Board the bus. Keep your hands inside the car at all times.
Did I mention that it was cold? And wet?
There is some disagreement about Margaret, our guide.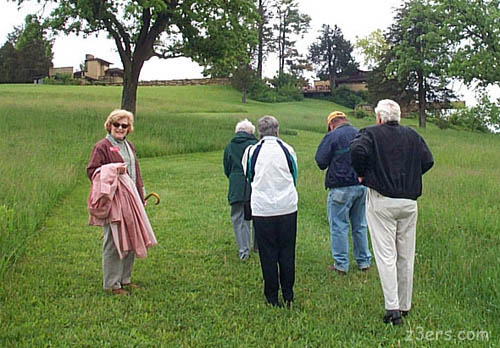 There is a faction that thinks she knows her stuff about Frank Lloyd Wright. I think she is the Dr. Laura of Frank Lloyd Wright.
She said, "Frank Lloyd Wright was 6 ft tall." Frank Lloyd Wright was 5'8" tall, and some fraction of an inch towards 5'9" wearing lifts, babe. Aside from every other book and building saying he was 5'8", it's pretty obvious when you see how low the ceilings are at Fallingwater.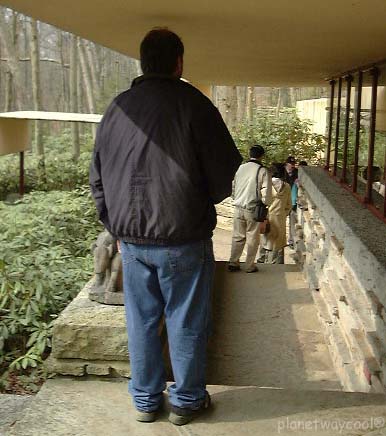 Click on the image to read more about our trip to Fallingwater in April.
Here you see Dave, who is 6'1" standing under the roof of the guest house patio. Do ya really think FLLW would have made ceilings so low that he'd have to remove his hat or bend over? 6 feet, feh.