Day Four- 1/4 Lap of America
Oak Park
~*~ Preface ~*~
This page seems out of sequence in the Memorial Day Gumball 1/4 Lap of America linked below. It is Day 4, after visiting Taliesin in Wisconsin, in May of 2001 but I didn't get to write the pages until March of 2002. You can also visit the Frank Lloyd Wright Z3ers pages using the link for that below.
It's almost 8 months to the day since the trip ended that I picked up the pen again to finish these pages. There is an old Yiddish saying that means, "Life is what happens while you are making other plans."
Apparently there were some forces out there intent on distracting and delaying my completion of the work. As I faced these obstacles I held tight to Frank Lloyd Wright, his battles against the same sort of troubles inspired me.
I hope I was as ruthless as he was.
Not least of these obstacles was the attack on America on September 11, 2001.
So here it is March of 2002 and we're already making plans for the next Memorial Day. This year we have a lot more to remember.
I feel passionately that once all the human remains are removed we should rebuild the World Trade Center, not because it was any great beauty of architecture but because the alternative is to level all buildings in the name of "safety".
My other great hero -along with Vincent Van Gogh and Frank Lloyd Wright- is Ben Franklin, who said:
"They that can give up essential liberty to obtain a little temporary safety deserve neither liberty nor safety."
Frank Lloyd Wright pressed toward the future, almost prescient of the attack on progress waged by those who now want to terrorize us into living in the past.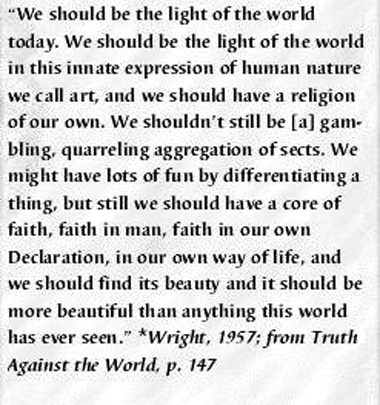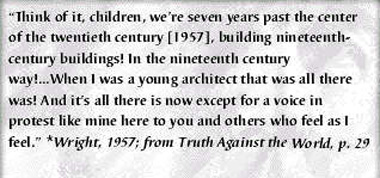 We're two years past the end of the century now, how far have we come?

My feeling is this:
It takes no special talent to destroy beauty, only to create it.
I make no apology for standing up for what I believe, however unpopular.
~~~~~~~~~~~~~~~~~~~~~~~~~~~~~~~~
May 24, 2001-
I woke up in the Cheney house thinking I had spent the night under the roof Mr. Wright built over his mistress's head while seducing her out from under her husband's nose. It was a more than a little macabre coming from the house where she was murdered to sleep in house where she lived before she ran off with Mr. Wright. As if that wasn't harsh enough, shortly after breakfast I had another rude awakening. As it turned out we were sleeping in the basement "game room" converted by the new owners into what is now a Bed and Breakfast.
I had been sleeping in the store room.
We had photographed every interior detail of choice and placement only to find out we were sleeping in a collector's collection of Frank Lloyd Wright creations rather than in the creation as it was meant to be.
We would have preferred to sleep on the original pool table.
This brought up the issue for me with a jerk, like getting an architectural wedgie. I have felt the pressure to document and experience all the Wright creations since I first read on the Frank Lloyd Wright Preservation Society's home page, "One out of every five buildings designed by Frank Lloyd Wright has been destroyed.".
I will never see the Egyptian Beach Cottages at Damietta, "..set in a circle ..[like]..spokes of a pinwheel... looking like origami butterflies...." (Companion)
I'm in Chicago but I can not stop for a meal at Midway Gardens
Midway Gardens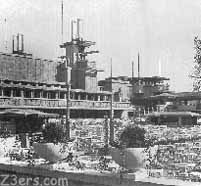 It's gone.
With so much of what FLLW created being destroyed even as you read these words, and so much of what he built himself evolving into something different by his own hands, and his own well documented date and credit fudging, and restorations of his work by loving and often intimate hands- what constitutes a "real" FLLW creation?
Further complicated by intra- FLLW bickering over all things FLLW from simple furniture ownership- which of his desks belong in which of his offices- to facts disputed by the Wisconsin faithful-where he died was Arizona, not "on his way to Wisconsin"- drawing solid conclusions becomes more risky. For a man who promoted himself ceaselessly, was documented so frequently, and immortalized intentionally with convictions of details so passionate he literally nailed the furniture in place in the homes he designed- on which evidence left in the physical world can we rely?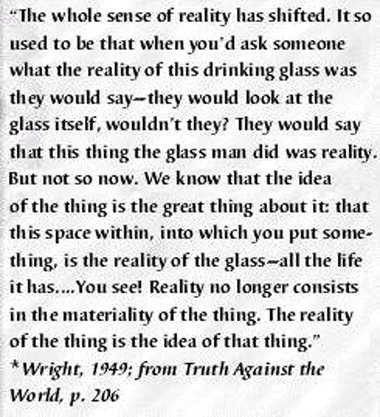 Uh huh. Thanks for nothing Frank.
The more I learn about his work the more frequently I doubt myself and more opinionated on the subject I become.