Day Four- 1/4 Lap of America
Oak Park
Parker and the Gales
After waking up in the Cheney house thinking I was sleeping where FLLW had placed a bed, and finding out long after breakfast that I was probably sleeping where he wouldn't put a bedroom I was disoriented to say the least.
For two days Dave and I went separately into Oak Park searching for Mr. Wright. Happily this returns images from a broader perspective, seeing the properties at different times of day and sometimes in the rain.
So essential to his design was placement that not only were all the homes built to capture the sun by their design but also houses that were remodeled were usually moved off their foundations to be placed again on the property to take advantage of the available sunlight.
I resolved to be more scrupulous in walking in Mr. Wright's footsteps, or driving down his roads as it were. I may not get everything Wright and I might get some of it wrong, but it will be Wright.
This would pay off later. For now it meant literally driving up to the houses, if possible up their driveways.
I had been fixated on his concern for conveyance since I first spotted a perfectly placed iron tie ring for horses at the entrance court to Taliesin in Wisconsin.
The jealousy I have for the vehicles who pass under the concrete horizontal planks at Fallingwater is nearly painful.

The "Path to Discovery" was about more than walking into a room. It was also about riding up the driveway.
And so I am interested only in what Mr. Wright himself is known to have said and drawn and written and created, judging for myself the disputed areas. If he mentions another furniture maker or architect or craftsperson then I am interested. If he didn't mention them, they are irrelevant for my purpose.
As I followed the "Walking Tour" map and listened to the tape, I had only a stammering impatience for the homes in Queen Anne Style, Stick Style, Classical Revival and Gothic Sytle, or the works of E.E. Roberts and of Tallmadge & Watson.
Over these two days I would chase the rain with Esmerelda and the tape player and my digital camera to capture these houses as Dave did the same with the aid of his copious research, CiZi, GPS and crafty use of his digital camera.
I make heavy use of the Frank Lloyd Wright Companion CD Rom, truly "The definitive multimedia reference on the architecture of Frank Lloyd Wright" it claims to be. If you love Frank Lloyd Wright, you must have this CD and/or the book from which it is based


by William Allin Storrer.
I also make use of images and quotes from the Microsoft Ultimate Frank Lloyd Wright CD Rom by Byron Preiss Multimedia.
Get these CDs, their walk throughs and videos are the closest any of us will get to the demolished buildings and closer than most of us will ever get to the existing structures.
Most of these houses are on the FLLW Walking Tour, some are not.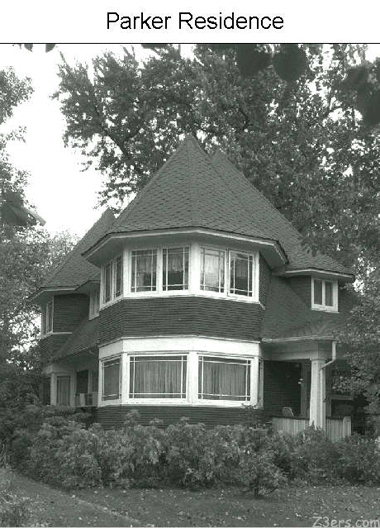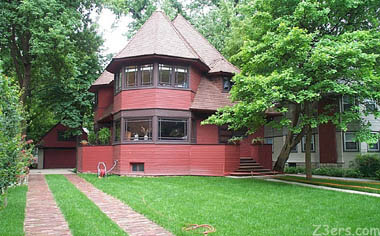 Parker and Thomas Gale houses:
Companion:
"Ownership of these two houses was long reversed in listings, but the plan in the Taliesin archives clearly identifies this unit as the one designed for Robert Parker. This, however must be countered by the argument that the house was built by Walter and Thomas H. Gale as an investment. It was then purchased by Parker."
Musical neighbors and clients and wives- oh my!
You will see also Thomas' mother's Frank Lloyd House a few blocks away on these pages.
These were also likely to be the houses Frank Lloyd Wright made while moonlighting from his job with Louis Sullivan which led to him being asked to leave the firm.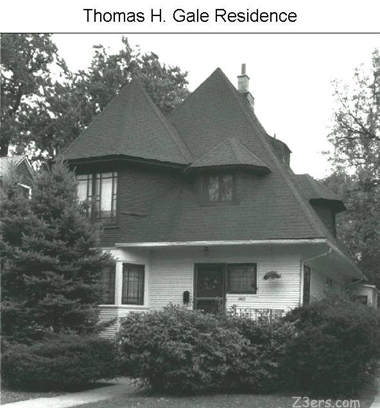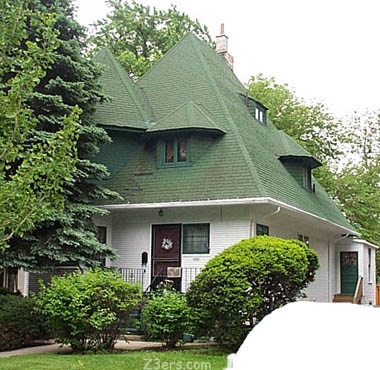 Map lists Walter H Gale, Companion lists Walter M Gale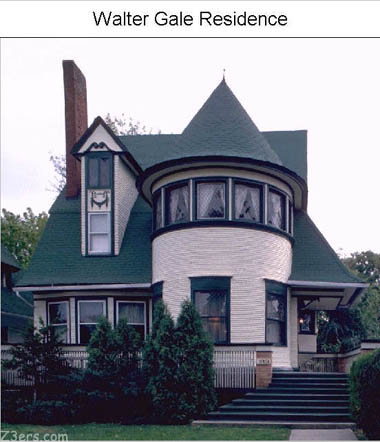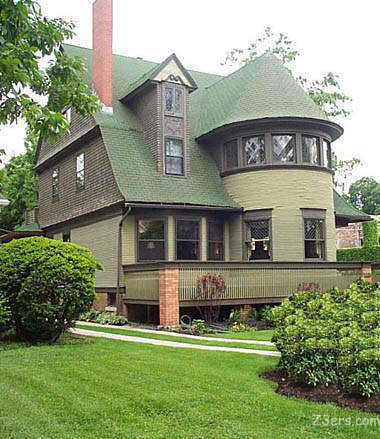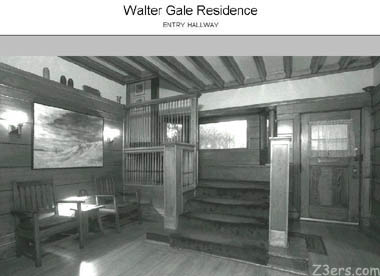 And then here is Momma Gale:
(it's a family affair)

Mrs. Thomas Gale House