Saturday- Day 6
I don't know how I got up at 5am, by 515am I was down in the lobby. Everyone is there except JonT and we're leaving. I call JonT and say "We're leaving NOW!" Like the Dunkin Donuts Man I am wandering around saying "Must.... Follow... Nathan...".
Zeegar relishing telling everyone how he had to drag Nathan out of bed- after they both stayed up all night..
Zeegar on the TalkAbout on the way to the factory for the line up:
"Someone say something, I got to stay awake."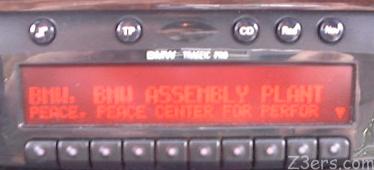 We make it to the Zentrum in the dark. JonT has managed somehow to get in line behind us. Perfect. Now, it's a crap shoot. You can get there early like JTP at 5am only to find yourself in the first row- but at the verrrrrrrry end of the line. We were there at 530am.
We are fortunate- beyond belief. We end up right in front of the camera! Well, on either side of the camera... which is great of course because you can plainly see us....
a little funky though because we got split up... and then again very very cool because so many of our Message Board friends, and so many Fixers from Fixit Day '01 are right beside us.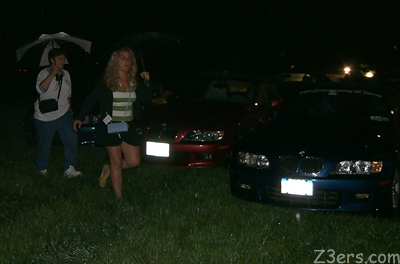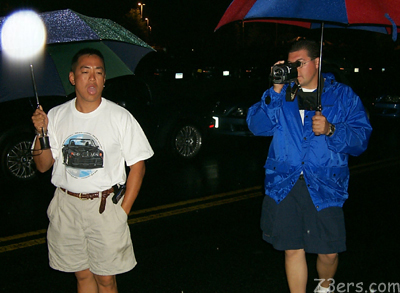 Lisa (PA) and me (NY) walking through the wet grass...Nathan (NC) and Mario(NJ)... already taping...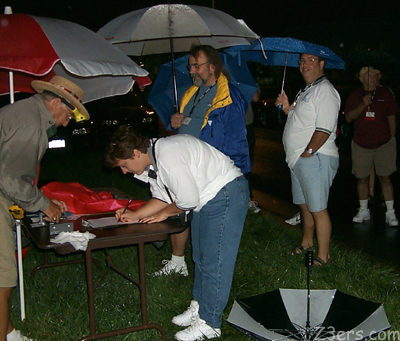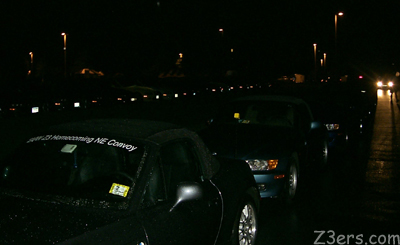 Lisa (PA), Bill Z (CT) and Irv (CT) signing up for panoramic photos in the dark marning rain