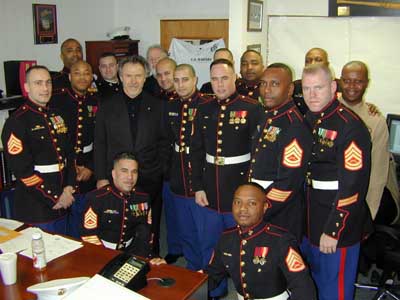 PhotoID: 2004120104947
Submitted by: 1st Marine Corps District
Operation/Exercise/Event:
wall of heroes


Caption:
Harvey Keitel, an actor & former Marine, who came to pay respect to the families of the fallen heroes, took a moment to take a photo with the Staff Non-Commissioned Officers-In-Charge's of Recruiting Station New York. Brooklyn-born Keitel, who still resides in New York City area, continuously makes time in his schedule to support the Marine Corps. The Wall of Heroes Memorial honors the 23 former Marines who made the ultimate sacrifice Sept. 11, 2001 as firemen, policemen and federal agents. The memorial is a permanent addition to Recruiting Station New York Headquarters.
Photo by: SSgt. A.R. Hay




Read Story Associated with this photo





Date the Photo was taken:01/09/2004

This Image has been cleared for release.