2004, 84 min, Color
World Premiere: Patriot Act

Director: Jeffery Ross
Screenwriter: Jeffrey Ross
Producer: Jeffrey Ross
Editor: Jeffrey Ross, Seth Casriel
Producers: Seth Casriel, Jonathon Brandstein
Cast: Jeffrey Ross, Drew Carey, Larry Gelbart, Kathy Kinney, Blake Clark, Rocky Laporte, Andres Fernandez, Kyle Dunnigan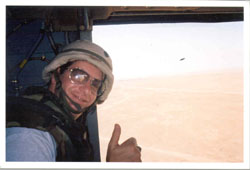 What's a nice Jewish comedian from New Jersey doing in Iraq? Having done nothing more dangerous than a Friar's Club roast, stand-up comic Jeffrey Ross agreed to join a USO tour organized by Drew Carey to entertain the troops in a region where suicide bombings and sniper attacks are a daily fact of life. The same day UN officials were being evacuated; Ross, Carey and their comedy crew were going in to war-torn Iraq. Video camera in hand, Ross documents their affecting experiences putting on shows in Baghdad, Tikrit (ten weeks before the capture of Saddam Hussein) and bases with names like Dogwood, Shadow and Muleskinner. Transported in tanks and trucks and Blackhawk copters, Carey's Iraq pack gets an up-close look at the gritty reality for US service men and women. Amidst wisecracks and one-liners, they hear stories of fighting, bravery and compassion and even run into a group of Jewish soldiers celebrating the New Year in Saddam's hometown. Ross's worst incident turns out to be a case of Saddam's revenge that requires a few liters of IV fluids. With a tip of the hat to USO legend Bob Hope, PATRIOT ACT reaffirms how truly appreciative the troops are to anyone who brings them a little touch of home. But the real morale boost is reserved for the performers.