Bodger Floral Flag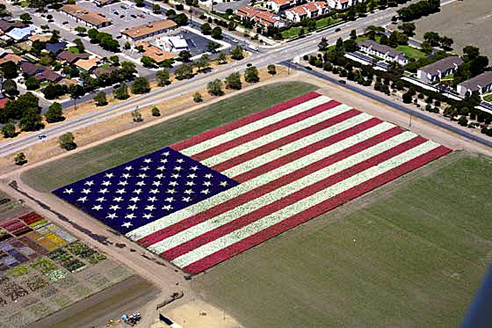 Here's a nice 911 tribute from a California floral seed company.
A 6+ acre Flag has been planted in memory of Sept 11, 2001.
As a patriotic gesture after the tragedy of September 11, 2001,
Bodger Seeds has again planted a Floral Flag in Lompoc, California.
It has been 50 years since we have planted such a flag.
There have been four Floral Flags planted by Bodger Seeds in Lompoc
during the last century:1942, 1943, 1945, 1952. All of the flags were
comprised of Red, White and Blue Larkspur flowers.
Some of the flags were planted in a background of White Larkspur.
Either the 1943 or the 1945 flag was a 'wavy' flag that was a
failure.

Home - Contact Us - Products - Resources

Flag from Lookout Point June 11, 2002.

For more information on gardening from seed contact the National Garden Bureau.
Bird eye view of the floral flag. June 27, 2002
Close up of the floral flag. June 17, 2002
Another close up. June 17, 2002
| Main | 1 | 2 | 3 | 4 | 5 | 6 | 7 | 8 | 9 | 10 | 11 | 12 | 13 |