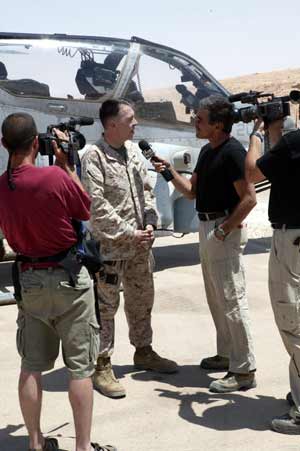 Geraldo views OIF from 3rd MAW perspective
Submitted by: 3rd Marine Aircraft Wing
Story Identification #: 200475816
Story by Staff Sgt. Houston F. White Jr.

AL ANBAR PROVINCE, Iraq(July 4, 2004) -- The intensity of the lights, cameras and action normally associated with international media was scaled back to a more personable level here June 24-25, when Geraldo Rivera, senior war correspondent for Fox News Channel, spent time with the servicemembers of the 3rd Marine Aircraft Wing.

According to the 61-year-old celebrity newscaster, the intent of his visit with the MAW was to find out how the Marines were faring following a turbulent period here.




"We had been here before when the Army was here and wanted very much to see the Marines in action," explained the New York City native. "We knew how tough a time the Marines had over the past few months with events north of the Sunni Triangle in (Fallujah and Ar Ramadi, Iraq) and since we had covered the wild, wild west of Iraq before, we just wanted to see how the Marines were doing."

In addition to conducting interviews and reporting live during his whirlwind tour of the area, Rivera participated in a humanitarian mission at the nearby village of Sahl Hawran, Iraq, where his attitude and endurance made him popular with one particular Marine commander.

"Geraldo was very positive and I thought he did a very good job of understanding the Marine Corps and what our mission was," said Col. Juan G. Ayala, commanding officer, Marine Wing Support Group 37, 3rd MAW. "He went with us and even though it was a hot and miserable day, he hung in there with us and he was very gracious.

"He's intelligent, knows a lot about the military and asked good questions," added the 47-year-old native of El Paso, Texas. "I think he experienced what we actually go through on a daily basis on our trip to the village and once the Marines saw that he was willing to get in the weeds and the dirt with them, they got a very positive impression of him."

Rivera, a former boxer, capped off an eventful first day with 3rd MAW by performing duties as master of ceremonies during an exciting boxing event held aboard the air base at Al Asad, Iraq.

"Fight night was wild and a lot of fun," he smiled. "There was a lot of energy and as a former boxer myself, it was great to consistently see the same kind of courage and knock-down determination you would expect from the United States Marines."

According to Warrant Officer Cynthia Douglas, officer-in-charge, joint reception cell, Marine Wing Headquarters Squadron 3, 3rd MAW, the time Geraldo spent with personnel aboard the air base was genuine and enjoyable.

"He was very down-to-earth with the Marines and Sailors," remarked the 33-year-old who hails from the same borough of New York City as Rivera. "He asked them a lot of questions about their families and where they were from and (his questions) didn't seem staged like on television."

"Seeing a famous New Yorker come out here made me proud because we also share the same Puerto Rican heritage," she offered.


"I thought Geraldo's visit from home to check on us and see how we're doing was inspirational," added Gunnery Sgt. Eric Dickerson, guard chief, security platoon, MWHS-3. "He was a very friendly guy and it's motivating to know that somebody from back at home cares about providing us with (media) coverage from way out here."

Apparently, the servicemembers the renowned reporter spent time with left an indelible impression upon Rivera as well.

"These are the finest men and women serving the United States," he stated. "They do a very professional job, they have courage and they perform their jobs with an enormous amount of confidence and competence in the United States Marines.

"I was deeply touched by the sincerity, hard work and sacrifice of these young men and women," he added. "It really does my heart good and gives you confidence that we can ultimately prevail in the war on terror."
Photos included with story:
| | |
| --- | --- |
| | Geraldo Rivera (far right), senior war correspondent, Fox News Channel, enjoys breakfast on June 25, at a dining facility aboard the air base in Al Asad, Iraq, with several Marines from 3rd Marine Aircraft Wing. During his two-day visit, the 61-year-old New York City native spent time with servicemembers and civilians, which included posing for hundreds of pictures and signing autographs. Photo by: Staff Sgt. Houston F. White Jr. |
| | Acting as the evening's referee, 1st Sgt. David P. Perry (in left corner), first sergeant, Company L, 3rd Battalion, 24th Marine Regiment, Marine Wing Support Group 37, 3rd Marine Aircraft Wing, and 43-year-old Maryville, Tenn., native, looks on as Geraldo Rivera (right), senior war correspondent, Fox News Channel, pumps up the capacity crowd during 'Fight Night,' June 24 in Al Asad, Iraq, with a motivated 'OORAH' chant. The former boxer and 61-year-old native of New York City, was the special guest master of ceremonies for the event during his two-day visit to the Marines and Sailors of 3rd MAW. Photo by: Staff Sgt. Houston F. White Jr. |
| | Fox News Channel's senior war correspondent, Geraldo Rivera (center right), conducts an interview with Maj. Gen. Keith J. Stalder, commanding general, 3rd Marine Aircraft Wing, aboard the air base at Al Asad, Iraq, June 25. During his two-day visit to the Marines of 3rd MAW, the 61-year-old New York City native received a firsthand view of various 3rd MAW assets and warfighting capabilities. Photo by: Staff Sgt. Houston F. White Jr. |