Wayne Newton
Carlo Allegri / Getty Images file

Wayne Newton says
'Danke Schoen' to troops

Singer, Rob Schneider take USO
show to soldiers in Baghdad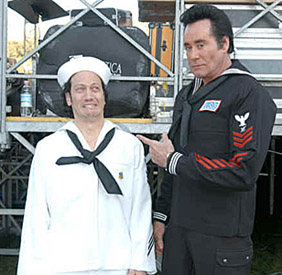 Wayne Newton with Rob Schneider


The Associated Press

Updated: 10:26 a.m. ET Oct. 22, 2004

BAGHDAD, Iraq - Las Vegas mainstay Wayne Newton, belting out his trademark version of "Danke Schoen," entertained troops during a recent trip to a U.S. base in Baghdad, the U.S. military said.

Newton, along with special guests that included actor Rob Schneider and country singer Neal McCoy, spent nearly three hours at a 1st Cavalry division camp in the capital on Tuesday.

They talked with troops, signed autographs, posed for pictures and shared a meal at the base camp's dining facility, a statement said.

Newton took over for entertainer Bob Hope two years ago as a celebrity figurehead on United Service Organizations tours, traveling around the world to headline entertainment shows for U.S. troops.

"Our purpose for the USO is to bring, obviously, a touch of home to our military men and women," Newton said. "And, to let them know they are not going to be disrespected when they get home."

Schneider echoed Newton's comments, saying, "This is a small thing that I could do, to make them laugh and just say, 'Hi,' and let them know America is behind them and we love them and hurry up and get home."

"In my career, I've done a lot of different things, television, movies, been all over the world — I get more out of performing for the troops than anything else," Schneider said.

The seven-day tour of the region included three evening performances, the first in Kuwait and two others in Iraq. It also includes stops at some base camps in Iraq.

© 2004 The Associated Press. All rights reserved. This material may not be published, broadcast, rewritten or redistributed.