Mike Merced- Engine 16
Thank you and Ladder 20 for the t-shirts that were sent over to us in Iraq. We all appreciate the thoughtfulness. I was especially proud to see them, I am a fireman at 16 engine on 29th st. deployed with my guard unit. Its just great to see how the guys here appreciate the support and they never forget why they are here. Thanks again for the support.
SSGT Michael G. Merced
Mike's firehouse sent him a FDNY flag- Mike sent back pictures of the flag flying over his base in Baghdad.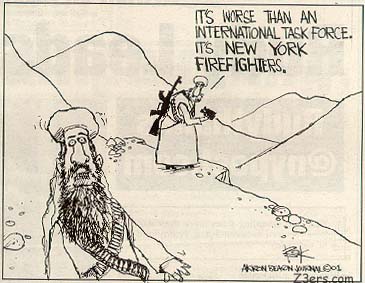 all pages of troops who are also FDNY firefighters have this comic from 9/18/01
This page matches Mike's firehouse page