Ben Aster

Sunday, May 16, 2004 7:36 AM

Thank you for all the support you have shown to the deployed shirts. Thank you for the shirts as well. It means a lot that people like yourself support the troops that are deployed. Thank you for all that you do.

V/r
Ben D. Aster, TSgt USAF
Explosive Ordnance Disposal


Sunday, May 16, 2004 10:19 PM

I am surprised that other people say that much about us. We live and work away from everyone else, we see people in our squadron maybe 4 to 5 times a month. Generally we are off disarming roadside IEDs Improvised Explosive Devices) off base. Usually when we go over to the Air Force Camp, something bad has happened, so we are generally not in a talkative mood. I'm usually screaming for people to get away. But any other time I am nice and somewhat talkative.

You are probably going to ask what it is like outside the base. Well, there is filth everywhere, then there is more filth. Not much to look at, just flat land scape, with some trees, and some sort of farm land mixed in. The city is what disturbs me, lots of people and traffic laws are non-existent.Then of course it is extremely hot.

The children are the real victims here. Most have taken up a life of begging for food, water, candy, sunglasses, etc. At first we gave them water, food, and candy, but things change and we now keep them and all locals away from us and our vehicles while we work. Now we generally hear curse words yelled from the kids directed at us.

The food here isn't all that bad. Don't get me wrong, I would not go out of my way to eat it if I had a choice. And when left with the choice of skipping a meal or eating an MRE (Meals Ready to Eat), I generally opt for skipping a meal. You can pretty much count on chicken, potatoes, and/or rice being served at every meal, except for breakfast. They generally have another choice in the main dish generally some sort of beef product. Then you could always drive to one of the Army's fancy dining facility and have three to four choices of main entrees to eat. I generally lose my appetite after seeing how many people are in the place. No it isn't bad, its just I value time alone away from everyone. A handful of people is good, but when we are talking about several hundreds of people, it just gets claustrophobic for me.

Well I need to drag the uniform on, the good thing about being here is not worrying about what to wear tomorrow.


Saturday, May 29, 2004 7:59 AM

I only have 10 days here then I am out of here and back to the small town of Fargo. Which is going to be awesome to go home too.

It is weird, a lot of people keep referring to EOD troops as heroes. I know I don't feel like a hero, heck some night I am just glad to go to my bed and sleep. EOD plays a very small part in helping keep transportation routes open and people safe. The real heroes are the Army guys (82nd Air Borne, 4/5 ADA, 1st Armor Division) who are out there day in and day out for 18 months at a time. Yet, these very same people give a 110% to keep my butt alive when I am outside of the base. They give me my security so I can give them an IED free road. Another hero group are the helicopter pilots. These guys actually fly into danger to keep me safe, and keep flying in danger till I am safe.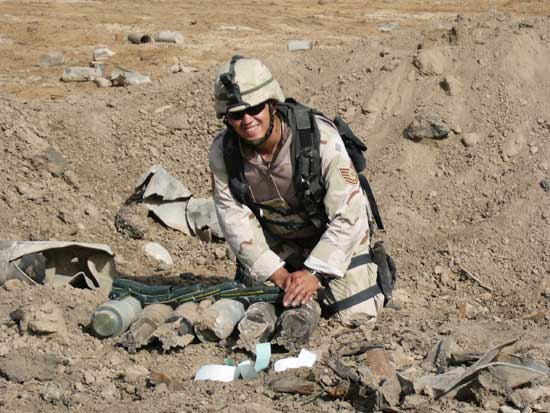 It is easy to do what I do after all the support that is given to me by all the other units, the real heroes.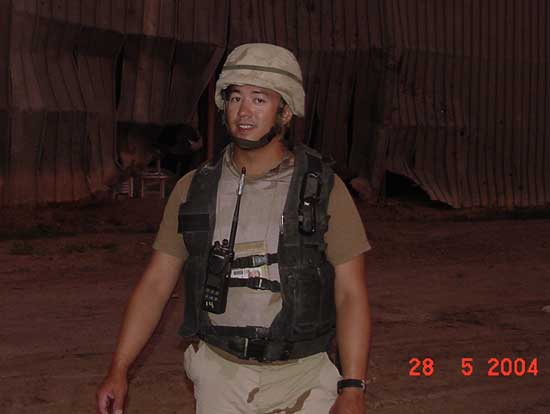 Enclosed are some photos, one is of me disposing of several tank rounds, and the other is of me just walking back from a post blast investigation.
Take care,
Ben
Monday, June 7, 2004 11:41 AM
It looks likes I'll be going home soon. Thank you for all that you have done.