ZnowbirdZ in ParadiZe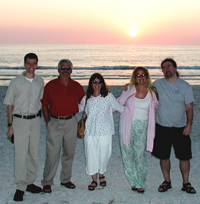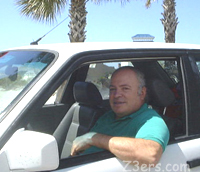 Da Z3ers... and Da PreZ...
Matt, Brent, Connie, Rachel, Jon and Michel
There's LOTS of pics and I couldn't bear to part with any of them... and since we know Brent has only dial-up, I made lots of smaller pages in the hopes of making it easier to browse these pages. So, come away with us to ParadiZe.... If you pleaZe...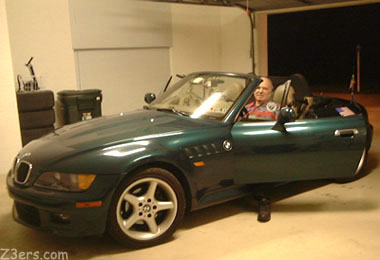 The partying started at my winter retreat when the new President (and founder) of BMW CCA, Michel Potheau, came up to Naples from Key West via Miami to try out the Traffic Pro CD/Radio/GPS. Since Michel had read in this month's Roundel that I had the only Traffic Pro unit configured for the US and I was only 5 hours away... and after all, if you read the article, I can reveal that Michel was "Y Chromosome #1"...it was a good excuse for a drive.
He drove Emmy to a restaurant recommended by a friend. We had no idea where we were going so it was a fair test for the GPS system. Impressed at first, Michel was beginning to doubt Traffic Pro when it seemed to lead us away from where we could plainly see the restaurant, then it became obvious that Traffic Pro was right, you do have to go right to go left.
I should have changed the voice to female for him.
Michel's friend had found us a superb restaurant, the Riverfront in Tin City. My other guests, Len and Edie, had gone their own way in a borrowed Lexus and met us there. We ate too much and talked so late we closed the joint.
Traffic Pro led us home again, this time I drove to show off the prowess of the car I love, top down on a 76 degree night.
Meanwhile, back at the ranch, the M3 was having her revenge...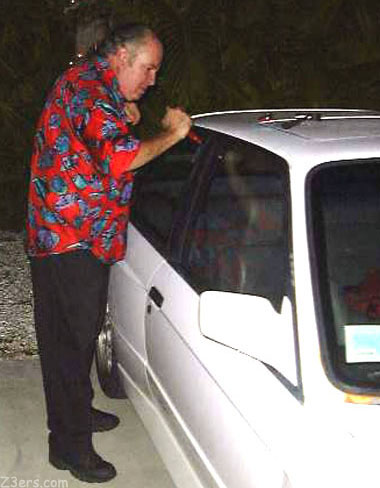 See, I was going to say that Michel has simply offered to demonstrate how one could unlock one's M3 using a hangar...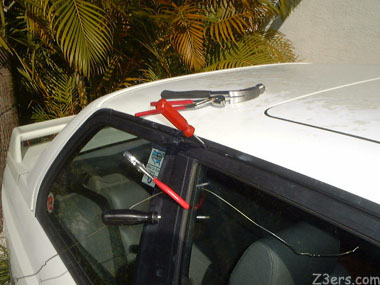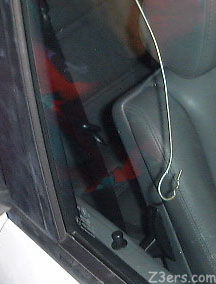 I don't really understand how the keys ended up locked in the car. Something about automatic locking. (Note that I disabled the automatic locking feature on Emmy's UNGO Car Alarm. If my car automatically locked I'd never get to drive it. :) )
It was late, it was dark, and the M3 got her way and stayed locked for the night with the keys inside. Michel worried that his battery would run down overnight. I wasn't worried, we both have jumper cables and I learned at Z3 Fixit Day '01 how to jump a car from a Z3.