Jon T writes:
~7:30am~ Saturday

In the morning, everyone was ready to go around 7:30 AM, and Barb and Tony, the local Fixit "virgins" had offered to lead the convoy from the hotel to Daniels.
Jon T Barb & Tony
Hey all , Tony and I were the Siena Red and we had nothing done to our baby. BUT we did get lots of ideas and had A GRAND time meeting all of you and seeing your beautiful cars. I am sure that by next year we will have some things we want done or fixed but we just enjoyed all of you and the day. Thanks again and be talking to ya all!!!!
Mario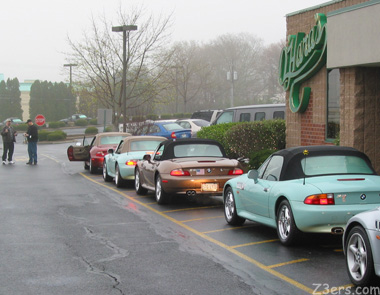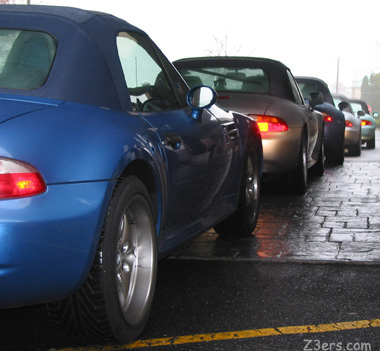 Joe says he ate "this much" of the meatloaf you made for the techs Barb, it was great!
Rachel, Esmerelda's Mom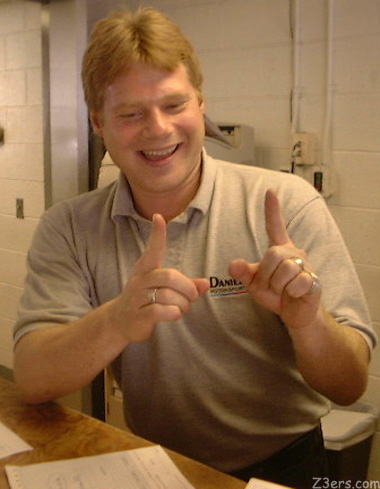 As usual for Fixit Day, the Virgins led the way. Barb not only led the convoy from the hotel to Daniels, she baked a delicious meat loaf for the techs!
Much appreciated Barb!, Thank you!
Barb's Meatloaf/Burger/Balls

For every 1 pound of hamburger
1 egg 
1medium onion 
chopped Oregano
basil
garlic powder to taste- probably about 1/2 tsp.

That is a guess.  Add about

1/2 cup of italian breadcrumbs-more if you need to make the loaf stick together.  

Also a handful of
raisins (big handful)  
and worchestershire sauce probably about 1 tsp.

Hand blend all this and form into a loaf or burgers or
meatballs

I do alot of my cooking by the seat of my pants and this is one of my prizes.  
I must say I love my burgers/loaf/balls and glad to hear that others liked it too.