Aloha Frank:
Triple Black 2001 3.0i Roadster
Maryland (Hawaii)
| | |
| --- | --- |
| Rachel, Esmerelda's Mom | Mario |
Aloha Frank
Thanks to everyone involved with FixIt Day! We had a great time getting our car fixed with other Z3 owners and helping out a worthy cause. Ethan was our service advisor and did a great job getting as much work done as possible.
"MY BABY" is a Triple black 2001 3.0i roadster.

Jon T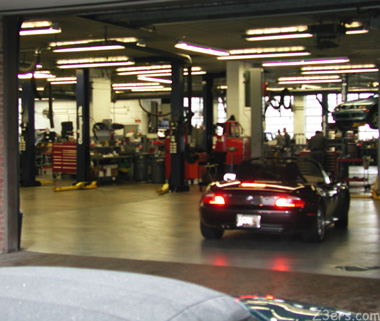 There were many other faces I hadn't seen since HC'ing as well. Such as Than and Aloha Frank. Some people I'd met first on the Caranostra chatroom, like Lisa (who also has a Siena Red Z3) and Aloha Frank I'd met on the NE convoy heading toward HCing.
He also has a 3.0, getting a CAI install and engine software upgrade. Last I heard, the jury is still out on the effectiveness of his mods, and since he has the same engine I do, I'm going to be really interested to hear the final verdict.

Here's what was done:
1. A tear in the passenger seat removed as well as a full leather seat conditioning.
I am just crazy for Aloha Frank's Custom LeatherZ interior.
| | |
| --- | --- |
| Mario | Dave and Dee, (Austin and Felicity) |
| Dave and Dee, (Austin and Felicity) | Dave Blue Highways |

2. The front spoiler had some nasty curb rash and Colors On Parade did a good job fixing that up.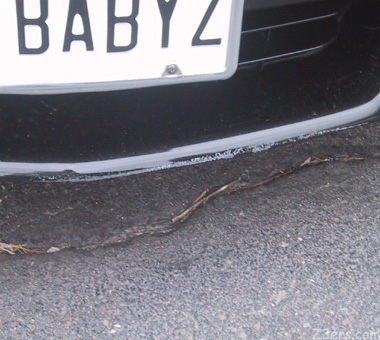 3. A ding on the passenger rear quarterpanel was popped out by John Bertha of Automotive Dent Specialists and Colors On Parade touched it up.
Dave Blue Highways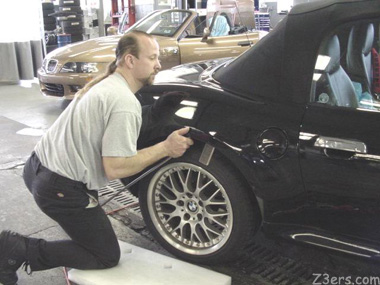 4. Dinan Cold Air Intake and Stage 2 Engine software download.
| | |
| --- | --- |
| Jon T | Aloha Frank |

The first three repairs removed the nagging gut wrenching feeling I experienced every time I noticed the problems. The car looks just like new again.
My Technician was Rudy, he and his young son Vic installed my cold air intake. They explained the upgrade to me fully. I wanted to get the footwell light upgrade but when it was obvious that we were out of time Rudy gave me schematics and drawings to get the job done later either by me or my local BMW dealership in Maryland. Rudy did a great job for me. THANK YOU!!! The Dinan upgrades make the car even more fun to drive as I get just a bit more Hp at higher revs and an increased shift limiter. Of course I just had the mod done to increase my gas mileage. ;)
Thanks and Aloha