Brad Youst
My car is a 2001 Impala Brown/Black top/brown classic leather 2.5i Roadster
Dave Blue Highways

Dave Blue Highways

At least one person asked about my license plate "STG LYTS".
It's my hobby of designing stage lighting for local theater productions in what little spare time I have.
| | |
| --- | --- |
| Than Z3HatZ | Rachel, Esmerelda's Mom |
I was the clever Z-3er who figured out how to fit mops and brooms into my car...with the top up ;-)
As a Fixit Day Virgin, let me say that Saturday was everything that you said it would be...and more! I had the following work pre-scheduled completed: footwell lights, daytime running lights, and trunk organizer installed, fixed door dent that just happened last Thursday in the parking lot at work. All well done! Bob Croneberger was Daniels' Tech who did all the work other than the door ding that was fixed by John Bertha of Automotive Specialists. Bob was really personable and very meticulous with his work.
He couldn't find out everything he needed to know about the daytime running lights in the electrical manuals so he asked all around the shop and eventually worked it out perfectly. His work station is clean enough to eat your lunch on and he's got some great shots of his past and present German Shepherds posted on his back wall. I had gotten a set of magnetic stone guards as a Christmas gift, and they were a bit wrinkled from standing up in the box. After a couple of months trying in vain to de-wrinkle them with a home hair dryer and stacks of hardback books, I showed them to Bob and to Don Getz (Parts Manager).Both agreed that the wrinkles were permanent and wouldn't look good on the car, so Don ordered a new set on the spot.
Automotive Dent Specialists and Colors on Parade took care of the door. They do some really awesome voodoo. No hammers, drills, suction cups, or Bondo here. Kudos on a job well done!
It was definitely cool that Daniels supports having outside vendors on-site to do this stuff for Z-folks, since they have their own body shop on the premises.
It was also nice to meet Jason Kundrat, who wrote up all of this stuff at the service desk. I had previously worked with Joe Millington and Ethan Harbison when I had my "low mileage program" oil change done in March.
Rachel, Esmerelda's Mom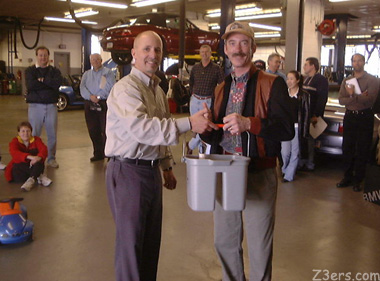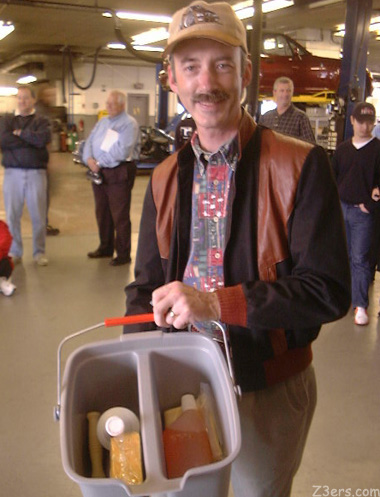 The entire event was a great experience.
Getting to know the faces behind the names in the Z3 Rides group was alot of fun. It's a great way to find out what others have done to/with their cars, and how they like the upgrades. Daniels' hospitality and their allowing all of us fanatical owners to mingle with the Techs in the shop was outstanding! Thanks to Mario for his comments on my personal calling cards with the picture of my "baby" on them. Anyone who can visit BMW's web site, click on "Virtual Center" and then "Build Your Own" can do Avery 8371 business cards in WordPerfect or MS-Word I'll be glad to share the formats if anyone would like.
Mario - Have fun at Watkins Glen. Hope the new tweaks get you to the front of the pack!
Finally, many many thanks to Rachel for organizing this event. Anyone who has ever served on a volunteer Board knows how much work it takes to successfully put this kind of event together.GREAT JOB RACHEL! I hope you and your kitty have a safe trip back home to your place in NYC.