Dave Blue Highways
99 Estoril Blue M Roadster

| | |
| --- | --- |
| Jon T | Rachel, Esmerelda's Mom |
My initial list started out rather sparse in what I intended to have done at Daniel's BMW, the host for Fixit Day. The footwell lights sounded like a 'must-have' as did the euro intermittent wiper module.
Giving this conundrum some more intelligent thought, it occurred that my Roadster absolutely required the Z8 chrome nozzles for the hood. Now was the time to also correct a previous oversight. When having all the Dinan items originally installed, I completely forgot to order the carbon fiber Front Tower Brace!
It wasn't long before Blue Highways pulled into the bay manned by William Billman, the BMW technician. He was outstanding.
| | |
| --- | --- |
| Dave Blue Highways | Dave and Dee, (Austin and Felicity) |
Within a short period of time he had finished with the tower brace and the Z8 chrome nozzles and an oil change. He spent the afternoon installing the footwell lights and the euro intermittent wiper module.

| | |
| --- | --- |
| Dave Blue Highways | Dave Blue Highways |
Dave Blue Highways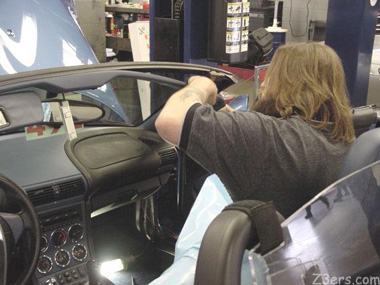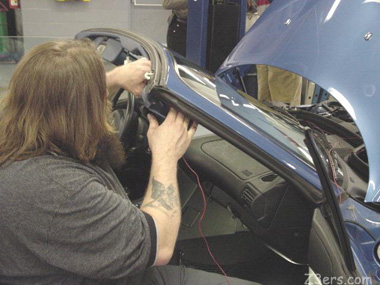 When he was finished, he reviewed everything he did and made sure I was satisfied. In his off-hours, Mr. Billman does his own woodworking and even went to expense of converting his garage into a workshop.
Then there was that damned dent on the driver's door right above the handle. It magically appeared one day without a note of explanation. No one had been able to fix it. You couldn't get to it from the inside the door panel, because BMW's well-engineered side impact bar blocked access to it. It wasn't a big dent, but it always caught my eye.
| | |
| --- | --- |
| Aloha Frank | Dave and Dee, (Austin and Felicity) |
Perhaps this paintless dent repair system could take a go at it. It was going to be a challenge though.
Dent? What dent? John Bertha of Automotive Dent Specialists is amazing.
While my car was still being serviced, Ponytail Jon began performing a miracle with the dent. When he first looked at it, he wasn't sure he could do it, but was willing to give it a try. Thirty minutes after he started, there wasn't any sign that it had ever existed. You couldn't peel the grin off of my face!
| | |
| --- | --- |
| Dave and Dee, (Austin and Felicity) | Dave and Dee, (Austin and Felicity) |