Gods of Stereo
Oh NOOOOOOOOO! I have a stereo problem!
Oh no. Not that. No one knows a good stereo shop within 100 miles of New York City. One MZ3 friend had a stereo shop drill through the hydraulics of his power top installing speakers. Every stereo shop I have ever visited was a disaster. One broke off a bracket of my glovebox- under the dash by the console but still, it bugged me. (Since replaced, another story.) One kept me so long I nearly had to leave for a Z3 Ride with no music. The head unit they sold me had no manual, I ended up giving it away. Another installed my amp but then my turn signals didn't work and little pieces were missing. Each time I swore I would never let another stereo shop touch my car. The last one was when I thought I needed to run a wire to a brake light in my trunk (brake light connection is under the gearshift, another story) the guy was so rude to me I walked out, started the car and drove away. They were ALL rude to me. All acting as if they were brain surgeons and I was Oliver Twist begging, "Please Sir, I want some more."
But there it was. Or rather, wasn't.
My left speaker wasn't working. I'd go over a bump and it would come on, go over another bump and it was off.
Hell.
Here I was commuting to Philadelphia on the turnpike, back and forth for 2 months going to visit my Mom in the hospital, at least 80 miles each way and all the while, bump... no right channel... bump... OK.... bump... crackle crackle...
Emmy, HEAL THYSELF!
There is a stereo shop in Lansdale on Route 309 that has serviced some Z3s I know of, and I was driving by so I dropped in. At first their technician came out and thought maybe the amp was bad, and we discussed ways of mounting it without drilling or screwing into the metal. He was great. Then the owner came out and started huffing about the other Z3 owners he knew. Then he got really weird and said I could only come back for an appointment a month and a half later, and that he wanted $65 deposit for the appointment.
I had no choice but to agree. I talked to him about Z3Fixit Day and showed him the article in BMW Magazine. Maybe he'd like to do something for Fixit Day. He decided not to charge me the $65 fee.
It was hell.
Driving home I tried to remember something about anyone anywhere who liked their stereo installer.
God Bless Robster and his amazing Boxster. We met Robster on the Adirondacks Best Roads drive in 2000. He had generously given me the card of his favorite body shop, North State Custom in Bedford Hills, NY, as well as demonstrating his amazing electrical set up in his car. It's more than the stereo, it's the garage door controls in his armrest, the V1 etched into the glass of his rear view mirror, various other spy vs spy stuff AND a stereo to beat the Band. I don't know what else to call it so I am stuck with "Stereo Stuff". Help me. :)
Here's an mpeg of the set up, I wish it was better, but it was the best I could do.
You can see in the photo here how his V1 is IN his rearview mirror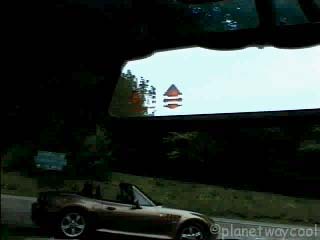 Mpeg #5- Robster's Amazing Boxster
Secret Agent Toys
(Biggish download ~ 11.3 mgs mpeg)
I found the card Robster had given me, called North State Custom, spoke to Laszlo, he turned me on to the stereo shop AI Design.
There should be the sound of angels here... pause a moment.