From the instant I spoke to Chris on the phone at AI Design sanity returned to the issue. He said I could come up that day, and when I said I had a problem getting there he said, "OK just give us a call when you can come up."
Sound of angels.
This is really too good to be true.
He didn't insult me, didn't require I wait a week, didn't ask me to give him a $65 deposit.
Something must be wrong here.
Did I mention he didn't insult me?
OK, on a beastly hot day 2 weeks later I got time to go to AI Design and amazingly they accomodated me again.
Thank God for Traffic Pro Talking GPS/CD/Radio again. I haven't mentioned Traffic Pro Talking GPS/CD/Radio in a long time because I almost take it for granted. Here I am headed up to Tuckahoe, NY with no clue where it is on the roads I only hear about on the traffic reports on the radio as being nightmares. I never ask directions any more. I take the address to the car, punch it in while I am driving (a big "no no" don't do what I do, I'm bad) and let Traffic Pro Talking GPS/CD/Radio handle the minutae of life.
I finally maxed out the memory of locations in Traffic Pro Talking GPS/CD/Radio after driving to Wisconsin, Kentucky, South Carolina, Florida and everywhere else for a year. Hell, I stored the grocery store in Florida.
OK, I made it to AI Design easily.
It's in a convenient but unobtrusive place, where the trees are green and lush enough to make shade comfortable on a 95 degree day. I started noticing the red circle logo and the red accents everywhere.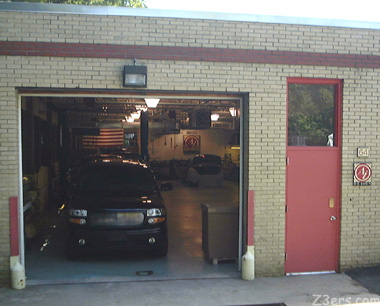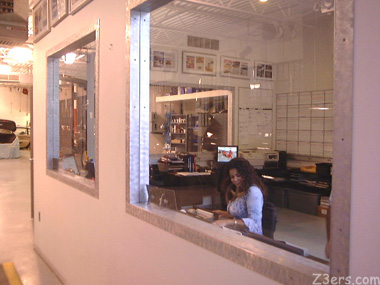 This place is so clean and so organized, it reminded me of the BMW Factory in Spartanburg. That or a scene from a movie dealing with radioactive isotopes except that everyone was relaxed. I admit my senses were overwhelmed. From the massive US Flag to the brand new 7 series looking like a patient undergoing an autopsy.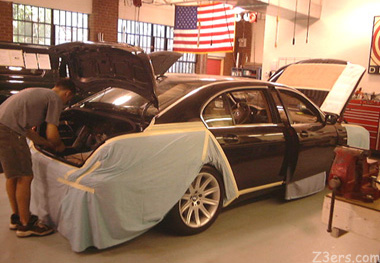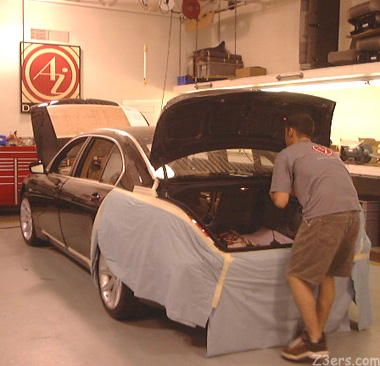 This car has 50 miles on it.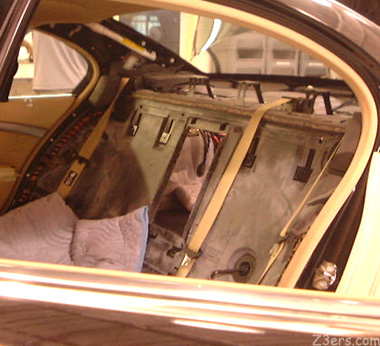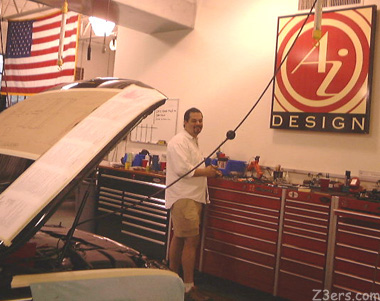 There's Matt, the owner working with a soldering gun, the car draped in protective cloths, the detailed plan for it's Disneyland interior taped to it's hood.