The firehouse that lost the most people (Rescue 3) is on my block, and I didn't know a single one of them.
Selling Ladder 20 t shirts has been a good excuse to meet the firefighters down the street in Soho.
I have also been lucky to "meet" people from all over the world who order the shirts, including firefighters from Scotland and France who reach out over the Internet to their brother (and sister) firefighters.
I did not go near the firehouse on September 11 2002, but had good reasons and good news to share on September 13, 2002.

...And so I went back to the firehouse for Ladder 20 on September 13, 2002.
I had good news to bring them, letters from people who had written to Ladder20.com.
Firefighters from Scotland and France who ordered t shirts, people writing from Germany and all the United States with blessings and orders for more than what I have on the page. I printed out the page of notes from overseas (Page 4 on Ladder20.com) because the firefighters at Ladder 20 haven't got much in the way of Internet access. (That's why they have me.)
For the French firefighter who sent photos of his helmet and shield, we put it on the front of the firetruck at Ladder 20 to prove I had brought his note to the firehouse.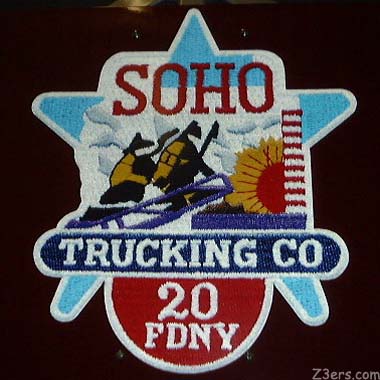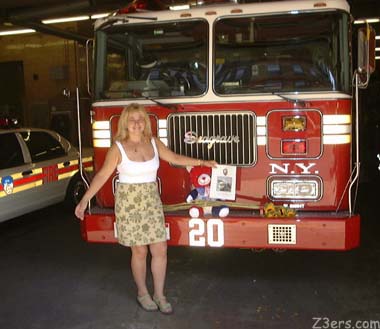 If you are wondering how I got a photo of myself, it's because Chris and Louie and Ed picked up my camera and Chris' and started snapping away.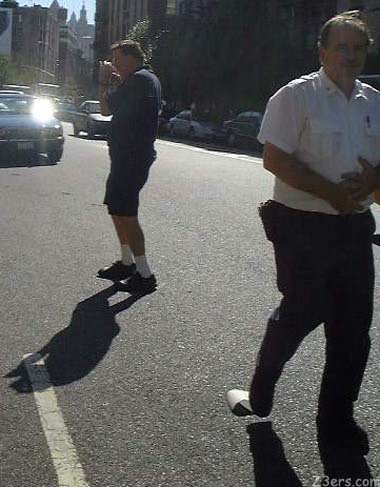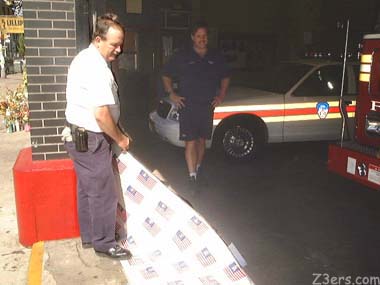 Chief Ed brought out a huge banner made by school kids in Kansas to remember some of the people lost last year.