"Hey Rach, wanna try a Doug Whalen Shift Knob?"
Uh, well, uhm, I heard about all these people who have problems getting their shift knobs off--... huh? That's it? You took it off?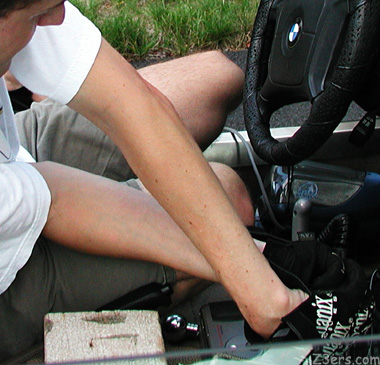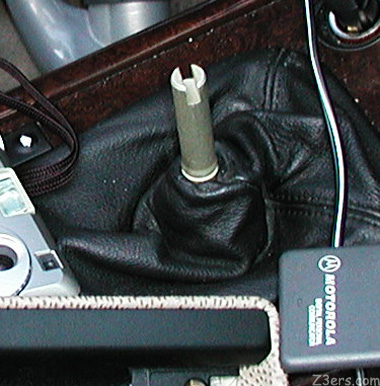 Shawn writes:
To get the shift knob off without giving yourself a black eye you put the drivers seat back as far as you can go. Put the clutch in (handbrake on obviously) and reach over with your left hand and grasp the shift knob upside down so your thumb is closer to the bottom of the shifter. Now with your right hand do the same thing again with your hand upside down. Again here you want to just give it one quick pull and it will come right off. You want to sort of sit in the seat and twist your body a little toward the shifter. Just pull up hard with a quick jerk. Just like the door rocker panel you want to commit to it. DO NOT TWIST THE SHIFT KNOB. When it pops free your hands should naturally move to the left of your face without wacking yourself. Kudos to Ron Stygar for this removal method.
To put the knob back on you basically just place it on the shift lever itself and gently rotate it till you feel the tab in the knob lock into the groove in the shift rod. Then just give it a light pound with your hand and it should pop into place.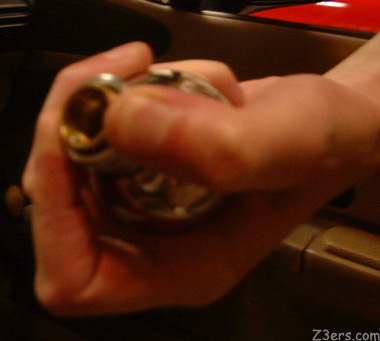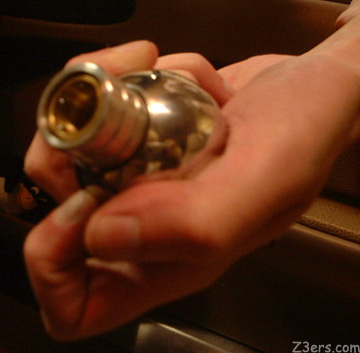 Using a Doug Whalen Shift Knob is so easy. Pull the collar back and pop it on. Pull the collar back and pull it off. No sweat.
The feeling of the crafted metal ball is very pleasant, the stick is shortened for an easier shorter throw.
These pics taken in JonT's car, sorry about the lighting, he doesn't really have fluorescent wood grain.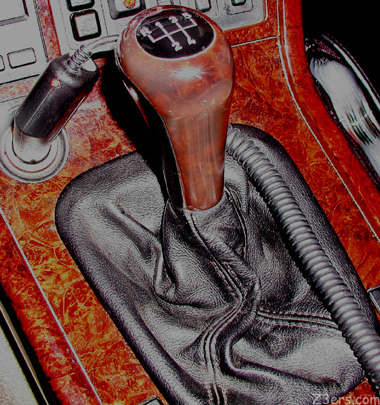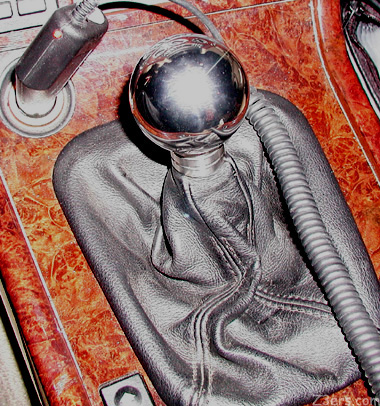 Jon and I got to try the feel of the shorter, heavier, rounder shift knob in each of our cars for a couple runs.
As you can see, the Whalen Shift Knob sits lower on the shaft, which should please anyone with long arms. Changing the height of the shifter enters into the realm of short shifters, a topic I understand superficially. As I understand it, the only short shifter that really works for Z3s is made by Ron Stygar.
One clear advantage of the short shifter is less travel to get into each gear. For that point alone, a Whalen Shift Knob would do the same. The Whalen Shift Knob is also substantially heavier than the oem knob. One source lists the weight of the oem knob at 3 ounces- (I haven't weighed mine) and suggests that any knob weighing more than double the oem weight would cause "wear of the gear or shifter rail"- just like leaving your hand on the shifter would. That brings up the whole "hand on the shifter" debate.
I was taught to drive without leaving my hand on the shifter, it does seem to be common sense to me, as I can feel the shifter tremble slightly and assume it would rather move freely than to have resistance in any form. On the other hand, I have lots of friends who drive always with their hand on the shifter, and not only have I never heard of them having a problem, I haven't ever read of anyone anywhere in any car ever having a problem caused by leaving their hand on their shifter. It could be equally argued that the vibrations I allow the shifter to experience are causing wear.
Where is there a definitive guide of allowable weights on the BMW shifter that has empirical data available for review or even BMW engineering to back it up?
I did find one knowledgeable source that quoted allowable weights, but that article did not reveal the data used to support their conclusions, and that site was selling competitive products to reduce "notchiness" -ostensibly from their own brand of short shifters. Their suggestion was to use a heavier stick for the shifter, or a shift knob that was double the weight of the oem shifter- both of which they will happily sell to you.
In my view, without the data to support the conclusion that 6 ounces is the maximum allowable weight tolerance, or a reason to believe that it matters to the gear or shifter rail if the additional weight comes from the stick or from the knob- it's very hard to find firm ground to stand on the subject.
One thing I would like to see, is the good folks at LeatherZ.com coming up with some sort of convenient and attractive leather cover for the shift knob on sunny days. Call it a "Knobidom". ;)
Doug has been experimenting with artwork on the shift knobs, which are already artwork. These knobs are *not for sale*. The knob on the left is an experiment with engraving, and the knob on the right is an experiment with copper and brass. Doug Whalen is like Ye Olde Z3 Blacksmythe.

| | |
| --- | --- |
| | |