HouZes of the Holy

thanks to Jon Trudel, Dave Todd and Tom Byrum for their photos
please email me for permission to use anything from this site.
Maps for the route are here. All locations are linked to their web sites. PLEASE visit these wonderful places while you still can!
Morimoto Restaurant


I was running kind of late and determined not to be late for a reservation made 2 months in advance at the Iron Chef's restaurant so I skipped changing into my fancy duds at my cousin's house and drove straight into Philadelphia. With an hour to kill and no place to change clothes, I parked next to Washington Square Park and changed into my dinner attire in my car on Walnut Street around the corner from Morimoto- much to the amusement of passersby. Oh well, I was going to dine in style that night no matter what.
Dave Todd arrived just as I did at the restaurant, we parked together in the lot next to Morimoto- disappointing the valet parking guys.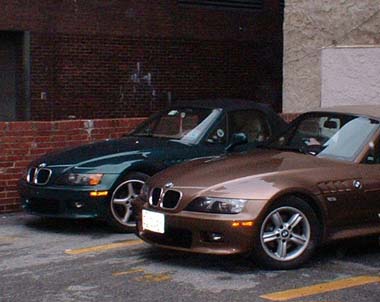 Lucky for me, Dave let Emmy have the wall :)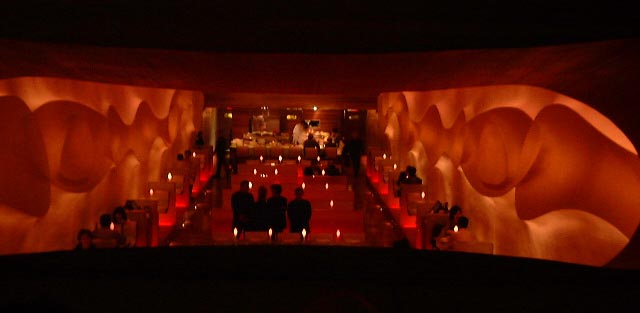 This is the view from the bar at Morimoto. A few sips of sake brewed specifically for Iron Chef Morimoto later, the whole restaurant changed color to purple, then green, then blue. No, really, it did. Even if you don't drink the sake. We shoulda taken photos as it changed color, but none of us were able to after the sake.
Here is a shot from their web page showing the seats changed to electric purple: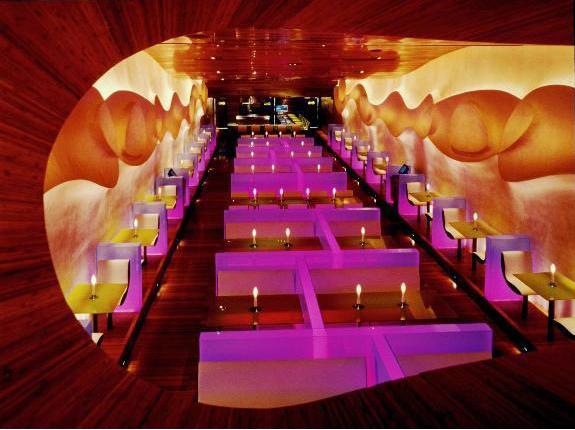 We were offered a sake tasting- 30% polished, 45%polished and 60% polished- all knock outs and delicious. I settled in with a sake cosmopolitan while Arthur and Ruth checked out the special drinks menu.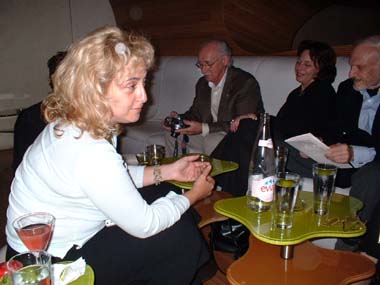 I am an Iron Chef junkie, so I ordered "Omikase" - the chef's chooses the menu for you- and pretended I was a judge on the show.
I took photos of every course... I think... I might have missed one because the 60% polished sake cosmopolitans were reeeeeallly good!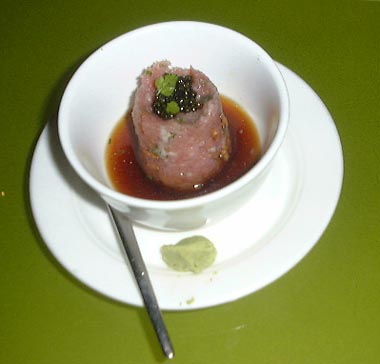 Appetizer started with toro tartare with oscetra caviar... and then kumumoto oysters with mango chutney
Lobster cocktail, sorbet to clean the palate... did I mention how good the sake cosmopolitans were?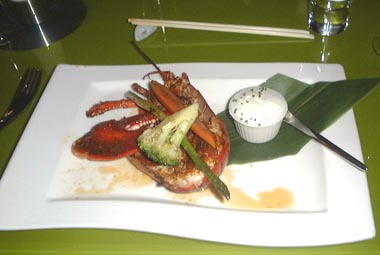 Now we're talking jerk lobster, and kobe beef...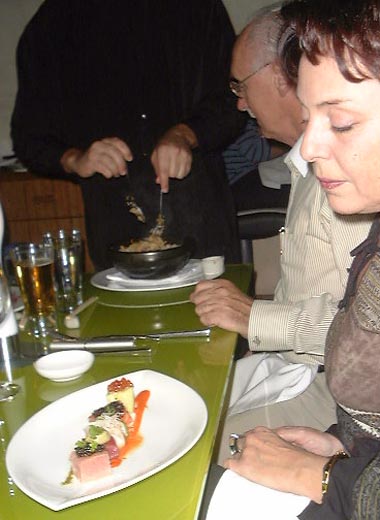 My cousin Bill is having sashimi and cousin Lisa is having ? while Pete is served fish in a hot stone bowl, he can cook the fish against the side of the bowl to his taste. Pete's date enjoys a plate of assorted sashimi topped with matching caviar.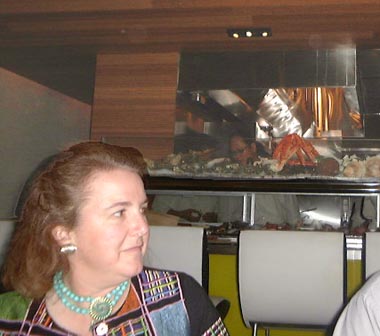 My friend Lolly catches Chef Morimoto behind the sushi bar, and we lasso him for a couple celebrity photos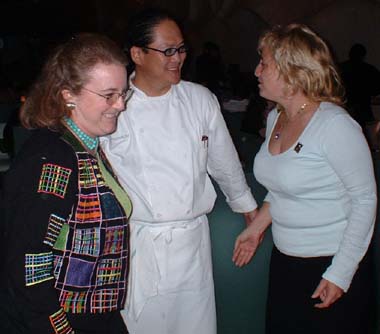 The really amazing part is that I am able to stand at this point. Morimoto Restaurant is the top of ethereal. We had a great time. Our only complaint was the music, Arthur and I filled out our response cards to that effect...