HouZes of the Holy Beth Sholom- Rabbi's Cohen's Office

This design of "Winged Seraphim" over the bimah was something Rabbi Cohen lobbied for against Frank Lloyd Wright's first inclinations.

1957 August 23 Rabbi Cohen writes to Frank Lloyd Wright:" I am not happy about the Burning Bush concept, as I have stated in earlier letters, because it is so hackneyed throughout the land. Furthermore, the idea of the Wings – properly done in reds and golds with flaming lights behind them- has not been used and would be more in the spirit of the unique edifice you are creating."

Rabbi Cohen also pointed out that the "Star of David" isn't really a Jewish symbol, you wont see it in the synagogue. Every detail of the synagogue is symbolic and historically accurate. Rabbi Cohen's study of architecture- and his respect for the work of Frank Lloyd Wright that began in 1917, when Beth Sholom was in a tent in Center City- led him to be the only person ever to share a credit on Frank Lloyd Wright's design plans- and that by Frank Lloyd Wright's own decision. Frank Lloyd Wright relented- the winged seraphim shine over the ark.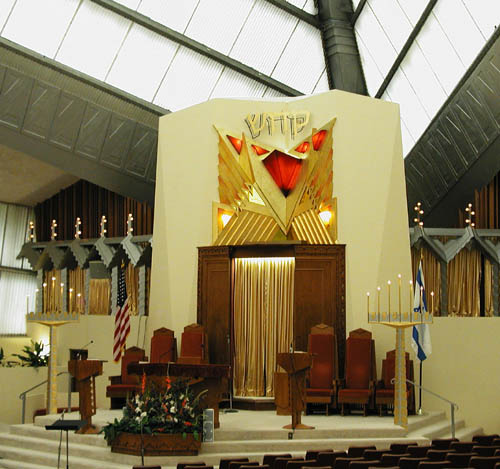 "Above the Tables of Law, the Monolith, in metal design the words 'Holy Holy, Holy'"
Note the intricate detail on the furniture on the bimah.
The Rabbi's Office
This is a bit of fun because Frank Lloyd Wright stood 5'8" tall- when he was wearing lifts in his shoes. Rabbi Cohen was shorter than Frank Lloyd Wright. The rabbi's office, ceiling and furniture is designed for Rabbi Cohen- the current rabbi is quite tall.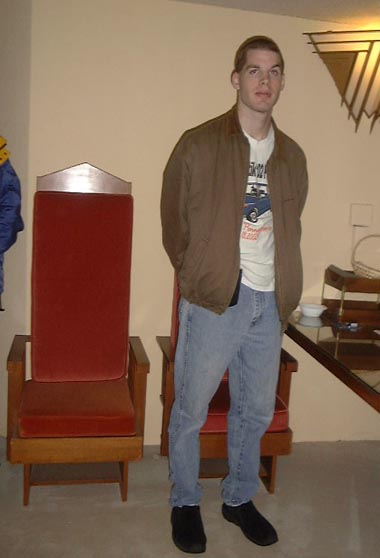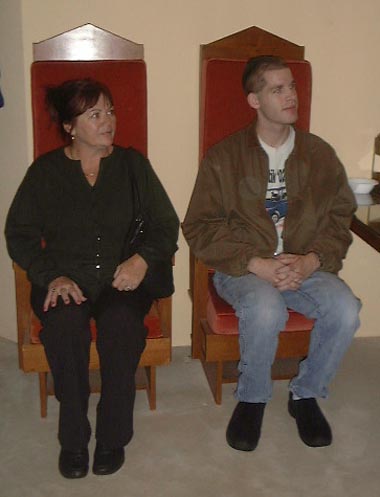 Tall Tom B and petite Cathy demonstrate the seat height in the rabbi's office.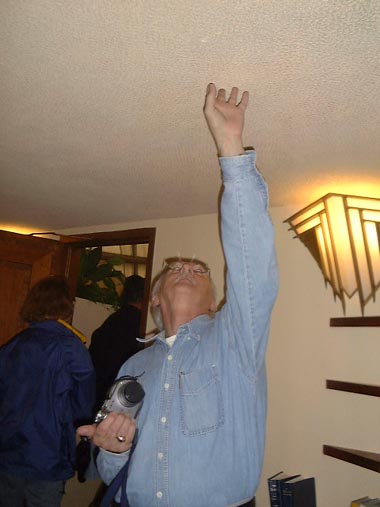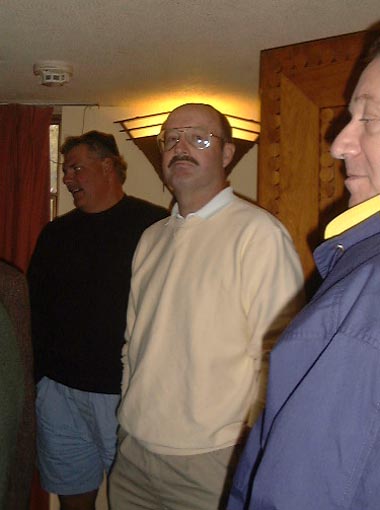 Pete touches the ceiling while Airport Tom is lucky not to bump his head.

| | |
| --- | --- |
| | A bit more fun now as we find the secret passage from the groom's dressing room to the bride's dressing room. |