Homecoming 2002
As I wait for my Sunday morning breakfast to be delivered from Second Avenue deli, I am poring over JonT's pics and can't resist posting about my HC 2002. Twelve of the pics are mine, the rest are Jon's. I hope Jon will forgive me for posting his pics before he even gets home, or Roanoake, Virginia, where he is headed right now.
I would call him but his cellphone went on all the wet rides at Dollywood with Tim and Irene UK, and unfortunately his phone couldn't swim.
I couldn't drive to HC this year because of Mom's tenuous stay in the hospital, but I got to do the parts of Homecoming that mean the most to me. BMW may have stopped making the Z3s but the Z3s have not stopped making friends.
As my friend (and friend to all Z3s) Michel Potheau, President and Founder of the BMW Car Club of America always says:
"It's not about the cars, it's about the people, dummy."
The best thing about Homecoming is seeing the people I have grown to love so well over 5 years and 2 continents all in one place, with loads of Z3s.
As I write this, 500 Z3s are driving home, when they get back they will post hundreds more photos and stories... This is only about 50 pics, a big difference from the 58 pages I posted of last year's HC01- which were eclipsed by the tragedy of 9/11. I posted at 3am September 11, 2001, before the whole world changed, the Russian Tea Room closed and the last Z3 was produced.
Dr Biggly picked me up at the airport in his pickup truck. He used to have a Z3... one day he will have an MZ3, or MZ4.
Within a minute we found a Z3 to follow into Greenville.
Upon closer inspection the plate identified real RoadsterGal Betty ///M, MS PILOT from Virginia.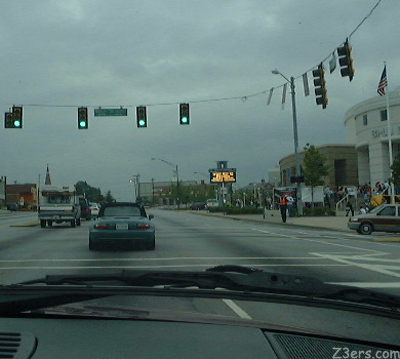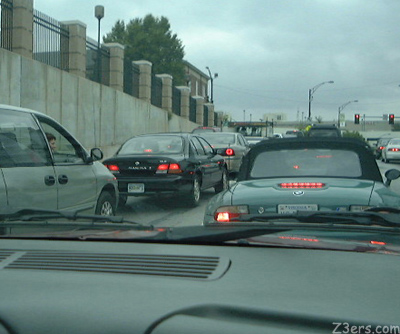 We tailed her and the 10 or so Z3s in front of her- watching as people leaned out of windows to ask what was going on...
update September 2-
Betty ///M writes:

 It was so great to see you, even if it was for only a few minutes!
I was so surprised to see my car in your pictures!  The woman hanging
out the window was asking "Where are you all going in your matching
cars?"  I thought that was cute.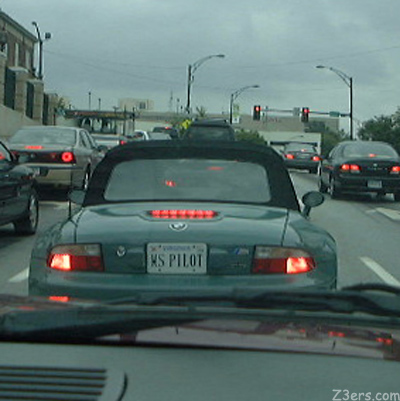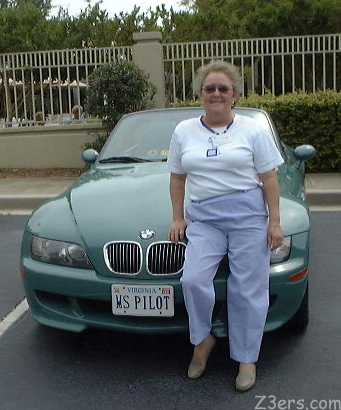 Betty ///M from last year's HC with her car.
update September 15, 2002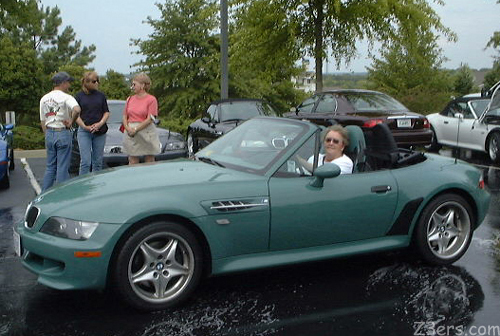 I love driving my M Roadster because it makes me smile all the time!  It
is an absolute kick in the pants! It gives me more pleasure than
anything else I have ever owned.  When I have to drive my other car, a
Buick, I almost have separation anxiety, I just cannot bear to *not* be
driving my M! 

The only thing which provides similar exhilaration is to fly a plane.  I
used to look forward to nothing more than being up in the air on a clear
day. Now, knowing my M is waiting for me in the hangar gives me
something to look forward to on landing, also.

Betty and Me showing some leg outside their business in Virginia with MS PILOT and ESMRLDA on my way home from Florida, March 28, 2002.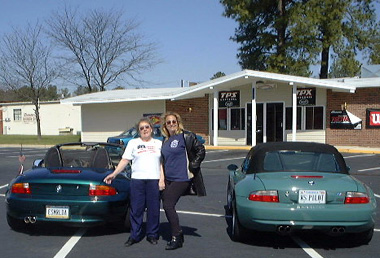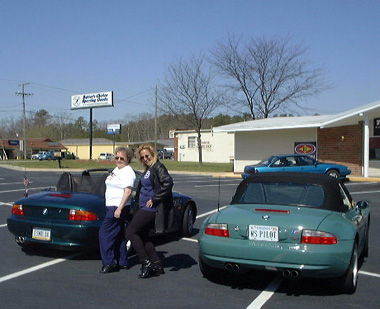 ZnowbirdZ in ParadiZe