Fixit 2003

Richard
Seat Rocking Fix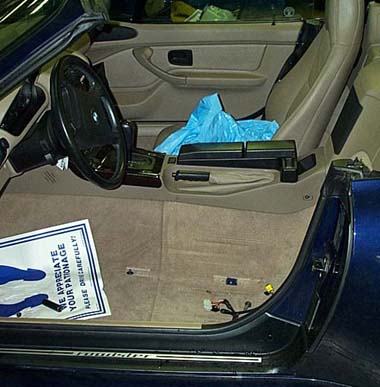 May 5, update-
Richard writes:
Rachel, the seats are great!!!! I was so impressed by the guys at Daniels that my car is there now having more work done.
Thanks again for a wonderful day...
Rich :)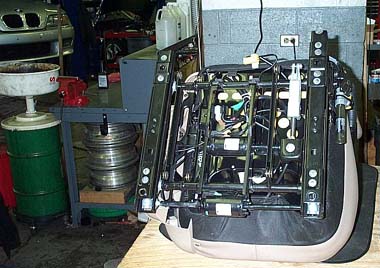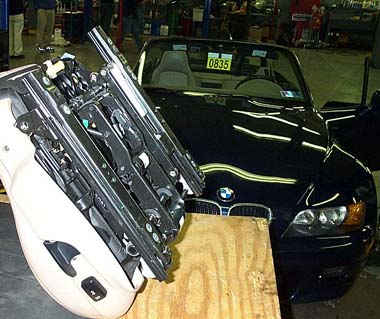 Matt
We were all pretty stunned and amazed that Matt didn't sleep through Fixit Day morning this year!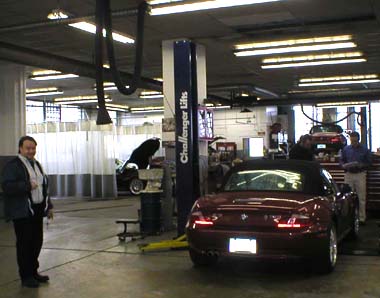 Matt writes:
The techs once again outdid themselves from last year. One last minute upgrade I had done, thanks to Andy, was the addition of beige leather steering wheel tabs. I hadn't thought wheel tabs 'til I saw Frank getting his set. I really do wish that I could think of these things BEFOREHAND. Regardless, Andy not only had the parts on hand (which I honestly wasn't expecting), but was nice enough to put them in for me too! Can't beat that with a stick! I got my free 30k mile service done by Daniels. The best part, of course, was hangin' out with Z3 owners for the day and gawking once again at fine machines. I got to see Rich's Z4 - something I've been wating for for a while now. I do love that merlot red, and the trunkspace. Good Lord, you could fit the Ark of the Covanent in there ;) This year, I was even awake, and that was the best part.
Matt pretty much summed up our feelings about Daniels and Fixit Day here: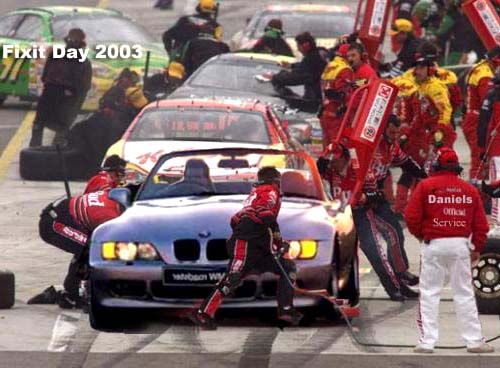 I learned a lot this year. 1) sleep rules! 2) Z3 owners are even cooler when you're awake enough to converse with them intelligently 3) Ron Styger's got a cool Z3 gill lighted like a Z4. 4) Bimmerfest is the place to go to find out techy info 5) If Daniels was closer to my house, I'd be a happy camper :) 6) Don't disturb people trying to tie bows into the kidney grills of a Z3.