Drive-In Drive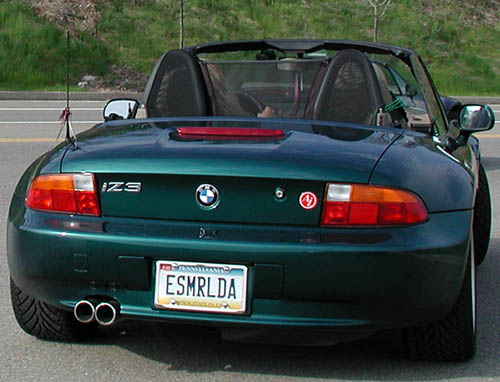 There is some law of the universe that compels me to be late to every Z3 Drive.
This one has to be my best excuse.
I was early to the meet point and stopped to get lunch and gas.
I was going to be early and I was going to have a full tank of gas.
Yesssss!
In the light of day, my sleek shiny green-gilled dream machine looked more like a fuzzy dustball, something you would find under the bed. I had left her for month of sitting uncovered in the garage.
Oh please don't even open your mouth to form the words to chastise me for not washing my car, unless you have a garage within 80 miles of New York City where I can come wash my car because I am here to testify there IS no place where I can wash my own car in New York City. I have been chased away from a handful of "self wash" joints over the bridges and tunnels for the sin of.... bucket washing. No matter how many coins I stuff in that machine, they want me to use their soap wands on my car. When I had a garage in Florida I washed her bits and pieces put 6 coats of Zaino on that car, allowing each to cure for a day. That was 2 months ago in a galaxy far far away.
Back in reality, my car was a dustball..
And then I saw something across the street.
The Boy Scout Car Wash at the Firehouse.
:::up brass band:::
Lots of little boys with hoses of water in an empty parking lot. How I envied them.
If only I could have one of those hoses for a few minutes....
I couldn't stand it any longer. I went to one of the scout masters and made my pitch. Mind you, I drove Emmy into an empty parking lot full of kids who wanted to wash something... there was a moment I thought there would be a riot. So little car, so many kids.
It did stink to have to disappoint them. I know this car, if you spray water on it too hard the window seals turn white.
OK so I asked if i could pay for a car wash to wash my own car.
Incredulous, they agreed.
In 15 minutes the dirt flew off Emmy's Zaino finish, her wheels released the small amount of dust her Porterfield brakes collected and Emmy was glowing like a peacock's tail again.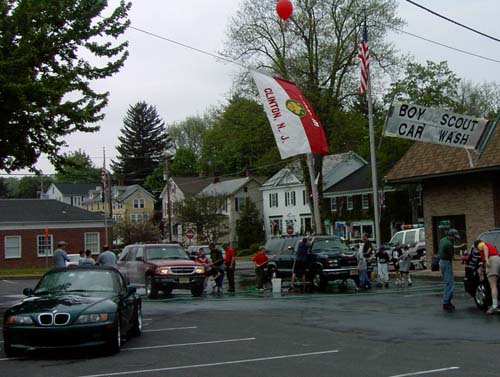 There was also a number of cars getting washed. Maybe seeing Emmy in there getting washed helped business?