Update July 19, 2001:
Keith made me some paint- matched Stone Guards for Emmy.


It's hard to get the shade perfect, but I LOVE them!


THANKS KEITH!

In Reply to: Teasing the Snow-bound posted by Bryan on January 27, 1999 at 07:45:37:
Oh baby a day like today makes it all worthwhile...
I cruised in the unseasonably mild weather top down from New York to New Jersey to Pennsylvania and back, passing plenty of melting snow drifts and icicled rocks by the road... Ok wearing coat and gloves... but part way on 78 to Whitehouse I was joined by a Porshe 944 and a fabulous Maserti- just enjoying the road and our cars on a clear day... I found myself around 100mph just playing. Oops!
I stopped by the road in Pennsylvania to take some pics of the chrome Magnetic Stone Guards for Keith and was surprised by how great they look. They are not showy- because they reflect what is around them, they are actually pretty subtle, as you can see from these shots. I also felt safer at night because they light up when headbeams hit.
I musta seen 10 cops- er bogeys and once again that V1 was my savior... it caught one lady cop who was hiding behind a curve and I mean she was nailing me with her laser gun hahaha....
Thanks to the board...
I also got nailed pretty good by a passing bird, right on the hood and up all over the windsheild... but again thanks to the board I got it pretty fast with some water...
Traffic was light, roads were clear, Emmy was running like perfection it was a driving day that reminded me again why I love this car!!!!!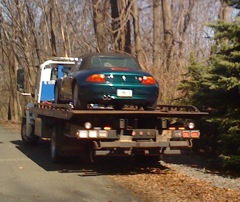 Esmerelda's Home Page all material on these pages is copyrighted