Fixit Phenomenon...
Pics contributed from Mark Volk, Dan Neeman, Rachel
and a LOT of pics from the amazing JonT, PhilB and John Moran
- all pics linked to their sources.
updated January 19th, 2000
December 11. It's fair to say I was pretty freaked out from the moment I left the house. My house is a scene from "the Money Pit" and I am headed out to Allentown at 6am in the dark. Actually it was 627am on Emmy's clock when I hit the road so I was a half hour late as well. It's annoying enough to get up at 5am, but to end up starting late as well after getting up that early is maddening. Emmy said "vroom vroom". Grin. Next thing I know we're out of the city on 78 heading west for a long stretch in the dark. The sun is rising slowly behind me, the scene in my rear view mirror is changing every second. I begin to realize this is the first sunrise I have spent in Emmy. "vrooom vrooom" Grin. Jeez, I love this car. Just as I am starting to have fun, the sky is bright, the Appalachians spread out in front of me and I cross the border into Pennsylvania.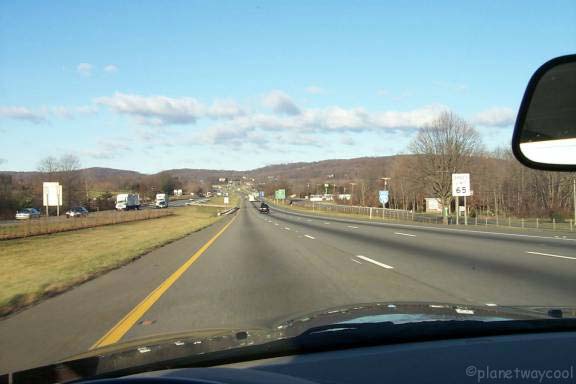 A fellow in a Honda sedan starts playing stupid games with me on the road, slowing down in the left lane, refusing to pull over and when I pass him on the right he speeds up. I check my speed and I am going faster than 110 to pass him, unintentionally. Then he tailgates me and passes me, halfway into my lane, gets in front and it starts all over again. I am thinking all the usual things, about how letting that get to me will give me the kind of stress that can kill, how dangerous it is and how silly it is to have to ride in front of someone when you aren't even going the same place. "OK, so your Honda can go fast, that's nice, but I am not even a little interested in racing you." Allentown exits coming up, and in typical Pennsylvania style the directions from Daniels' web site are correct, but the roads are silly. 78 has an exit for 309 South, and then a couple exits pass before 309 North. I know the dealership is on Tilghman, but I have to pass both Tilghman exits to get to 22 to get to Tilghman. I am hoping I will get there on time, I have been the last to arrive at my last two events. Oops.
The directions from Daniels' web page are spot on. I see it on my left as I turn in I am thinking, "Jeez, I hope someone else gets a shot of entering here, 'cause I can't manage it."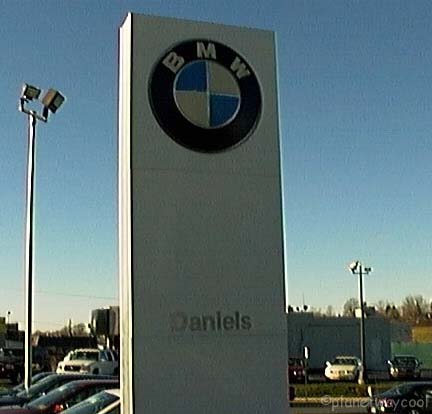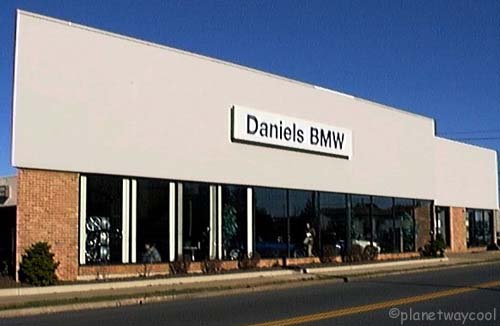 Thank Goodness, John Moran did!
Daniels' lined up their preowned babies at the entrance to the service area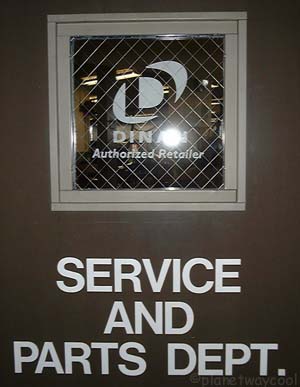 What delights await behind the gray door?
serviced since December 12th, 1999