Yay, I am first, but only because Phil Butera was waiting outside. The man had left Virginia at 330am, got there before me and was already holding a steaming Dunkin Doughnuts coffee. I think everyone was as excited as me about a trip to a dealership for service that would be done well. But hey, Virginia? Wow. Niiiice car Phil!
I loved pulling up to the big garage door for service and pulling straight into the service bays. There was Web, waiting, and then Phil Butera, Mark Volk and Ed Bansch.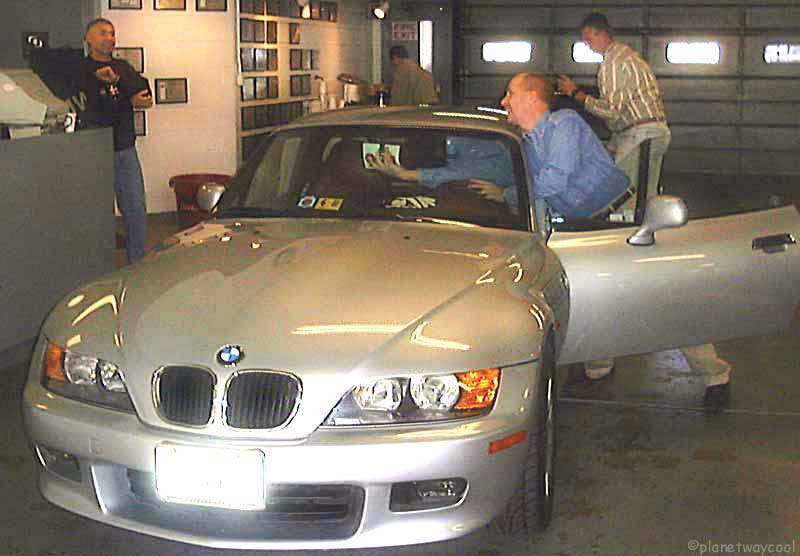 Web reaches into PhilB's baby to attach a repair number as Mark Volk looks on and Ed Bansch gets his baby ready to be next.
I was wondering if they knew their words were all a blur to me. Huh? What? Mark Volk showed up looking ridiculously awake for a man who got home at 11pm the night before in Virginia, waxed his baby at midnight and left at 4am to drive to Allentown. He came to buy goodies but Dinan doesn't make a cold air intake, supercharger or even a freakin strut brace for the 1.9
Every time I looked around, I'd see the Z3ers yakking it up about their mods.


PhilB and MarkV both came from Virginia to have a yak in Allentown, PA


Mark Volk:
'96 1.9 (of course), black, black,beige 
(interior). Footwell lights - they're 
fantastic. 
Lynn noticed them right away, too.  
X-pel light protectors and side panels
(replaces the stone guards) - I
love them. Not noticeable at all.
Things tried, but failed:  
Dinan Cold Air Intake for a 1.9
Dinan Strut Brace for a 1.9 
(is there a pattern here?)
This really bugs me - I had the chip 
upgrade done and wanted to do
more. 
I actually came home having spent 
under $200 including gas and food
for the day!!! 
We need to have another 
Fixit Day soon.  :-)

MarkV's vanity plate says it all