Peter Duszkiewicz:
I had a dent removed 
from Lil' Raider's trunk
lid.  
The work was excellent 
and competitively priced.  
It was 95 with tax that 
day and normally it's 
like 100 + tax which 
beats the 125 + NJ tax 
around here.
I also had little things 
taken care of.  
The missing ///M emblem 
on the rim and some 
clear foil under the hood.  
Daniel's sent the parts to 
me since they didn't 
have them in stock.
Rachel adds~
that's why you gotta 
book the work ahead
next time!
They were also able 
to verify my software 
version for the CAI.
All around a great 
bunch of people.
As far as the chip and 
CAI for the ///M,
I got the Dinan stage 2
and I like it.  
The reason I chose Dinan
 is the warranty coverage.  
But I did hear that the 
JimC chip is a lot more 
aggressive in the lower 
range as opposed to 
WOT like Dinan.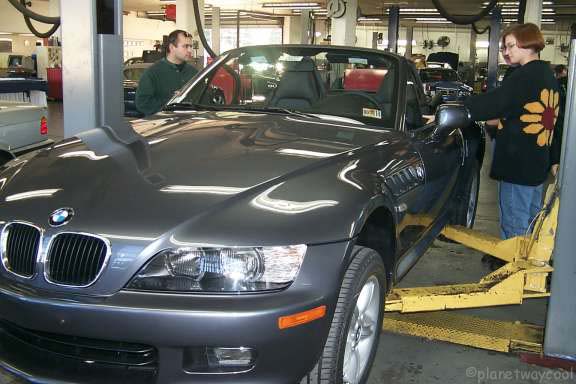 Melissa and PeterNJ checking out The Anthony's' baby being prepped, we made sure they'd get a window blanket... :-D
at first I thought this was Melissa's 2.3!