I think it was about this time that PhilB and MarkV, the Virginians, headed off into the sunset.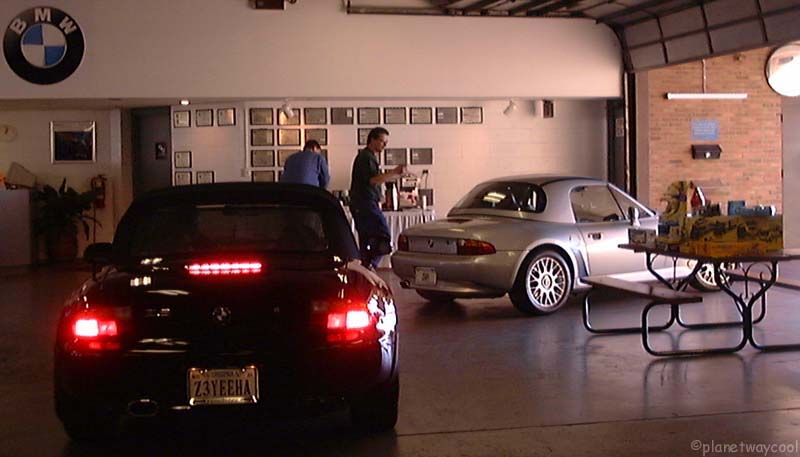 Make a right at the table full of toys and head south...
Mick and Rita next heading to Staten Island with a new strut brace and footwell lights. Hey Mick how do ya like that strut brace hmmm? I think Web said they sold 3 strut braces- who else got one?
The sun was shining it was clear as a bell and brisk and chilly, we could not have ordered more perfect weather. If it was any warmer we would have had to be out driving.
I pulled Emmy into a bay to get her Cold Air Intake. Bill Garner was still applying Zaino. Since Emmy is an early model 2.8, they didn't have to cut anything behind her headlights. I watched a bit as Frank Neher carefully marked the positions of every bolt. I knew the install would go perfect. I knew he'd remember to reposition the horn and re-aim the headlight.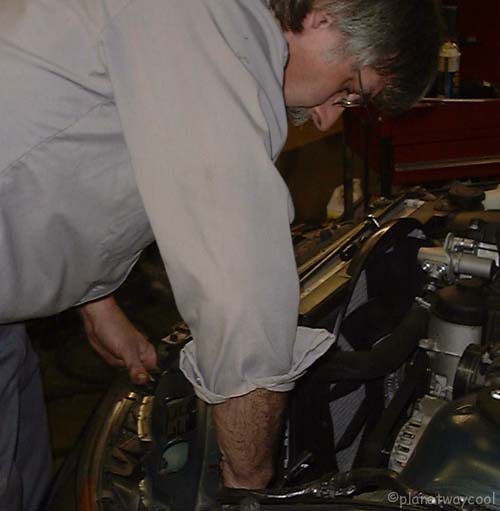 Frank Neher begins the Cold Air Install on Emmy
Web had answered every question I had about the CAI and I had more info from the Message Board. Frank Neher put up with 6 people watching him work. Still, all I could think of is JonT's description of his 2.8 with a CAI "singing". (He doesn't remember saying it.) PeterNJ reminds me that a CAI means my car will SUCK. Since he had both the CAI and B&B Triflow exhaust, his car SUCKS and BLOWS. Let's not even mention the rubber and sponges I won in the raffle. (Yes, Emmy is "spongeworthy")
As each car left the service area, they made sure to make a nice "Vrooom" to let us hear their lovely engines roar with pride. It reminded me a lot of the scene from the Wizard of Oz when Dorothy et al got all gussied up to see the Wizard.
It was after 4pm, we were supposed to be out of there by 3pm. John Moran, JonT, PeterNJ and I said goodbye to Melissa and John, and everyone at the dealership. I hadn't been in the showroom yet and went in to say goodbye to Jay Fretz, who had been a huge help making this event happen. He told me that Mr and Mrs Anthony pretty much HAD to buy that Z3. Anthony had said they saw us and saw how happy we were.
GRIN.
Carl and Lynne ///M may hire Bill Garner to come to Maryland to do the job for them. He'll go!
Thanks again to FredR for turning me on to Zaino, and to all the Zaino fanatics on the MB.
Peter NJ said the shine was so bright on Emmy at the end he had to shield his eyes. I know the whole way home I was noticing the shine as I looked over the hood, or out the side mirrors.
Emmy looked amazing. I jumped in her seat, pleased with all I saw and headed out with John Moran, JonT and Peter East on 78.
OH BABY!!!!! Emmy said VAROOOOM! I didn't think it was possibly to love this car more than I already did but OH BOY! John Moran headed for home, thanks again John for turning us on to this dynamite dealership!
The sound of JonT, PeterNJ and my cars VAROOMING down the road was a hot thrill. Peter doesn't have a TalkAbout on him so when I flagged him down to stop, he actually thought I was going to yell at him for speeding. HAHAHAHAHAAHAHAHAHAHAHAH. Peter, ya gotta get a TalkAbout!
I had dropped my top because it was still sunny when we left Daniels', and to test out a new Clear Wind Screen but I needed to stop to put up the roof as if was getting cold and dark.
JonT and I decided to check out a movie and dinner before ending the day and Jon signaled to Peter to join us. We found spaces far away from the Bennigans, about 6 spaces set off from the rest and parked our 3 babies there. When we came out from dinner there were 4 babies parked there! SYL 007 with a hard top and alarm that had an LED smile display on the windshield was obviously thinking the same thing we were.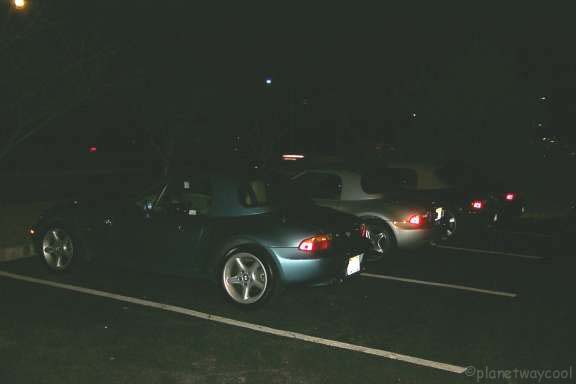 What a nice surprise after dinner, another Z3er parking with us!
We placed some of RichC's Message Board business cards on the windshield and window.
When I drove back to the city, I waited an hour in traffic for the Holland Tunnel. (Show of hands, how many of you get that special cramp in your foot from an hour of clutching to move a mile?) When I got home, a fellow was pulling his Boxster out of the garage. He commented on my car looking good, I said, joking, thanks and that maybe he'd want to trade in his P car on a "real" car. He got all uptight and I said "Hey, hey I was only kidding!" But, typically P-car humorless he jabbed "Want to race?" From somewhere deep inside my body came this voice, ~remembering the 0-60 results posted on the MB ///M Roadster vs. Boxster, ///M faster by a hair, Emmy's new sure footed speed sucking, stage 2 chip upgrade [required for CAI] the 2 driving courses I have attended and the JohnB Dragon cruise...the voice said: "I'd wipe up the floor with you."
(That is, if your engine didn't blow first.)
He quietly got in his car and drove off.
I walked in the door around midnight, to a house still completely in a shambles after being up for 20 hours straight and passed out. I haven't even opened all my new toys 'cause I don't want 'em getting dusty from the ubiquitous broken plaster.
The images of my car, the drive out and back (less than 2 hours each way) the great people, great fun, and great work are still dancing in my head.
Hey Fixers, gimmie those pics OK and tell us what you think of your new mods? Daniels' BMW, Gary Daniel, Web Lingle, your fabulous techs and vendors, THANK YOU THANK YOU THANK YOU and prepare for a deluge of Z3ers.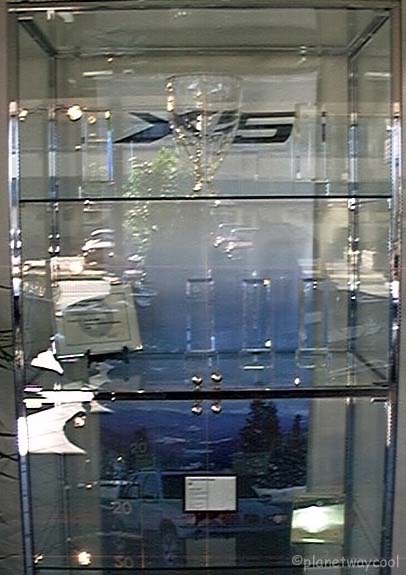 It's easy to see how Daniels' Dinan/BMW won all these awards
Dan Neeman (CSIS), Alan Gottloeb (Xpel), Bill Garner (Zaino) THANK YOU for coming out and making our cars even shinier, better protected and more luxurious, Z3ers THANK YOU for coming and being so courteous and respectful of these companies, they actually want us back- the best compliment of all.
Oh man I can't wait to show off Emmy! It will have to wait though, until it warms up.
P.S. JohnB, you were right.
all material on these pages is copyrighted