Are you missing this part? (long) (archive)
updated September 20, 2009
with thanks and apologies to Nigel Mills, who sent me the photos on August 2, 2008
Now fully 9 years later, these little rubber buggy baby bumpers - or the lack of them - can cause problems with car alarms missing contacts
and the hood sensor is also finicky, see below
---
Posted by Phillip on March 29, 2000 at 13:49:06: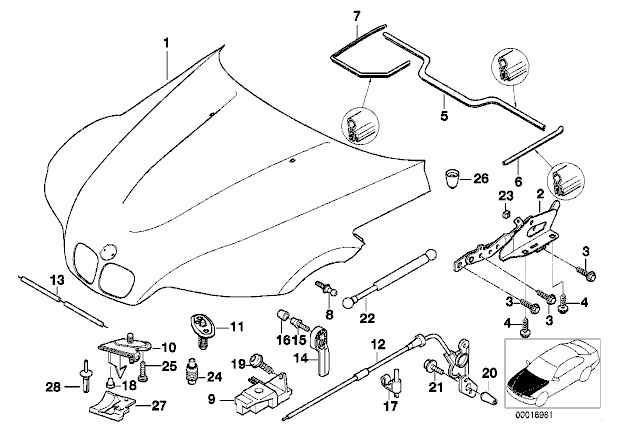 The item listed as item 26 (part number 51718407377) on this drawing is a wear stop. It appears to prevent two metal pieces from contacting each other when the top is closed. There are two of these on the end of the first joint (one on each side) in the mechanism when you fold your top. There are two more behind the linkage connected to the first crossbow and not shown on this drwaing. I have spoke with a couple of people who said they had these replaced under warranty. For those of us past the warranty they are $12.50 each piece. Four are required. This is a 1/2 inch by 1/4 inch "U" shaped piece of plastic for $50.00 a set. BMW's pricing defense is they sell so few. This is a part that is designed to wear out to protect another. I found mine missing by accident. I'm quessing there are a lot of cars with this piece broken or missing and the owners are not even aware. Please take a moment to check and see if your are missing and broken. Maybe if the demand becomes higher we can get the price down. If not maybe at lease some of you can discover the problem while BMW is paying the bill.

I have to admit I am confused about Phillip's post without the photos he posted, which have since fallen off the Internet. The drawing above is one I found on RealOem.com, the hood stops. But I don't know which u clips he's talking about, the best I know of missing u shaped plastic bits are these.

---
Meanwhile, back at the hood stops/alarm connections issues in 2008 on Z3 Rides email list...

-------- Original Message --------
Subject: [z3rides] BMW Car alarm/keyless entry
Date: Tue, 29 Jul 2008 22:30:03 -0600
From: Dwayne Eadie
To: <z3rides@yahoogroups.com>Hi All,
My 1996 Z3 roadster has been giving me some grief for the past three days
because of the remote entry/alarm. It is the factory alarm/central lock
system.
The alarm will activate for no apparent reason when the car is locked, after
the security system has been set for a few minutes. At first, I thought I
was activating it by pressing the Arm/Panic button accidentally when the
keys were in my pocket. To check, I locked the car while it was in my
garage, and set the keys on a shelf. The alarm still went off for no
reason.
Today the car will not lock at all. Instead of the usual short beep to show
the car is locked and the alarm activated, I am getting three short beeps.
The car does not lock. Pressing the unlock button also produces three short
beeps and no change to the lock status. Any one have this happen to them?
I think I will be calling the dealership, but would like some idea of the
issue before I talk to them..
At least I have the car in a garage at night and underground secured parking
at work!
Thanks for any indications of what the problem could be.
Dwayne Eadie
96 Atlanta Blue 1.9
-------- Original Message --------
Subject: RE: [z3rides] BMW Car alarm/keyless entry
Date: Tue, 29 Jul 2008 23:03:36 -0700
From: Julie Wyatt
To: <z3rides@yahoogroups.com>
It is one of the sensors, probably one under the hood. I have the same
problem on mine. If I push the hood down when it is refusing to set, it will
set the alarm. But it will eventually set off the alarm when the hood goes
back up a little. I think if you adjust the hood you will stop having the
problem. But it could be any of the sensors and there are quite a few of
them. Trunk, doors, radio to name a few.
-------- Original Message --------
Subject: [z3rides] Re: BMW Car alarm/keyless entry
Date: Wed, 30 Jul 2008 07:21:20 -0000
From: nigel mills
To: z3rides@yahoogroups.com
I had the same problem a while back and it was the bonnet sensor. I
solved it by putting one of those sticky rubber feet (used on
instrument cases) in the engine compartment in line with the alarm
switch. No problems since. I did try adjusting the bonnet (hood)
first but that did not fix it.
Hope that helps.
Nigel (1997 Z3 2.8 UK)
-------- Original Message --------
From:Dwayne Eadie
Sent: Thursday, July 31, 2008 9:38 PM
To: z3rides@yahoogroups.com
Subject: RE: [z3rides] Re: BMW Car alarm/keyless entry
Hi,
You're all geniuses!
I armed the car alarm, and lifted the hood slightly. I am able to set off
the alarm every time.
Rachel, the links you suggested hint at pictures being available, but I
can't find them. A picture is worth a lot of words.. Do you know where to
find them? Or Nigel, can you give me more instructions?
Thanks,
Dwayne Eadie
96 Atlanta Blue 1.9
-------- Original Message --------
Subject: RE: [z3rides] Re: BMW Car alarm/keyless entry
Date: Thu, 31 Jul 2008 22:19:16 -0700
From: Julie Wyatt
To: <z3rides@yahoogroups.com>
Haha.., we're not all geniuses, but we do know these cars and their common
problems. I've had my M for almost 6 years. I thought the stick on rubber
bumper fix for those sensors is a great idea. I'm going to give that a try
on mine.
Here is a link to a posting on the Roadfly message board with the
description of the location:
http://bimmer.roadfly.com/bmw/forums/z3-coupe/8991334-1.html
and just in case that link goes bye bye like the original one I had to replace today with all this, here's what that link says:
Author:
Evergreen Dan on 2008-07-04 at 10:43:27
Subject:
Re: Where is the alarm switch for the Hood? (140 views)
Message: Assuming you have the same system as my car, there is a black plastic push switch in on the center driver's side at teh front of the hood. It's pretty obvious in my car. I've had to replace this 3-4 times. They just seem to go bad. "Closed" on this switch means that the hood is open, so you can just unplug the switch to get your alarm working again. The switch also has a position where you can pull the pin fully out and that opens the switch again (enabling the alarm). This is useful for testing.
I gave up and unplugged it. I got tired of my alarm going off by itself.
------- Original Message --------
Subject: Re: [z3rides] Re: BMW Car alarm/keyless entry
Date: Fri, 1 Aug 2008 07:35:22 +0000 (GMT)
From: Nigel Mills
To: z3rides@yahoogroups.com
Hi Dwayne,
I have a UK model and it may be different but I am sending you a couple of photos. One of the position of the alarm sensor switch next to the radiator and another of the rubber foot I stuck to the bonnet. This fixed my problem immediately. Tightening the bonnet adjustment did not work.
Good luck.
Nigel
PS I bought the feet from Maplin, this may be a UK store so someone like Radio shack???
-------- Original Message --------
Subject: Fw: [z3rides] Re: BMW Car alarm/keyless entry
Date: Sat, 2 Aug 2008 16:58:53 +0000 (GMT)
From: Nigel Mills
To: Laurie Rachel Katz (Rachel Corey)
Hi Rachel,
As requested.
All the best
Nigel
rubber foot stuck in place: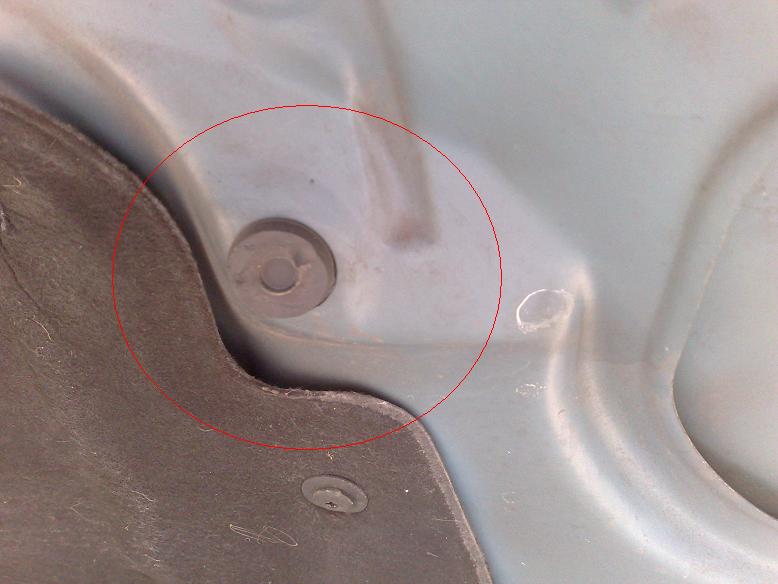 this is the forward rubber stop- the ones by the windshield are more like thimble shaped
Then there's the hood sensor switch, up by the radiator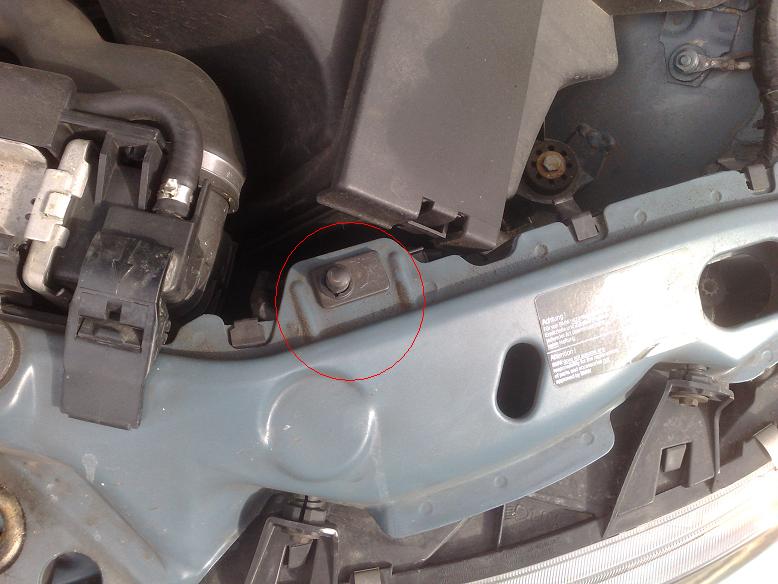 I wish I had posted these pics sooner and updated this page, because just last month I was working with Q in the dark and heat of my garage trying to figure out why my UNGO alarm kept getting set off. We did everything including cutting off the radio head sensor... but the BMW tech just jiggled this switch and it was over... except that I had to pay to reconnect my head unit sensor... ::::sigh:::
THANK YOU! Ain't it grand, a 1.9 in the US asks a question, gets an idea from an ///M Roadster Gal who quotes a coupé, and a '97 2.8 in the UK comes up with the pics :)
---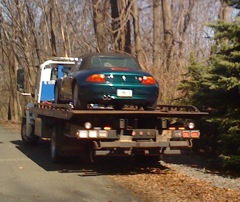 Esmerelda's Pages ~ Z3ers.com