Just did it on Sunday. (archive)
---
Posted by Harvster on June 12, 2001 at 21:52:37:

In Reply to: Need some help getting inside door panels off... posted by CRev on June 12, 2001 at 18:07:35:
(posted from: ac85342e.ipt.aol.com (172.133.52.46))
First of all, the door lock tips just rotate off. I know the chrome ones come on actuator rods, but just rotate them off and on the ones on the car.
I trust you do not have side airbags. That makes it on screw easier. Before you proceed, you will need a torx 20 driver and I recommend a clip tool(Kragens auto parts). Remove the trim cover from the right armrest. Try to remove the torx screw. If you can, go to the driver's side, pry out the mirror controls, and try to remove that screw. If you can, them proceed. If you cannot, either give up or take it to the dealer. I switched the speakers in my passenger door, then I couldn't budge the screw in the driver's door. I had to drill off the screw head. I'm sure you are not equipped to do that.
Now remove the screws. Using a small screwdriver, lift the rear of the door handle surround and push forward to remove. Use the clip tool, backed by a towel, to pop the clip about 1/4 way up in the rear of the door. Then proceed up and down to pop all seven clips. The clips are held in by strong plastic housings, so they won't tear the cardboard like other car doors.
Now the tricky part. Start near the lock knob and carefully work the edging out of the door gasket but STOP AT THE LITTLE WINDOW. If you continue, you will tear the speaker housing off the carboard. Now start at the front and remove the edging behind the speaker housing from the gasket until all the edging is out. Disconnect the speaker wires and remove the door panel.
On the driver's side, disconnect the mirror control and feed the connector inside the panel. Now proceed as for the passenger's door.
Pull the black plastic bunting from around the handle, remove the screw, disconnect the linkage and remove the handle. Replace with the new handle.
To replace, wipe the door gasket with Armorall to lubricate. Position the door top edge in the channel about 1 in behind the final position. Push the front into the groove and slide forward, now working front to back, work the edge into the groove. This process is a pain in the butt, so take your time. Line up clip and pound home. Replace screw, trim pieces and door handle surround.


---
---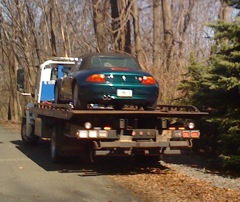 Esmerelda's Pages ~ Z3ers.com