Re: Help- how to fix scratch in wood console? :( (archive)
---
Posted by Dane Kane on August 17, 2000 at 18:53:38:

In Reply to: Help- how to fix scratch in wood console? :( posted by Rachel on August 16, 2000 at 15:46:06:
(posted from: 22.240.3-5.fo.pmpool.quiknet.com (207.183.240.22))

I picked up my car from the detailer and ... its a bit of a mess, so I am pretty upset.
Anyway, there is a fine scratch alongside the gearshift in the polished wood. Rubbing it isn't making any change :(
Any ideas?
TIA
Read all the remarks below...ADVICE from this planet follows: you may already own the product that may fix your scratch...the Meguiar's #10, clear plastic polish, as reccommended by bmw for rear window does a nifty job on minor scratches...if the scratch is deep(pencil-lead wide)you will need to polish a lot to remove it...other products with more cut are: 1)FLITZ, a German product found at boat supplies, ie. Overton's, Goldberg's, etc. or 2) Happich(or Hapich)SIMICHROME, used by Harley dudes a lot, hence available at most quality bike shops everywhere...the trick is all in the technique, however...Use real cotton flannel to apply and polish...NOT BABY DIAPERS!...not soft enough for your baby 2.8...apply and polish in same direction as scratch...no cross-grain strokes....I tested the #10, #17 and Flitz on an actual console...no deleterious effects...my experience is that the flitz is a good product but the simichrome is even better....good luck! dk


---
---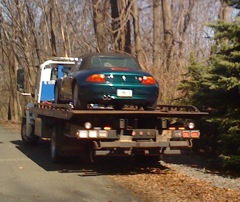 Esmerelda's Pages ~ Z3ers.com