Ultimate Fix for M Roadster & Z3 Chasis Flex! (archive)
---
Posted by Yukon Dave on October 23, 2000 at 00:42:09:
(posted from: we-24-130-11-75.we.mediaone.net (24.130.11.75))
Ultimate Fix for Chasis Flex
I had a large object crack my frame. With time it got worse and it ended up in bad shape. I got it fixed by a couple of rabid English structural engineers.
The stock rear cross member in the frame is made of folded metal. Chasis flex is what happens when this member is under heavy loads. The fix is to have a couple of structural engineers named Sean & Peter Crayford at Crayford Coachworks, in Marina Del Rey (310-577-9830) with years of experience reinforcing the Porsche GT2 race cars, go wild on the frame.
They decided to seam and stich weld a new member into place that had been reinforced with steel tubes. They also seam and stich welded other areas of the frame and differential mounts since I told them I was looking at putting a turbo charger in. Both the cross and parallel frame rails were reinforced.
The frame of most cars such as BMW, Porsche and Mercedes have little spot welds when they come from the factory. I was very disappointed that both BMW and Porsche seem to use these tiny welds. These little welds do not last if you drive your vehicle hard and have a large object hit the underside of your vehicle like I did.
The car is now very solid, it has transformed the car. I also had the suspension upgraded to H&R sport springs and the new Bilstein sport shocks for the M Roadster. The ride is better than it was brand new and stock! No more pitch back on acceleration and no more dive at full braking. I just put on a set of R Compound Kumho's and this car is fantastic!

---
---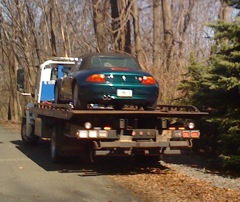 Esmerelda's Pages ~ Z3ers.com