Fuel Sending Unit Replacement (pictures) (archive)
---
Posted by Robert on May 25, 1998 at 15:53:37:

I was cleaning up the hard drive and found some pictures I never posted. The following four shots are from a 1.9 getting its fuel sending unit replaced. Some of you might not have picked up on what we were talking about when we said they cut your carpet to do this.

Note from Rachel 12/01/06: Thanks to Robert of MZ3.net for these missing pics, there is also a great article on MZ3.net.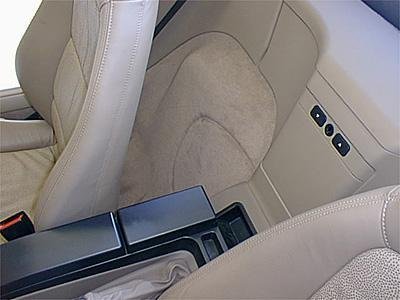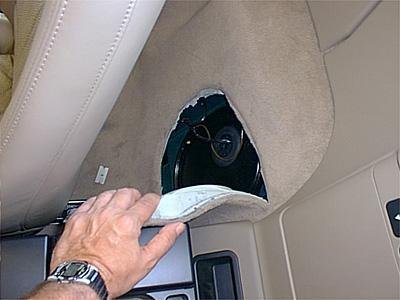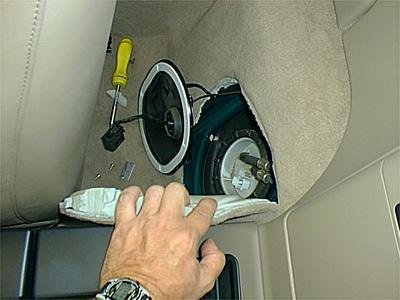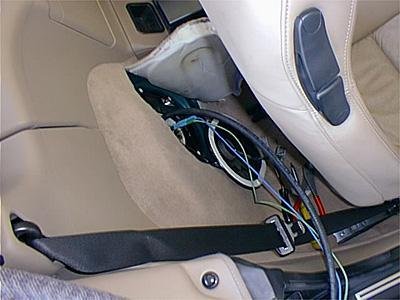 Thanks to Jim Powell for his dealer invoice for the FSU repair: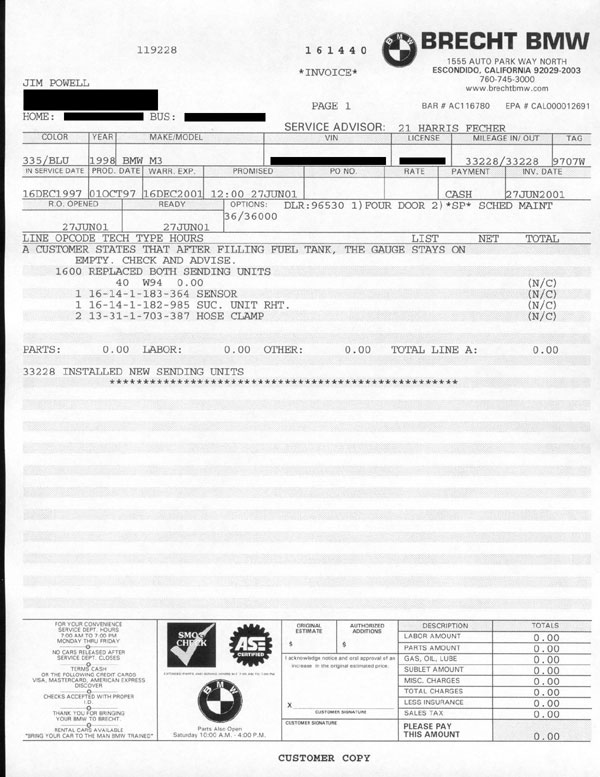 ---
Another possible fix:


Gas Gauge Fix "Update" ... NO cut carpet! (archive)
---
Posted by D///Mill on May 12, 2000 at 19:40:45:
(posted from: spider-tk031.proxy.aol.com (152.163.206.186))
One year to the day that I bought my "///M coupe" (which was 5/12/99), the gas gauge gremlin finally got me. That is, after filling the tank, the gauge would read only 1/4 full; it slowly worked its way up to half full, but no more.

Knowing this was one of the bugs in our Coupes, I had kept two write-ups regarding a fix without the dealer remedy of cutting the carpet behind the passenger seat. One remedy was posted by "///Mike G" on 4/12/99, and the other by "Mike S" on 10/30/99. Here is what they said ...
* Mike G said:
"Remove fuse #31 while the car is off. Attempt to start the car while fuse #31 is pulled; it won't start. Replace fuse #31 and start her up ... VIOLA! Your fuel gauge should be back to normal."
* Miks S said:
"I found in my '00 M Coupe that pulling fuse 31 didn't prevent the car from starting, so I pulled all the (relating) dashboard fuses one at a time and started the car. I haven't had a problem with my fuel gauge since doing this. Hopefully it will work for you as well."

My '00 "///M coupe" also started fine with fuse #31 removed, just like Mike S mentioned. (Maybe there is a difference between the '99 and '00.) So I then pulled the instrument cluster fuse #23. Again, the car started fine without the fuse. Put the fuse back in and fuel gauge popped back to normal operation!

To summarize ... If pulling fuse #31 doesn't work for you, try #23. That's the one that did the fix for me.

FYI


---
And another fix:


Erratic fuel gauge readings Z3/M Rdstrs & Coupes (archive)
---
Posted by MCM5 on April 14, 2001 at 08:02:21:
(posted from: (216.127.152.17))
"Erratic fuel gauge readings on Z3/M Roadsters and Coupes may be caused by non-conducting deposit formation on the fuel-level sensor conductive surface. BMW now has an updated "Gold System" fuel level sensor, pn 16 14 6 756 323. Only if you are experiencing this problem, dealership will install the new part under warranty, if applicable.

BMW Service information Bulletin 16 01 01, January 2001"

Found in Roundel Tech Talk by Mike Miller

Here is the BMW Service information Bulletin 16 01 01, January 2001 that Mike refers to

---
And one more fix for the road....
In the December 2006 Bimmer Magazine Mike Miller updates this information again. He says even this new part doesn't always work and he said a fuel additive will work. I haven't tried it yet. It may well work, but my fuel gauge hasn't danced since I stopped topping it off, same as Robert.