From: "Panos"
Date: May 27, 2006 8:26:31 AM EDT
Subject: Mileage Indicator Light Out
Here in the UK I did it myself.
Very simple. 2 hex screws hold instrument panel in place. These are located
under the top lip of the dash. Remove these, pull the whole panel out.
Easier if you have some kind of glass sucker. Quarter turn to unscrew blown
bulb. Fit new bulb and put panel back. Takes 10 mins. Cost, £2 max for the
bulb.
Panos.

From: "clayton deich"
Date: June 4, 2006 4:30:17 PM EDT
Subject: Mileage Indicator Light Out
I put the new lamp in with the help of a tool known as a
lapping took, and it was cheep $3.50 it has two suckers at each end. After I
cut the tool in half I then pushed the two suckers on the face of the dial
then pulled the unit out. I also slid the unit to one side, and then looking
up from the foot well - floor I could see the lamp holder on the back side.
I then gave the lamp holder one half turn, and it was out. The lamp is in a
little holder witch I pulled apart. I then went to Radio Shack, and picked
up a new lamp $1.29 The part # is 272-1141 and it comes with long lead
wires. I cut the wires back to fit like the old ones, and then soldered them
in. I then put the holder back together. Then it was time to put it back
in. The old lamp was 12V 1.5amp the new one is 12V 25mA Well it is in now
looking great. Total bill of $4.79 !!!!!!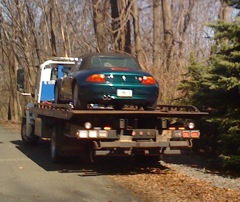 Esmerelda's Home Page~ Z3ers.com © Rachel Corey Katz All Rights Reserved